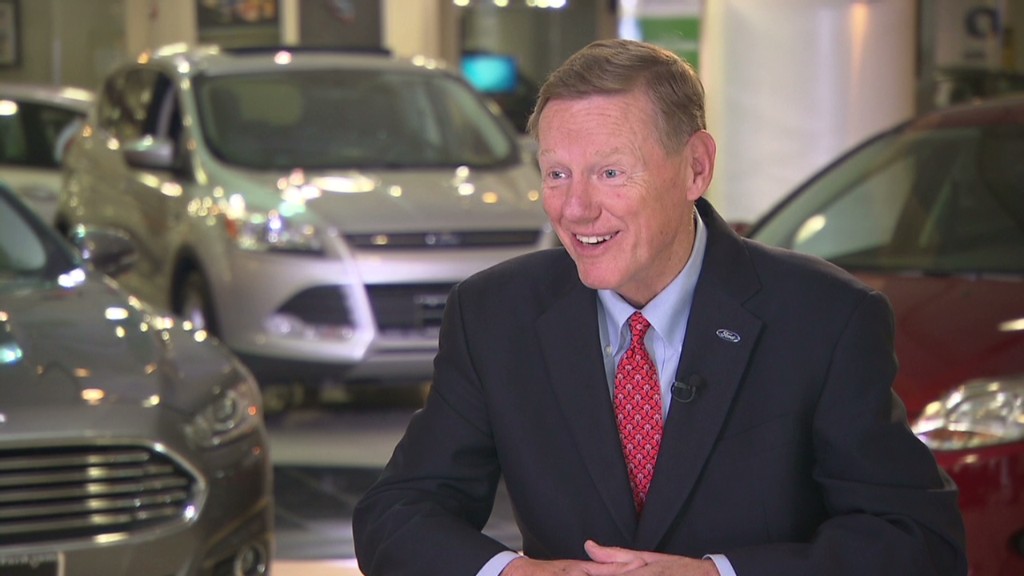 Alan Mulally leaves Ford Motor on Tuesday, justifiably called the man who saved the automaker from bankruptcy and federal bailout.
Just don't call him retired.
"My focus has been on this transition," he told CNN last month. "I can't wait to graduate and then decide what I'm going to do next."
The 68-year old CEO refuses to say where his third act will take him. Troubled companies might turn to the man who helped revive Boeing (BA)'s commercial aircraft business, and then reshaped a moribund Ford (F) into a competitive automaker.
Ford was the weakest of the traditional Big Three when Mulally signed on in 2006, losing $12.7 billion that year alone. Company chairman Bill Ford, the great-grandson of founder Henry Ford, wanted a top auto executive to replace himself as CEO. Because of Ford's condition, he couldn't find one.
"(Bill Ford) didn't have a choice but to go outside the auto industry," said Bryce Hoffman, author of "American Icon," a look at Mulally's tenure at Ford. "It took someone from outside the industry to look at the problems with a fresh set of eyes and diagnose what was wrong."
Ford's culture had too many separate brands and departments competing with one another, and executives who glossed over problems instead of addressing them.
Mulally instituted weekly meetings with top executives to change the culture. His tough calls included concentrating on the core Ford brand, shedding weaker brands such as Volvo and Mercury.
The biggest gamble was mortgaging many company assets, from its productive factories to its iconic blue oval logo. He called the move as a "$23.5 billion home improvement loan."
The borrowing was designed to give the company enough cash to revitalize its vehicle lineup. But it also allowed Ford to avoid the bankruptcy and subsequent bailout that wiped out shareholders at General Motors (GM) and Chrysler Group in 2009.
In late 2008, Mulally appeared on Capitol Hill, asking for bailouts for his rivals. He believed closing those businesses would wipe out the supplier base that Ford also depended upon and plunge the U.S. economy into a depression. But Ford won points -- and sales -- from many U.S. car buyers for being the one automaker not taking a bailout.
While Mulally said "that retirement thing sounds a little bit good too," Hoffman said he can't picture Mulally hitting the golf links full time.
"I think he's looking at his options right now, and I think he has a lot of them," he said.
There was talk last year that he might succeed Steve Ballmer as CEO of Microsoft (MSFT), but that didn't materialize.
Mulally certainly doesn't need another job. The stock options from his eight years at Ford alone are worth more than $300 million.
His successor is Mark Fields, a Ford lifer widely seen as CEO-in-waiting since he was promoted to chief operating officer in 2012.
Related: Evolution of the Ford F-150
Fields faces his own challenges. While Ford captured more U.S. market share than any other automaker last year, it is playing catch-up with GM, Toyota Motor (TM) and Volkswagen in China, which is now the world's largest auto market.
And Ford's 2014 profit will be under pressure due to the launch of a record 23 new or redesigned models this year.
None is more important than the new F-150. The pickup, Ford's best-selling and most profitable vehicle, is undergoing a radical change with significantly greater use of aluminum than any truck has ever made in the past.