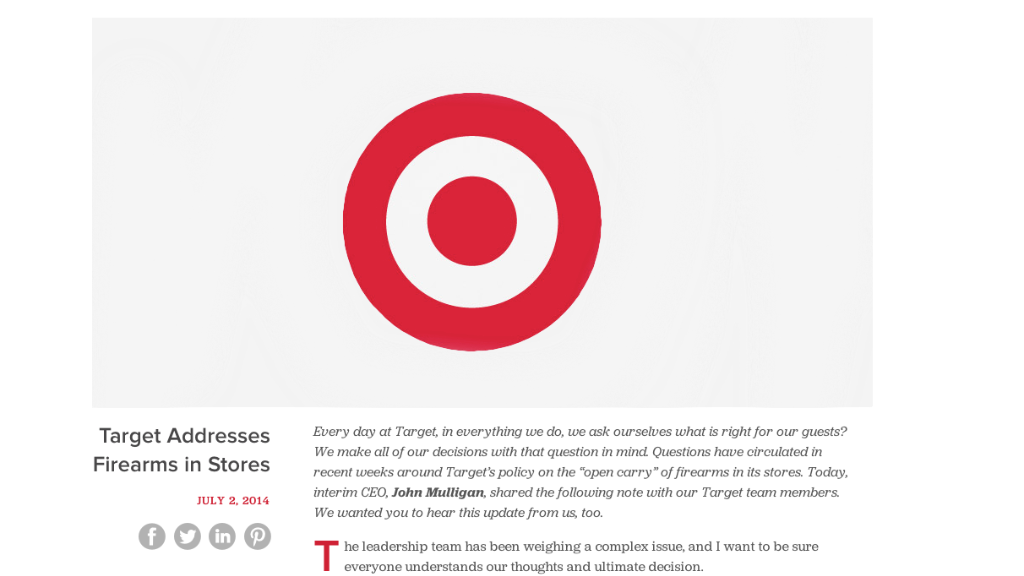 If you're heading to Target, leave your guns at home.
That's the message the retailer "respectfully" sent to shoppers Wednesday.
In a note posted online, interim CEO John Mulligan said that guns in stores create "an environment that is at odds with the family-friendly shopping and work experience we strive to create."
Target (TGT), which has nearly 2,000 stores, does not sell firearms or ammunition. A representative for the company said it can't enforce the request, and will abide by all local gun laws.
The request applies to stores located in communities where people can legally carry firearms openly, Mulligan said.
There are 43 states that have so-called "open carry" laws, meaning you can visibly carry a licensed firearm in public. Many businesses, including Wal-Mart (WMT) and Home Depot (HD) say if guns are allowed in the state, they're allowed in their stores.
But open carry laws don't require businesses to allow guns on their properties.
Starbucks (SBUX), Chipotle (CMG), Sonic (SONC), Disney (DIS) theme parks and Chili's, which is owned by Brinker International (EAT), have recently asked their customers to come unarmed.
Gun-control group Moms Demand Action for Gun Sense in America said it "applauds Target's decision today to ask customers not to bring guns into its stores," in a statement released after the decision.
Related story: Starbucks to customers: Please don't bring your guns!
The group started an online petition in June to demand that Target "protect customers in its stores," which has garnered nearly 400,000 signatures, according to the group. Moms Demand Action also pushed Starbucks and the fast-food chains to take a stand.
Gun-rights advocates have recently been showing up at restaurants and stores, including some Target locations, openly carrying small arms and large assault rifles to protest their right to bear arms.
Open Carry Texas, which organized many of the demonstrations, wrote on its blog on Wednesday that it "regrets" Target's decision but will honor its "policy of not taking long arms into Target stores or any other business."