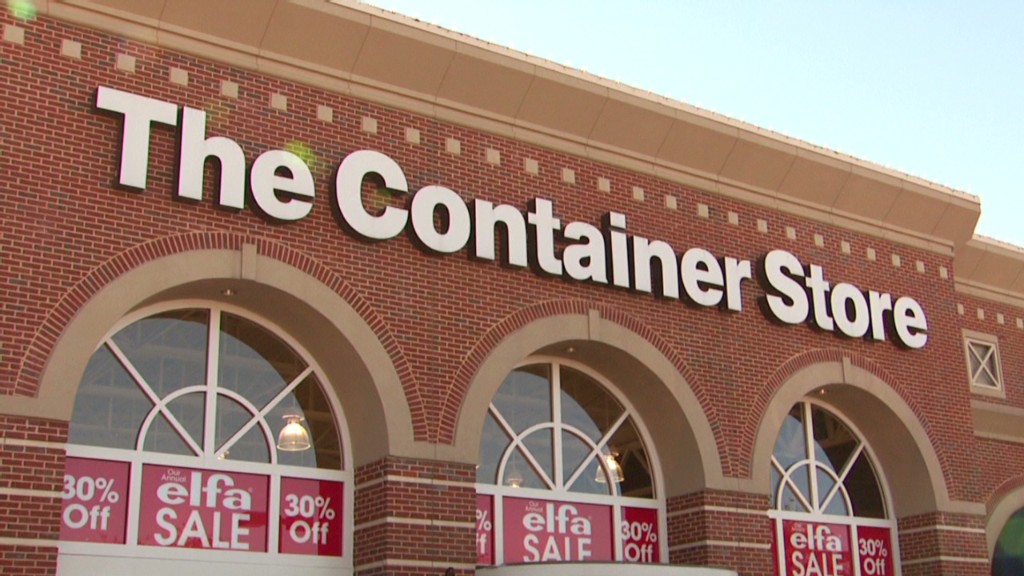 Here's a new one: The latest excuse for poor corporate performance is to blame it on a "funk."
The Container Store (TCS) is struggling. People aren't buying as many closet organizers as they used to or, at least, they aren't buying them at Container Stores.
"We've come to realize it's more than weather and calendar. Consistent with so many of our fellow retailers, we are experiencing a retail 'funk,'" the company wrote in a press release Tuesday evening.
Sales at existing stores -- a key measure of whether a retailer is doing well or not -- were down almost 1%. Costs were also up and margins shrunk.
Investors didn't like the news at all. The stock plummeted over 8% in trading Wednesday.
It's been a rough go for The Container Store since it went public in November. The stock debuted at $35 a share. It now trades below $25.
Wall Street wasn't buying the "retail funk" excuse. While early 2014 was tough on many retailers, a few rose to the top. It's just The Container Store wasn't one of them.
"U.S. retail sales have improved in the latest quarter... So for these guys to come out and go from slightly positive [sales] to a decrease of almost 1% is really kind of a head scratcher," says Michael Montani, a retail analyst at ISI Group.
Related: The 1% is spending. Luxury stocks soar
Some winners among retail chains include higher-end fashion group Michael Kors (KORS), sports brand Under Armour (UA) and even discount store chain Costco (COST).
"The retail funk is partially being created because there is all sorts of new competition for consumer dollars," says Brian Sozzi of Belus Capital Advisors. "Under Armour continues to win because the merchandise is innovative and enhances a person's daily life."
The Container Store's plan is to double down on higher-end offerings like custom solid drawers and shelving units. They are aiming for people who can spend over $2,000 on a luxury closet organization system.
They're also opening more stores. Right now they have 66 stores in 24 states, but they intend to add five more by the end of the year.
It's a somewhat similar picture at Family Dollar (FDO), the discount retailer that activist investor Carl Icahn has taken a stake in. Icahn wants to see someone else buy the company, and the latest quarterly results will only make those calls louder.
The company reported lackluster results Thursday morning with fewer customers buying things. Operating profits were down nearly third, and the company plans to close as many as 370 of its stores.
The Dollar Store didn't exactly blame its troubles on a funk, but it did cite "an intense competitive environment." The company has been lagging its rivals such as Dollar General (DG).
While The Container Store is pitching for higher-end consumers in its effort to turn things around, Family Dollar is planing to add beer and wine sales in an effort to be more of a one-stop shop.
At the moment, investors don't think it's enough to lift these stocks out of their funk.