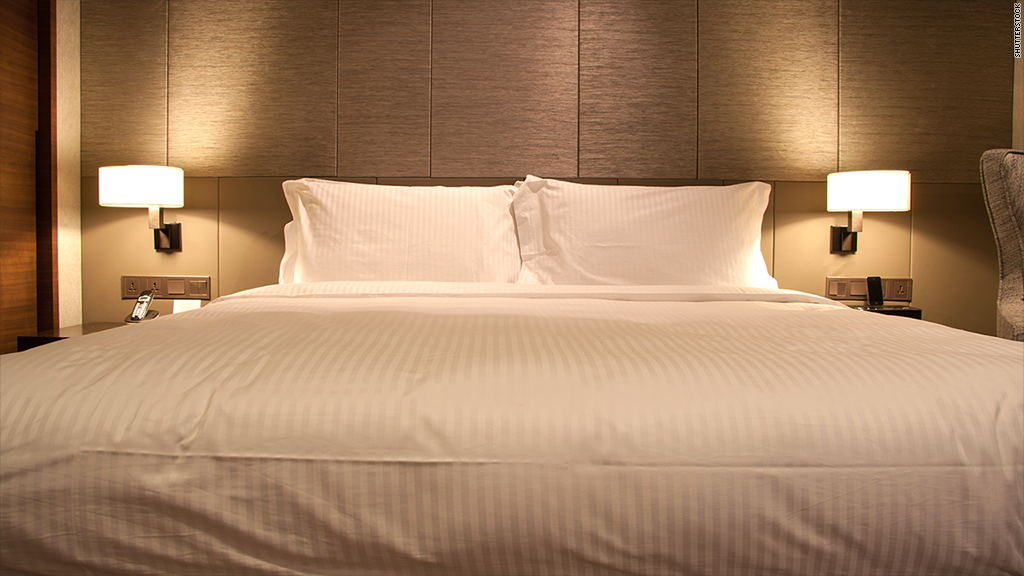 Take that, Airbnb. Demand for hotel rooms is booming.
Based on results from the first five months of the year, hotels in the United States are on track to report their highest level of rooms booked ever. That's according to data from Smith Travel Research (STR), which tracks supply and demand trends in the hotel business.
Related: How to vacation like an aristocrat
It's a stunning turnaround for the industry. Hotels got clobbered in the recession. After years of pre-crisis expansion, bank financing for new construction dried up quickly once the market crashed in 2008 and both business and leisure travelers decided to stay home.
But consumers and companies are traveling again as confidence in the economy grows.
Economics 101 working wonders for hotels: The fact that new rooms have been slow to hit the market is also helping. While construction has picked up over past year as banks have become more comfortable with lending for hotel projects, many of those new rooms aren't yet finished, according to Jan Freitag, senior vice president at STR.
To that end, occupancy rates for the year through May were at their highest level for that time frame since 1996. And with limited supply and high demand comes pricing power.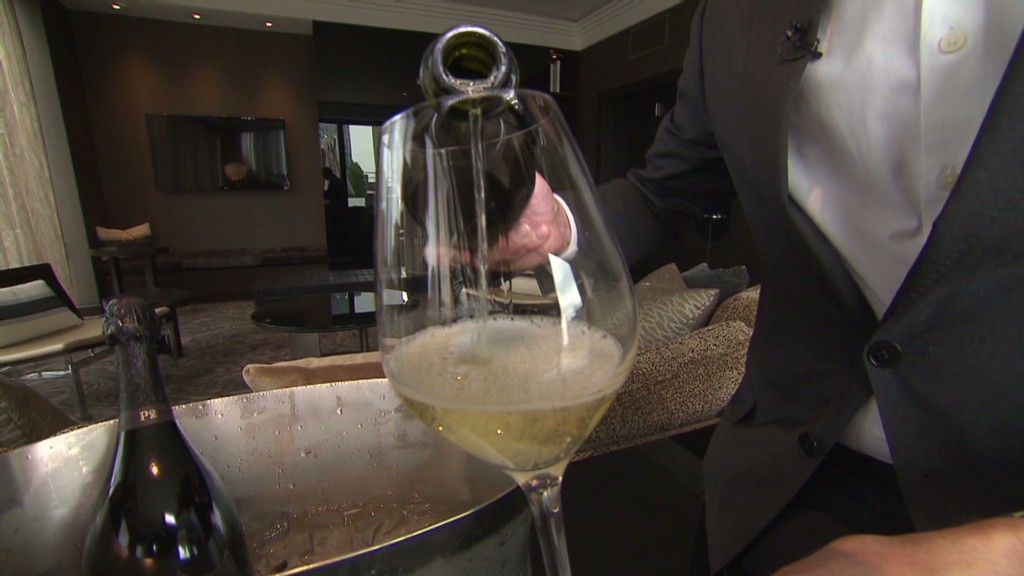 Revenue per available room, a closely watched metric for gauging hotel health, jumped 10% in May from a year earlier, STR calculated. "That's never happened before," Freitag claims. The average daily rate for a hotel room in May increased 4.8% from the previous year to $115.35.
Investors have taken notice. Marriott International (MAR)has soared 33% this year while Hyatt (H) is up 26%. Hilton (HLT) has spiked roughly 23% from its initial public offering in December.
Christopher Jones, a hotel analyst with Telsey Advisory Group, believes hotels are in a sort of sweet spot in which tight supply coupled with a strengthening domestic economy and an influx of international visitors have finally lifted the hotel sector's profile among investors.
"It's been a long road to recovery," he said.
Airbnb not as big a threat as you might think: As for the popularity of room sharing services like Airbnb, Jones feels the jury is still out on whether they will have a real long-term impact on the hotel business.
He said that while Airbnb makes sense right now for leisure travelers visiting an expensive city like New York, once more hotel rooms become available it's possible that those consumers will gravitate back to traditional hotels.
And for liability reasons, he thinks Corporate America will never embrace Airbnb. He also noted that it is nearly impossible to utilize for group bookings, which include large events such as conferences and trade shows.
Related: Airbnb fights back against New York
Looking ahead to the rest of 2014, Freitag is confident that it will continue to be a banner year for hotels. "We're going to sell more rooms than ever before, I can say that with authority," he said.
Still, the good times can't last forever. Freitag asserts that when things are going well, hotel operators have historically overstretched themselves by building more rooms than needed. That in turn lessens their ability to raise room rates.
"The hotel industry has always and will always be their own worst enemy," he said.