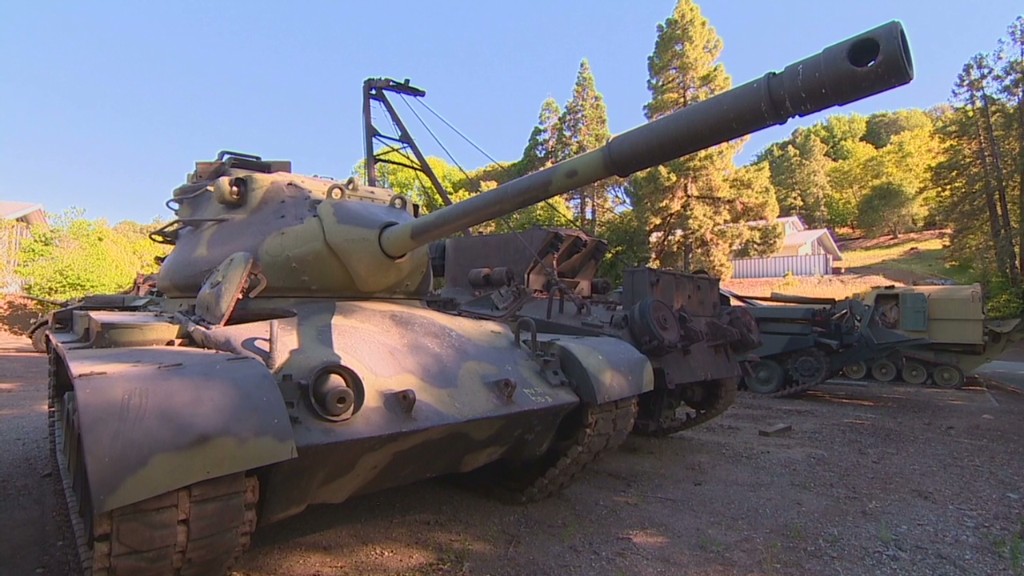 Somebody bought a Soviet-made Scud missile launcher for $345,000 this weekend.
We don't know who, because the identities of the buyer and other successful bidders in an auction of military equipment were not revealed.
There were about 250 items on the block, including tanks, armored cars, self-propelled guns and other big-engined military equipment.
The items came from Jacques Littlefield, a private collector, and were sold by Auctions of America at an event near San Francisco.
Littlefield, whose collection included tanks from World War I as well as vehicles used in recent decades, passed away in 2009. In order to legally own most of the vehicles, he had to "demilitarize" them, rendering them incapable of firing real ammunition.
A few, however, remained fully capable weapons and anyone buying them would be subject to stringent screening and will need special permits.
Among those that were still fully operational when sold was a British Centurion Mk 13 Main Battle Tank that went for the relative bargain price of $92,000.
"Vehicles from World War II were most sought after, and the American Sherman tanks were quite hotly contested," said Ian Kelleher, managing director of Auctions America's West Coast Division.
Bidding for one Sherman went up to $800,000. But it didn't sell because, on that particular vehicle, the seller was holding out for an even higher price.
The highest-priced vehicle sold at the auction was a German World War II 8-ton half-track truck that sold for just over $1 million.
Some items sold for much more than the auctioneers' estimates. For instance, a World War II multi-gun half track that had been estimated to be worth $100,000 sold for twice that amount.
Overall, the auction yielded better than 20% more than had been expected, for a total of $10.24 million.