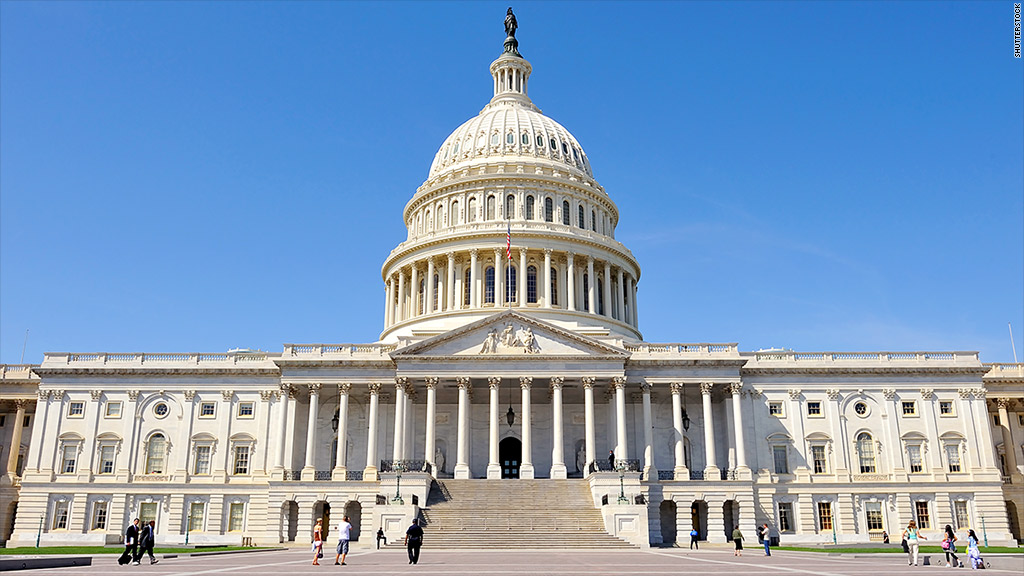 Lawmakers in Washington are preparing to hit the campaign trail full-time in August. That's typically not great news for the stock market.
Historically, midterm elections have not been kind to stocks, according to research released earlier this year by Sam Stovall, chief equity strategist at S&P Capital IQ.
Going back nearly 70 years, Stovall said the S&P 500 has suffered its worst six-month period of any four-year presidential term in the second and third quarters of a midterm election year.
The S&P 500 bucked the trend in the second quarter, gaining over 5%. Overall, the market heads into the midterm election season with stocks near all-time highs and market volatility near historic lows.
For the most part, investors expect the current gridlock in Washington to continue, according to a recent survey of 22 market strategists by CNNMoney. But there is some uncertainty about whether the Republicans will gain control of the Senate.
"Midterm elections historically have been disruptive to markets, and the possible shift in control this fall will likely make for a great deal of political fireworks," said Alan Gayle, senior investment strategist at RidgeWorth Investments.
A poll by Quinnipiac University last week showed that Americans are divided over whether they want the GOP to control the Senate.
Related: Stocks will end 2014 even higher, experts say
Democrats have a 55-45 majority in the Senate (53 Democrats and two independents who caucus with the party). But in the midterms, the party is defending 21 of the 36 seats up for grabs, with half of those Democratic-held seats in red or purple states.
The conventional wisdom is that stocks do better when pro-business Republicans are in power. But that hasn't been the case recently.
Related: U.S. deficits down sharply, but federal debt is still a concern
Stocks have been on a tear under president Obama, who took office just before the market bottomed in March 2009. Since then, the S&P 500 has nearly tripled in price.
"The market has done very well with a Democratic president, so if the Democrats maintain control of the Senate, this should not be negative," said Donald Selkin, chief market strategist at National Securities.
Still, the elections could have a "substantial impact on the market" given the risk of another impasse over the debt ceiling in 2015, according to Kristina Hopper, U.S. market strategist at Allianz Global Investors.
Related: Investors binge on liquid alternatives
The federal government shut down for 16 days last year after lawmakers failed to reach an agreement to raise the nation's statutory borrowing limit.
Lawmakers will likely need to raise the debt ceiling again next year, and any gains by fiscal hawks could be seen as a negative.
In hindsight, most lawmakers agree that shutting down the government was a bad idea. But investors seem to be bracing for the worst.
"Wall Street has learned that Washington will act only when absolutely necessary, and then, only at the last minute," said David Lafferty, chief market strategist with Natixis Global Asset Management. "Elections won't materially change this dynamic."