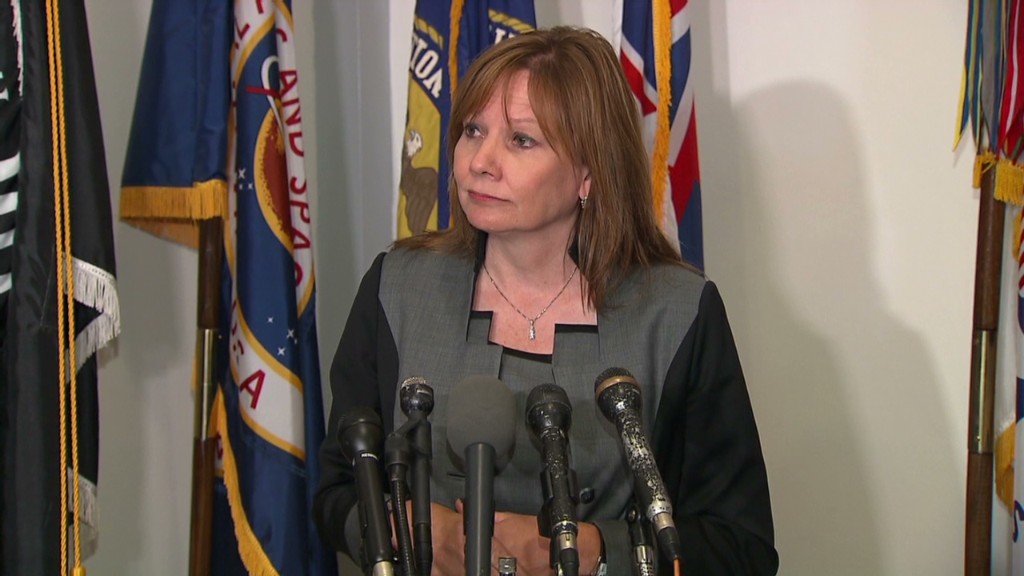 Senators didn't hold back Thursday as they grilled General Motors CEO Mary Barra.
It is the fourth time she's been called to Capitol Hill to explain why GM waited a decade to recall vehicles with a defective ignition switch now tied to at least 13 deaths.
Politicians are outraged. Criminal prosecutors are investigating. And GM (GM) has endured a steady stream of negative press coverage.
But GM's customers don't seem very angry. In fact, GM's June sales were the strongest the company has posted for the month since 2007.
So as a reminder, here's what's so outrageous about the GM recall debacle.
GM could have issued a recall years before it did. GM waited more than 11 years after it learned of the ignition switch problem before it issued the first recall, according to the automaker's internal report.
Barra fired15 employees and disciplined five more, but not everyone is satisfied with her response. Notably, no top executives were dismissed.
"It looks like a lot more than 15 people should have been terminated," said Rep. Michael Burgess, a Texas Republican, earlier this year.
The government screwed up too. One National Highway Traffic Safety Administration official pushed to open a full investigation in 2007, but was blocked by others in the department who didn't believe action was warranted.
But GM may not have told regulators everything it knew. NHTSA's acting chief David Friedman said GM withheld information about the issue from regulators. A detailed investigation into how the automaker responded to the regulator's inquires by The New York Times also suggests that the automaker withheld information about the deadly defect. The report found that GM declined to respond to questions about crashes even when it may have had relevant information.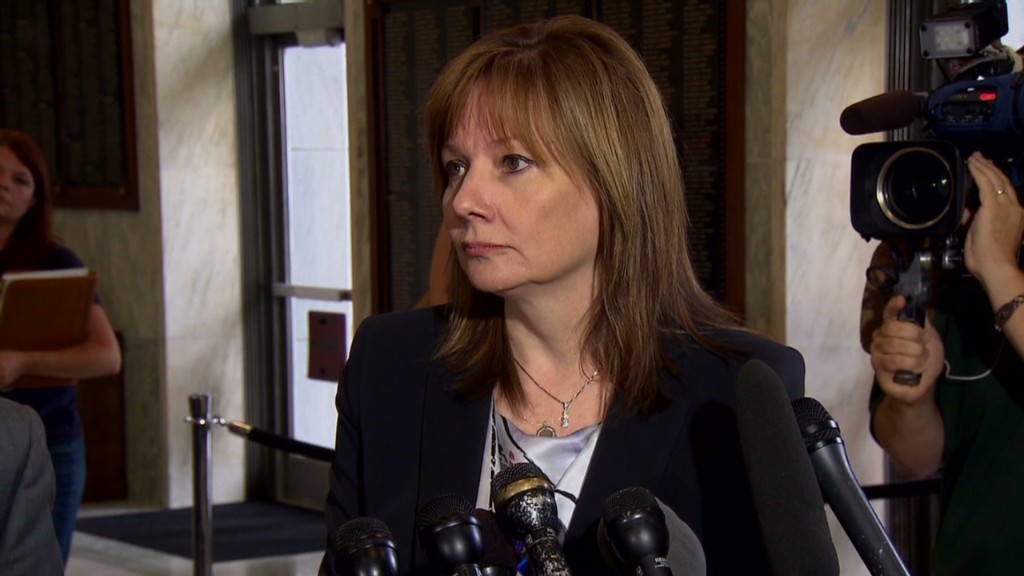 GM fixed the defective part without alerting NHTSA to the change. After GM fixed the faulty ignition switch, engineer Ray Degiorgio approved the new part without changing the part number. This made things confusing for investigators trying to figure out what exactly was causing the problem.
This "strikes me as deception," said Sen. Kelly Ayotte, a New Hampshire Republican, at a hearing in April.
Still, Barra said that the internal report "revealed no conspiracy by the corporation to cover up the facts."
GM was fined just $35 million: GM agreed to pay the fine to settle a federal probe into the delayed recall. The $35 million payout is the maximum amount allowed for a single civil violation. It represents less than 1% of GM's earnings over the last 12 months.
GM is trying to duck some lawsuits. When GM emerged from bankruptcy in 2009 after getting a $50 billion lifeline from the U.S. government, a court ruled that the new entity was not liable for anything the "old GM" did prior to the bankruptcy. And GM (GM) President Dan Ammann has said that the company will not waive that legal protection.
That will make it tough for victims to sue the automaker if they were in an accident before 2009.
Instead, the automaker created a compensation fund for victims, led by Ken Feinberg. He is offering at least $1 million to the families of those who died as a result of the defect in GM cars recalled in February. Those who were injured are also eligible for payment. But anyone who takes the GM settlement must agree to give up their right to sue.
GM urged employees to avoid using certain words, like "stall," that would prompt scrutiny. The initial draft of the service bulletin issued to dealers and NHTSA about the ignition switch flaw used the word "stall," according to GM's internal report. But the actual bulletin that was issued didn't contain that word.
The report stated that "the term 'stall' is a 'hot' word that GM generally does not use in bulletins because it may raise a concern about vehicle safety, which suggests GM should recall the vehicle, not issue a bulletin."
An internal GM presentation from 2008 advised employees to avoid more colorful terms to describe problems, including "deathtrap," "widowmaker," "rolling sarcophagus."
Not all victims affected by GM's ignition switch problems are eligible for compensation. After the botched recall in February, the automaker tested all of its ignition switches. That led to more recalls, including 11.6 million vehicles with similar ignition switch problems linked to 3 deaths and 13 injuries. Those victims are not covered under the compensation plan.
There may have been criminal wrongdoing. The Justice Department is weighing whether to bring criminal charges against the automaker. A similar probe into Toyota's (TM) 2009 and 2010 unintended acceleration recalls led to a $1.2 billion fine earlier this year, but no executives were charged with wrongdoing.