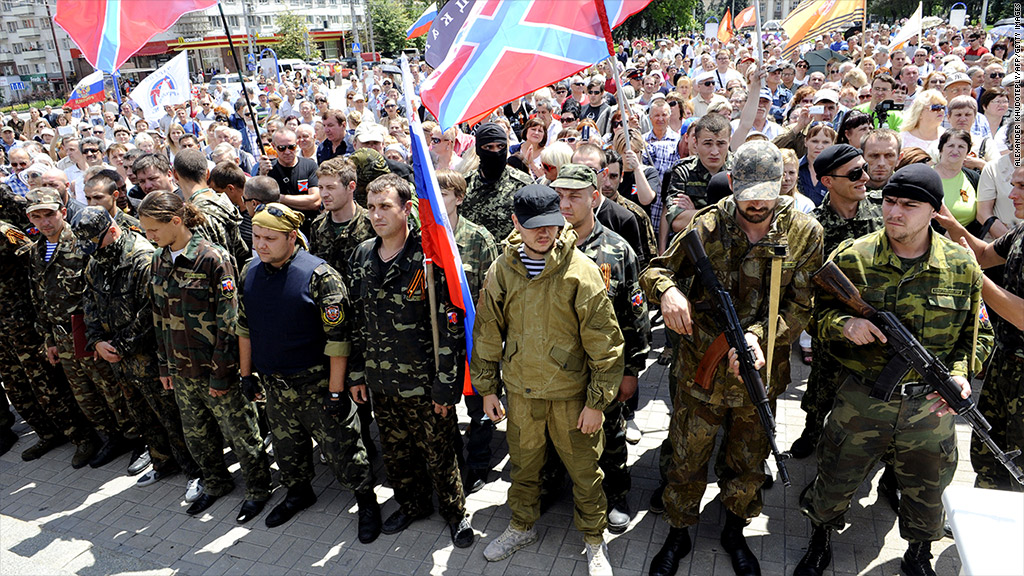 The conflict in eastern Ukraine is driving the economy even deeper into crisis, which may force the government to seek another bailout.
Ukrainian forces have been struggling to control a pro-Russian rebellion raging in eastern regions since March, when Moscow annexed Crimea.
The International Monetary Fund agreed in April to lend Ukraine $17 billion over the next two years to stave off the threat of economic collapse.
But conditions in Ukraine have deteriorated since then, making it harder for the government to meet the terms of the bailout. Making matters worse, Russia has also cut off gas supplies.
Thursday's loss of a Malaysian Airlines plane -- which the Ukrainian government says was shot down by rebels -- will only ratchet up the tension.
"The conflict is putting increasing strain on the program and a number of key elements of the macroeconomic framework have had to be revised," the IMF said Friday.
The IMF now expects Ukraine's economy to shrink by 6.5% this year, compared with 5% at the time the emergency loans were agreed. GDP stagnated last year.
Ukraine's government is spending more than expected on security as it battles the separatists. Having lost control of parts of the country, revenue collection is also falling behind schedule.
And state gas firm Naftogaz is struggling to force customers to pay their debts.
In return for the bailout, Ukraine agreed to an austerity program that included shedding 24,000 government jobs, raising taxes, selling off state assets and gradually withdrawing subsidies on natural gas.
It also pledged to tackle corruption.
Related: Is MH17 disaster result of tragic blunder?
The program was designed for most of the spending cuts to fall in 2015-2016. Ukraine's allies in the West wanted to avoid provoking a backlash and stoking further discontent among the Russian minorities in the east.
But with the costs of the conflict rising, the government has been forced to come up with spending cuts equivalent to about 1% of GDP that will be pushed through this year. Wages and pensions will be capped at the level of inflation next year, and more public sector jobs will go, the IMF said.
Even that may not be enough.
"The program hinges crucially on the assumption that the conflict will begin to subside in the coming months," the IMF said. "A significant prolongation of the crisis would seriously strain their ability to [reform the economy] without a substantial increase in external support on adequate terms."