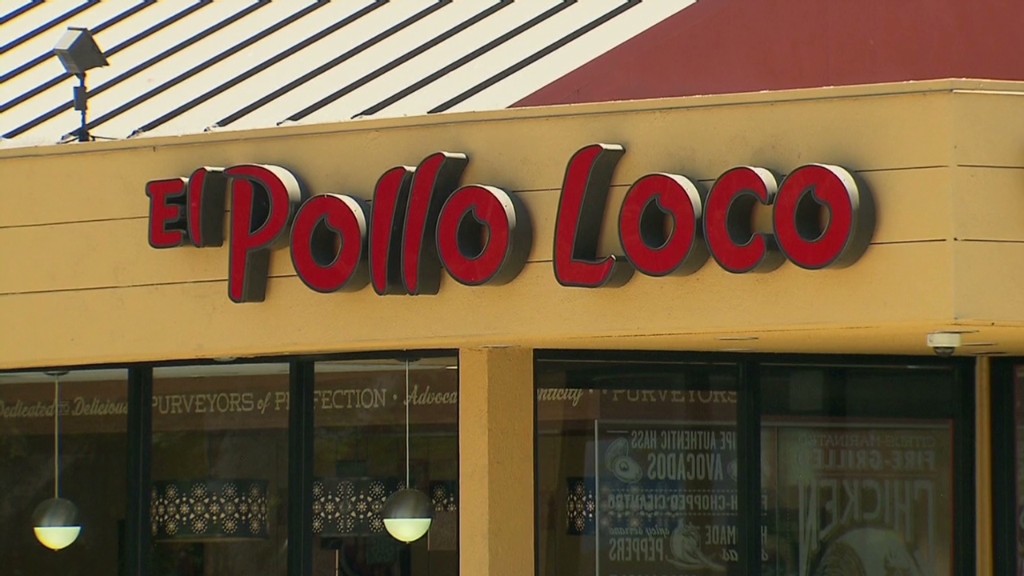 The crazy chicken is coming to Wall Street.
If you're not from the West, you may not have heard of El Pollo Loco. But if you're an investor, you may smell something juicy cooking this week.
El Pollo Loco, which specializes in Mexican-style grilled chicken, is expected to begin trading Friday.
The restaurant chain is aiming to raise $107 million in an initial public offering of more than 7.1 million shares priced at $15, the company said Thursday. That is at the upper end of its previously-announced range. El Pollo Loco plans to list its stock under the ticker "LOCO" on Nasdaq.
It's a West Coast thing. El Pollo Loco has 401 locations in five U.S. states, including Texas and Arizona. But the vast majority of its restaurants are in California.
The first El Pollo Loco was opened in 1980 on Alvarado Street in Los Angeles, and the chain still has a huge presence in the city. Last year, it generated 80% of its revenue from the greater Los Angeles area.
El Pollo Loco has ambitious plans to expand. The company believes it has the potential to one day operate 2,300 locations in the United States, according to internal estimates.
Related: Burrito inflation is here
El Pollo Loco says it's well positioned to benefit from increasing demand for healthier food (its chicken is grilled, not fried) and the growing Hispanic population in the United States.
The company's main competitor is Chipotle Mexican Grill (CMG), the big burrito chain, and other Mexican-style fast food chains. It also competes with other fast-food restaurants that specialize in chicken, such as Yum! Brand's (YUM) KFC and Chick-fil-A.
Related: China food scandal hits McDonald's, KFC
A history of losses. El Pollo Loco's financials are not as healthy as its food. While sales have been growing, the company has lost more than $54 million during the past three years, according to its prospectus. But preliminary results suggest it could turn a small profit in the first quarter of 2014.
The company was hit hard during the Great Recession as consumers cut back on eating out. It received a significant investment from private equity firm Trimaran Capital Partners in 2009. After the IPO, Trimaran will own about 46% of the outstanding shares.
Another private equity firm, Freeman Spogli, will own 26% of El Pollo Loco stock.
El Pollo Loco also has a lot of debt. The company plans to use the proceeds from its IPO to pay off part of its $288 million in total debt.
IPO market still hot. El Pollo Loco is making its debut at a time when investors are hungry for new growth opportunities.
That wasn't the case in 2006, when El Pollo Loco withdrew plans to go public due to unfavorable market conditions.
Now, with stock prices near record highs and market volatility near historic lows, companies have been going public at a rate not seen since before the financial crisis.
Related: GoPro shares surge 55% in IPO
There were 89 companies that went public on U.S. exchanges in the second quarter. That was the hottest quarter for IPOs since 2007, according to PricewaterhouseCoopers.
While most of the big hits have been in the technology and biotech sectors, a few other restaurants have gone public recently.
Zoe's Kitchen (ZOES), a Mediterranean style restaurant chain with 111 locations, debuted in April. The stock jumped nearly 64% on its first day of trading. It soared even higher in June, but has since dropped sharply. Papa Murphy's (FRSH), which specializes in "Take 'N' Bake" pizza, has been under pressure since it started trading in May.
And two restaurant chains that went public last year have flopped after sizzling starts. Noodles & Co. (NDLS) soared after it went public just over a year ago, but the stock down more than 40% from its most recent high.
Shares of sandwich shop Potbelly (PBPB), which more than doubled when they went public last October, are now trading below their offering price.
Investors are on a quest for the next Chipotle, which has posted spectacular growth since it was spun off from McDonald's (MCD) in 2006. The stock began trading at $22 per share and hit an all-time high of $611 per share earlier this year.
Chipotle's latest earnings report blew past expectations, even as the chain rolled out menu price hikes.