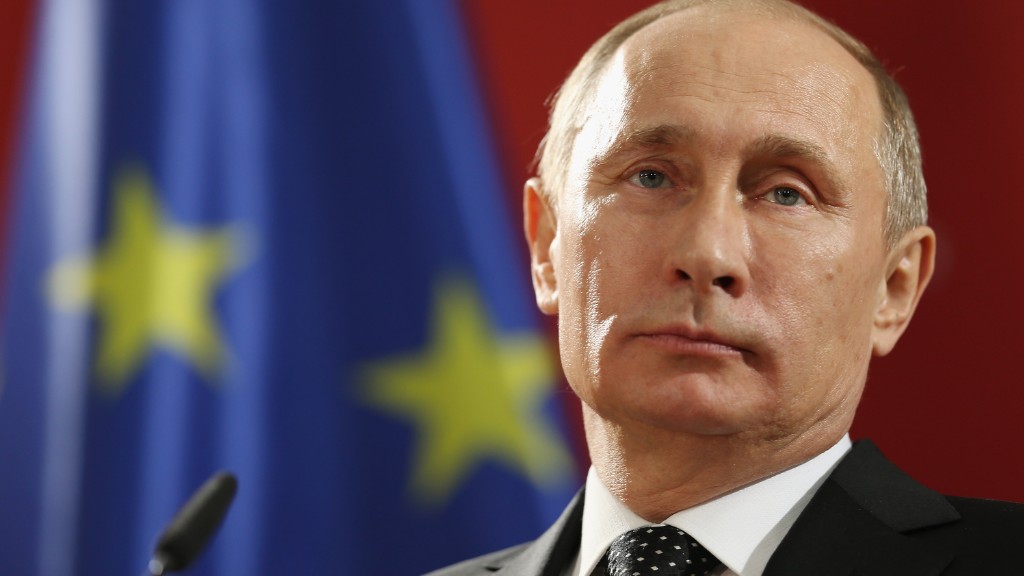 The shooting down of Malaysia Airlines Flight 17 may finally force Europe to impose tougher sanctions on Russia.
Since Moscow annexed Crimea four months ago, European leaders have worried about possible blowback if they punished Russia. The reason: the extensive trade ties between Europe and its powerful neighbor.
Europe is set to take a harder stance. Officials met Tuesday to discuss ways of pressing Russia to end its support for rebels in eastern Ukraine. U.K. Prime Minister David Cameron says the weight of evidence suggests the rebels brought the plane down.
"Russia cannot expect to continue enjoying access to European markets, European capital, European knowledge and technical expertise while she fuels conflict in one of Europe's neighbors," he said.
Related: Europe threatens Russia with sanctions
The U.S. government, whose lead Europe might now follow, has taken a tougher approach -- targeting Russian companies and oligarchs, some close to President Vladimir Putin. The sanctions haven't gone after broad sectors of the Russian economy, but they have set key players scrambling.
Here are the 10 most significant U.S. sanction targets so far:
Rosneft: Russia's biggest oil company; part owned by BP (BP) and partner to ExxonMobil (XOM).
Has lost access to U.S. sources of long-term finance. Cash rich and can still export oil. Expected to complete its purchase of Morgan Stanley (MS)'s oil trading business.
Novatek: Russia's largest independent natural gas producer.
Has lost access to new U.S. funding. Estimated 46% of its debt is in dollars, according to analysts at BNP Paribas. Should be able to find alternative long-term investors.
VEB: Arranges payments for the Russian government; chairman is Russian Prime Minister Dmitry Medvedev.
Bank will have to reduce its exposure to dollars in the future. Should be able to manage its financing through 2015 by tapping markets in other currencies, local investors and the Russian central bank.
Gazprombank: A key player in financing Russia's energy sector, the mainstay of country's economy.
Gazprom (GZPFY), which supplies Europe with about a third of its natural gas, is a major shareholder. Bank's dependence on U.S. markets is low and it can count on Russian state support given its importance to the economy.
Kalashnikov: Russia's largest firearms manufacturer; famous for its AK-47 rifles.
Among eight Russian arms firms that have had U.S. assets frozen and have been banned from doing business with U.S. businesses or individuals.
Igor Sechin: Rosneft CEO and one of dozens of Russians who have had their assets frozen.
Laughed off a sanctions-inspired fall in Rosneft's shares in March as a buying opportunity, but warned last week's blacklisting of the company was an attempt to target Russia's economy. Says U.S banks and investors would suffer from the move.
Yuri Kovalchuk: A close associate of Putin and largest shareholder in Bank Rossiya, which is also facing U.S. sanctions.
Called Putin's "personal banker" by U.S. officials. Bank is Russia's 17th biggest and has major interests in oil and gas. Three subsidiaries are also on U.S. sanctions list.
Gennady Timchenko: Billionaire oil trader and founder of Geneva-based energy trading company Gunvor.
Sold all his shares in Gunvor just two days before landing on the U.S. list. His Volga Group and a number of subsidiary companies have had assets frozen by the U.S.
Sergei Chemezov: Rosneft director and appointed by Putin as director general of Rostec.
Rostec is a state-owned conglomerate that runs 13 holding companies, 8 of which are active in the military-industrial complex. Counts Boeing (BA) and Allegheny Technologies (ATI) among its many foreign partners.
Arkady and Boris Rotenberg: U.S. officials say the brothers received about $7 billion in contracts for the Sochi Olympic Games.
Control two banks -- InvestCapitalBank and SMP Bank -- subject to sanctions.