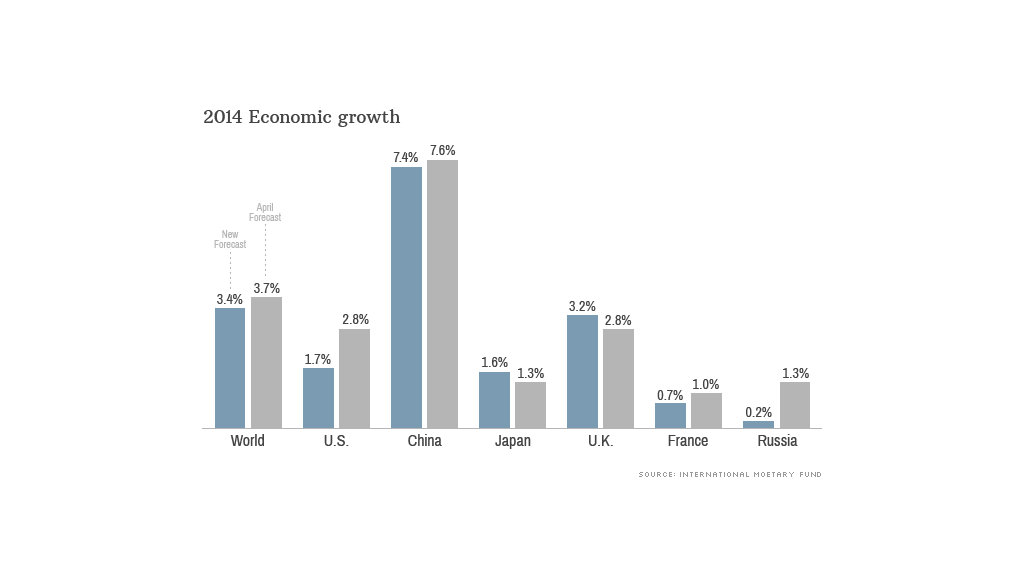 The world economy is stuck in low gear even as the risks to growth mount, the International Monetary Fund said Thursday.
Global growth this year should average 3.4%, the IMF said. That's a little better than the 3.2% the world economy managed in 2013.
A poor first quarter in the United States, when dire winter weather depressed demand, was largely to blame for the revision.
The IMF also marked down its forecasts for other big economies, including China, France, Italy and Russia.
Tension between Moscow and the West over the crisis in Ukraine has hit business confidence in Russia.
"The result has led to large capital outflows, and a near freeze in investment decisions," Blanchard said.
Russia's economy is expected to grow just 0.2%.
Other faster growing economies are suffering too.
Brazil and South Africa have been marked down sharply.
The IMF expects China to grow by 7.4% this year, and the outlook would have been even weaker without a mini-stimulus package that has helped kick start activity.
Some economies are growing faster than expected -- the IMF raised its forecasts for Japan, the U.K., Spain and Germany -- but geopolitical tensions and the risk of rising interest rates in the U.S. could mean weaker global growth persists.
Higher interest rates could suck investment from emerging markets, while tougher sanctions on Russia would further depress its economy and hurt Europe.
Meanwhile, violence in Iraq and elsewhere in the Middle East has the potential to drive oil prices higher again.