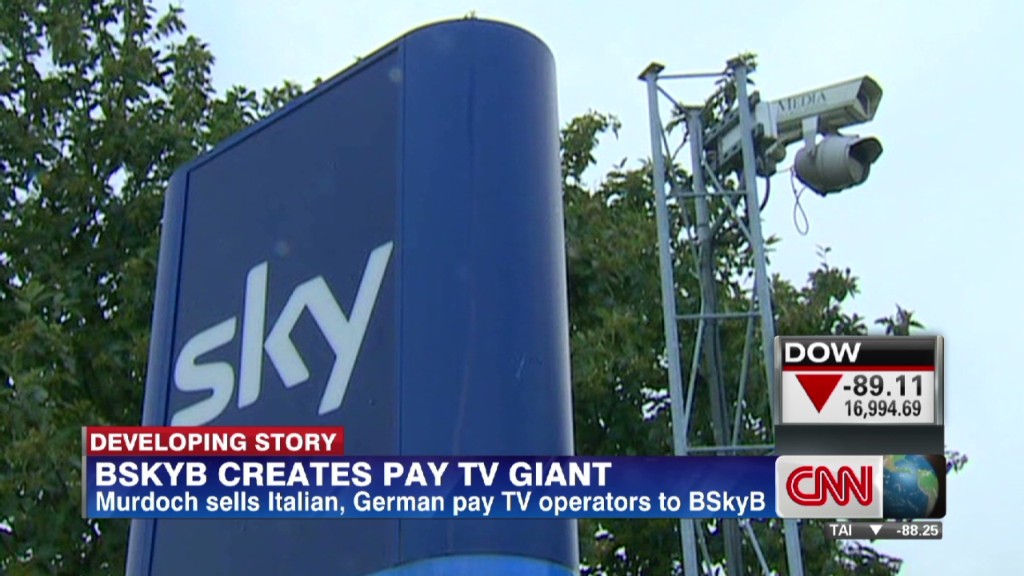 Rupert Murdoch is raising cash to pursue U.S. ambitions.
21st Century Fox (FOXA), home to Murdoch's film and TV businesses, is merging its satellite TV operators in Italy, Germany and the U.K., creating a European market leader and pocketing £4.9 billion ($8.3 billion) of cash.
BSkyB (BSYBF), in which 21st Century Fox owns a 39% stake, is buying Sky Italia and Sky Deutschland.
In addition to the cash payment, the U.K. firm will transfer its 21% stake in the National Geographic Channel to Fox.
Just four years ago, Murdoch was hoping to launch a full takeover of BSkyB but dropped the plans after a phone hacking scandal at his newspaper group.
Since then, competition in U.K. TV distribution has intensified. Telecom operator BT (BT) is mounting a challenge in sports -- the backbone of Sky's service -- and Amazon (AMZN) and Netflix (NFLX) pose a growing threat in streaming movies.
Murdoch now seems more interested in gaining a bigger slice of content production. Just last month, 21st Century Fox made an offer to buy Time Warner Inc (TWX) -- owner of CNN and CNNMoney -- worth about $80 billion at the time.
Related: For size, sports and ego -- why Murdoch wants Time Warner
Time Warner rejected the approach but media analysts believe Murdoch won't give up easily.
Once the European deals close -- and they're both subject to regulatory and shareholder approval -- Sky will be the leading pay TV provider in three of Europe's four biggest markets with potential access to nearly 100 million homes.
BSkyB will gain 8.5 million existing customers and expects the merger to generate £200 million ($339 million) in annual cost savings by the end of the year.
The company will issue new shares to help pay for the deal. BSkyB shares fell by more than 4% in London trading.