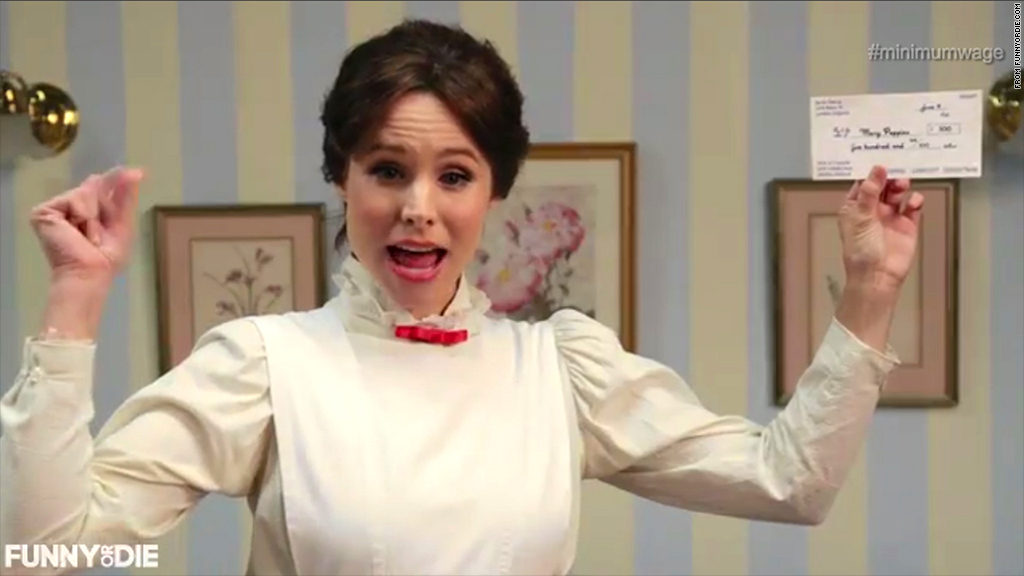 You'd think magical powers would entitle Mary Poppins to more than $7.25 an hour.
But in a parody from Funny or Die, the Disney character (played by Kristin Bell) is quitting her job because that's all the Banks family will pay her.
She struggles to make ends meet while making $7.25, the federal minimum wage, pleading for a $3 raise.
"In every job that must be done, you must be paid in more than fun," she sings, a play on an original Mary Poppins song.
Related: LA hotel workers could get highest minimum wage in the U.S.
Plenty of people in the real world agree. 71% of people surveyed by CNNMoney favor an unspecified hike in the federal minimum wage. Meanwhile, 36% said it should be increased to $10.10 an hour, which is what Senate Democrats and President Obama have proposed.
A number of states and major cities aren't waiting for Congress to act and are passing minimum wage increases on their own. This year, five states and Washington D.C. passed legislation to gradually increase their wages to $10.10 or higher; other states passed smaller increases. In June, the Seattle city council approved an eventual increase to $15 an hour, making it the nation's highest so far.
But critics contend that a higher minimum wage will hurt jobs and consumers. A report released by the Congressional Budget Office in April said that a federal hike to $10.10 would lift 900,000 people out of poverty, but also cut 500,000 jobs.