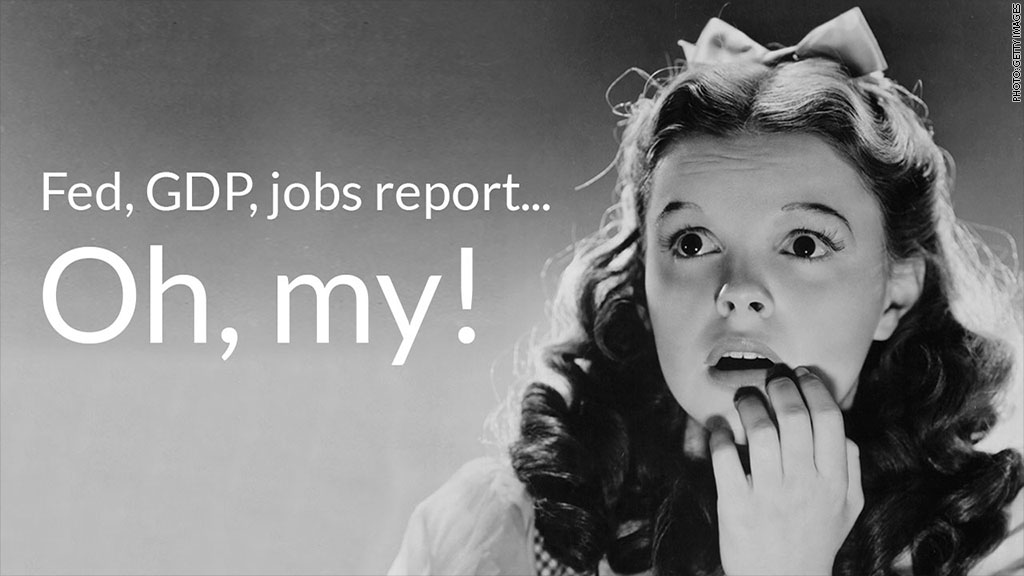 Forget lions, tigers, and bears. For market watchers this week it's all about the Fed, GDP, and jobs, oh my!
The curtain is about to be pulled back to reveal some key economic data. Here's what you need to know.
It's the economy, stupid: Investors will have to wait until Friday for the main event of the week: the all-important July jobs report.
The key thing to watch is whether robust jobs growth is continuing into the second half of the year. In June, the government said 288,000 jobs were added, bringing the total number of jobs added in the first six months of 2014 to 1.4 million. That was the strongest six months for job growth since 2006.
Meanwhile, the unemployment rates stands at 6.1%, which isn't far off from what many economists consider full employment.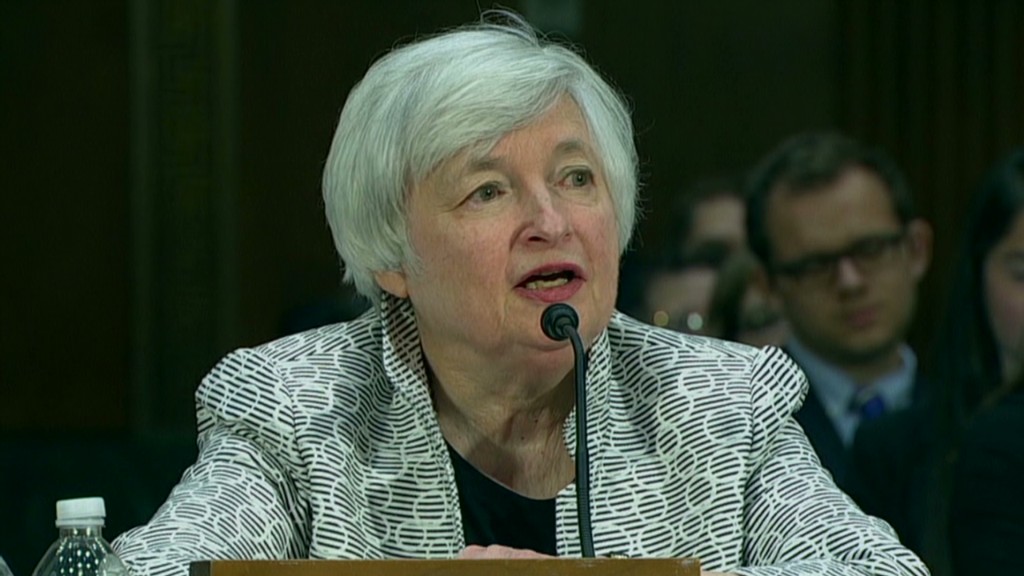 But before the jobs report, Wall Street will get a first read on second quarter gross domestic product (GDP) Wednesday morning. GDP is the most comprehensive gauge of how the economy is doing, and a majority of GDP comes from consumer spending.
Analysts mostly believe that the first quarter's 2.9% contraction was a blip due primarily to unusually harsh weather, but this week's GDP report should provide more clarity on how the economy is faring.
Related: Global economy still limping along — and you can blame the U.S.
Then there's the Federal Reserve. The central bank will release a statement outlining its latest monetary policies on Wednesday afternoon.
It's widely believed that the Fed will announce another $10 billion pullback in monthly bond purchases, but investors will be scrutinizing every word of the statement for clues as to when the Fed plans to raise interest rates.
Summertime earnings vibes: A slew of corporate earnings reports may also provide some hints about how the economy is doing.
Investors will pay close attention to earnings from UPS (UPS) on Tuesday. The shipping giant and FedEx (FDX) rival blamed its poor first quarter performance on that nasty winter weather, but market strategists are expecting the company's earnings picked up steam last quarter along with the economy.
Procter & Gamble (PG) earnings, also considered a good gauge of economic health because it owns big consumer brands like Tide, Gillette, Crest and Pampers, will come out Friday.
Related: Smart people buy generic brands
Momentum stocks will also be in focus when Linkedin (LNKD) and Tesla (TSLA) report results after the closing bell on Thursday.
Tesla's stock is up 50% this year as investors continue to be excited about Elon Musk's electric car company.
Linkedin is a more complicated story. Shares of the social career network are down almost 20% in 2014, but jumped over 10% this week on news that it acquired ad marketing platform Bizo for $175 million. Strong earnings from Facebook (FB)also helped.
Big oil earnings are also in the pipeline. Chevron (CVX) and Exxon (XOM) release earnings Thursday and Friday, respectively. While it's probably still too early to tell what, if any, effects the geopolitical turmoil in Ukraine and the Middle East are having on their finances, investors will be looking for guidance about their profits and oil prices.