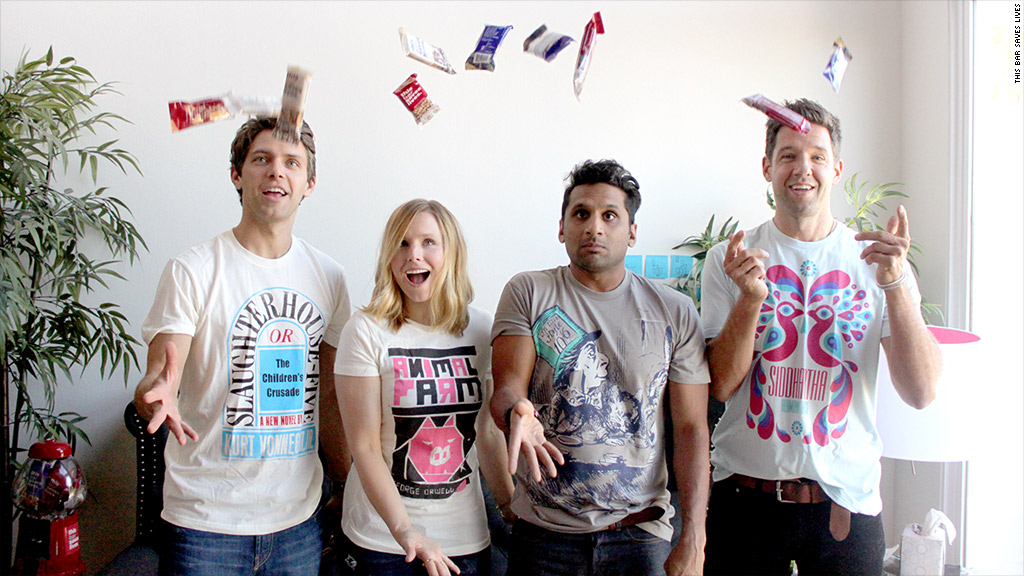 For actors Ryan Devlin and Todd Grinnell, getting celebrities to endorse their startup was easy. Launching This Bar Saves Lives came with other challenges, like learning a new market and balancing their mission with the demand for sustainable growth.
Their enterprise really began in 2008, when Devlin and Grinnell used their celebrity to fundraise $30,000 to build a bridge in war-torn Liberia. They took meetings, shook hands and toured a clinic in Monrovia, where they saw starving children being fed Plumpy'Nut, a well-reputed RUTF (Ready to Use Therapeutic Food) that keeps kids alive in war- or disaster-torn regions.
The sight of those kids stuck with them. In 2013, the two launched This Bar Saves Lives, a company that would distribute one package of Plumpy'Nut for every granola bar it sold.
Support rolled in -- from Ravi Patel with whom Devlin had shot a pilot, and Kristen Bell, with whom he'd acted on Veronica Mars. Patel became the company's third partner and now heads up finance. Bell came on as a founding partner and brand ambassador. The two were also instrumental in the company's first round of funding, investing one-third of the overall $250,000.
Related: This startup thrives on a four-day workweek
"Everybody always wants a celebrity spokesperson or somebody who has 2 million Twitter followers ... that was the low-hanging fruit for us," says Devlin. What they lacked were connections in the snack food world.
Devlin and Grinnell had tried making samples of the product themselves -- what Devlin describes as "really terrible granola bars." They knew they needed help and put the first round of investment into hiring a graphic designer, attorney, and especially food scientists to develop a salable product.
For this, they turned to JPG Resources -- founded by food scientist Jeff Grogg who helped grow Kashi. The company consulted with This Bar Saves Lives "in every operational aspect of our launch," says Patel.
"They put us in touch with all their contacts in the snack business, and were able to lend their 25-plus years of experience to every major decision," says Patel.
Without them, says Devlin, "we would have been bankrupt in six months."
Related: Refugees cook for the masses
The company went through five versions of samples under JPG's guidance before soft launching with three flavors. Devlin said customer feedback on those bars -- the blueberry was a little too sugary; the vanilla was too crunchy -- allowed the company to make crucial tweaks.
The actors knew that celebrity endorsement might encourage single purchases, but the only way to create steady Plumpy'Nut aid was to draw repeat customers with a superior product.
They use non-GMO, organic and fair-trade ingredients -- and that standard comes at a price. Plus, Plumpy'Nut costs 34 cents per packet, which is factored into the bar's $2.69 retail price.
To keep costs down, the actors balance their startup roles with their day jobs, making up lost time at night, over weekends and when the camera turns off. (Devlin spoke to me from Puerto Rico where he was filming for MTV.)
Related: Facebook launched my business
"What we normally give away on our aid is what most companies peg as their profit margin," says Devlin. Nevertheless, according to Patel, their gross margin remains in the 40%-50% range, after their donations.
"Margins will continue to improve with scale, and currently all profits -- as well as deferred founder salaries -- are being reinvested into our aggressive growth," Patel explains. The company is on track for profitability within the next three years and has projected sales to double each year for the next five years.
Thus far, This Bar Saves Lives has sold over 214,000 bars and distributed that same number of RUTF's through Save the Children in South Sudan and in the Philippines. They're sold in Sprouts Farmers Markets nationwide and will expand to most Whole Foods (WFM) by August. And whether star power or taste is helping sell the bars (or both), hungry children are receiving emergency relief.
"We're all acting way less, and when we do act, we are still putting in at least ten hours a day," says Patel. "What I'm saying is, we are tired, but it's been so worth it."