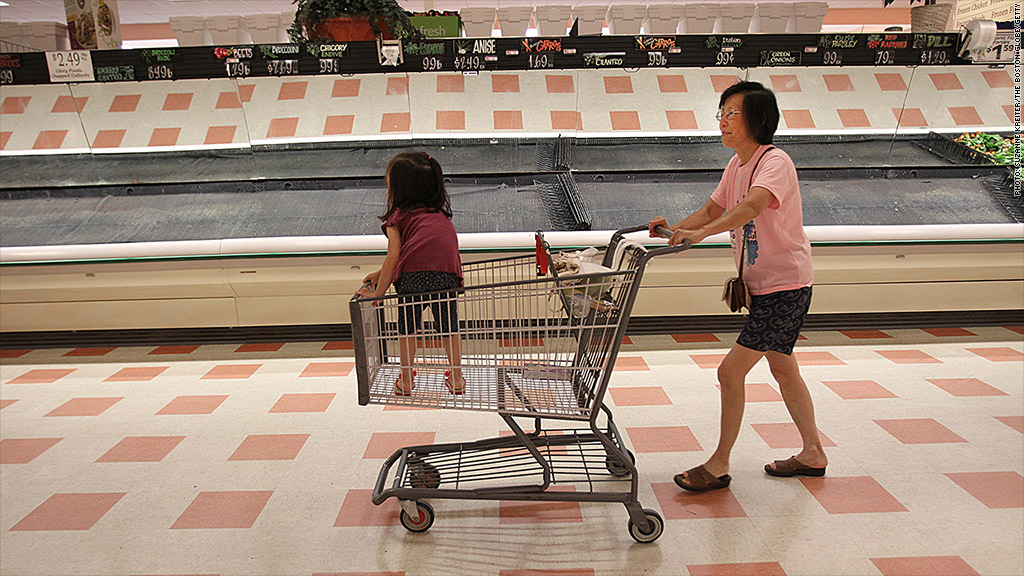 There's no meat or produce left on the shelves, and the parking lots are nearly empty.
At Market Basket supermarkets across New England, cashiers are explaining to their few customers why the store looks abandoned.
And outside one of the stores a half-hour north of Boston, thousands of employees -- and customers -- are rallying.
They're demanding the reinstatement of their boss, Arthur T. Demoulas, who was recently ousted as the head of the family-owned company after a lengthy struggle for control with his cousin, Arthur S. Demoulas.
This is no minor family dispute.
In parts of New England, the Demoulas name is nearly synonymous with grocery shopping, and Market Basket competes primarily with Stop & Shop and Shaw's. What started as a small family market nearly 100 years ago is now a multi-billion dollar chain of about 70 stores and 25,000 employees.
But the company has retained a personal touch. It's not uncommon to find employees who have spent their entire careers at Market Basket, rising through the ranks. Their name tags -- pinned to smocks worn over a pressed shirt and tie -- proudly proclaim their years of service to the company.
Related: What it takes to be a great boss
At the head of the family was Arthur T., known to many as Artie or ATD. When he visited the stores, employees say he would ask about their families, then move on to business matters.
"He is a man of great integrity," said Joe Schmidt, who until recently was a store operations supervisor. "He is a man that puts employees and people first, and with that comes a successful business model."
Schmidt started bagging groceries after school when he was age 14 and rose through the ranks over the next 27 years. He was among eight senior employees who were fired this month after going public with their opposition to the new management.
The movement has grown. Organizers claim more than 100,000 customers signed a petition, and more than 75,000 have joined a social media effort backing Arthur T.
Employee morale has sunk, employees and former employees said, since Arthur T. was replaced by two co-CEOs loyal to Arthur S. It was the final straw after a year of disruptive changes.
Related: Do you have what it takes to be a great boss?
"What took 100 years to build was disintegrating in the year," said David McLean, a 38-year veteran who rose from a part-time clerk to a senior role in the corporate office.
"In this company, you never feel alone," he said. But the co-CEOs were not raised in the Market Basket culture, and he feels they do not value the company as family.
In particular, he and others voiced concern management will gut the generous employee profit-sharing program, a retirement plan entirely funded by the company.
A call to corporate headquarters was not returned on Tuesday.
The Market Basket board is considering the future of the company. It received bids from Arthur T. and others to buy the company, and said it is weighing those offers.