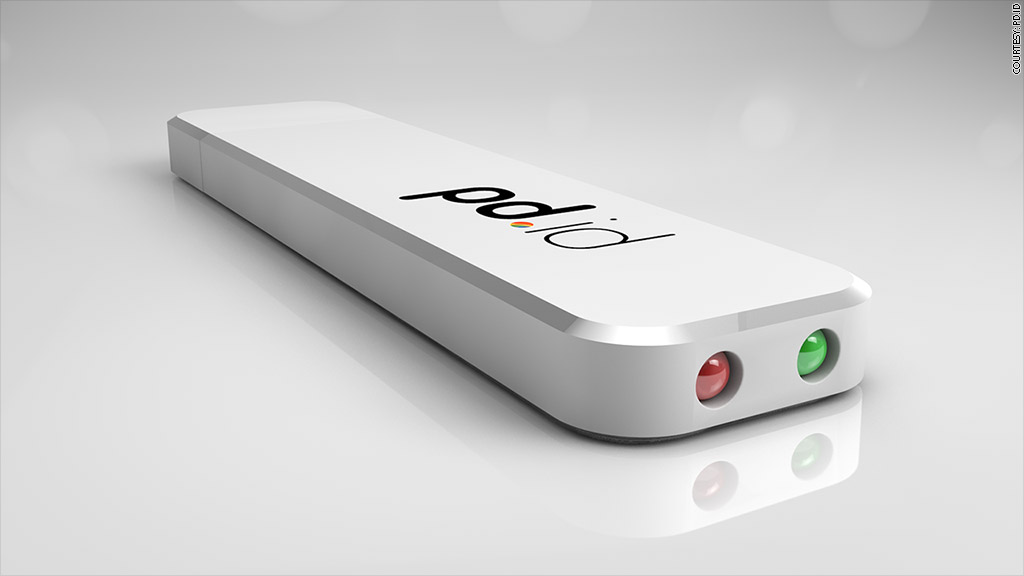 "Date rape" drugs have met their high-tech match.
A new electronic device and mobile app called pd.id (Personal Drink ID), aims to help prevent sexual assaults that occur after a victim has been unknowingly drugged.
Sexual assault is an epidemic in the United States. Nearly one in five -- 20 million -- U.S. women and girls have been raped in their lifetimes, and 3 million U.S. women have experienced drug-facilitated rape, according to a 2007 study by the Medical University of South Carolina. Another 1.6 million men and boys have also been victims of sexual assault, according to a similar study conducted by the U.S. Center for Disease Control in 2010.
Currently in development in Toronto, pd.id detects and sends an alert to your phone if someone has drugged your drink. The reusable, 3.5-inch device looks like a small USB key. It's designed to be small enough to fit in your pocket or purse, and it can be discretely dipped in and out of a drink.
Related: Skout suspends teen community after child-rape charges
Pd.id is not the first attempt to put drug-detecting technology in the hands of cocktail drinkers and party goers. A company called DrinkSavvy has a line of cups and straws that change color when a drug is slipped into your drink. Other anti-rape devices, like ultra grip underwear and female condoms with teeth, have been developed in the past. Critics of products like these believe the inventions send the wrong message, putting the onus of stemming sexual assault on potential victims, rather than the perpetrators.
Pd.id comes with an added public safety benefit. The mobile app will use GPS to create a heat map of sites where "date rape" drugs are found. The company wants to use that data to partner with police departments, helping inform law enforcement's assault-prevention efforts. Pd.id hopes partnering police departments will provide it with up-to-date drug libraries.
With backing from private investors and an ongoing Indiegogo campaign, pd.id is expecting to hit the market in April and sell for $75 a piece. The accompanying app would be available for free. The company says it wants to donate a portion of the device's profits to organizations working to prevent sexual assault.
Related: 5 apps to help change the world
"We're simply a tool, a mechanism people can utilize for personal safety," said pd.id founder J. David Wilson.
Wilson calls pd.id a "cause-focused" company. He believes that, if used openly, the very presence of the device can start a conversation and play a role in raising awareness of the issue of drug-facilitated sexual assault.
"This is a huge, huge issue, and it's not talked about," said Wilson.