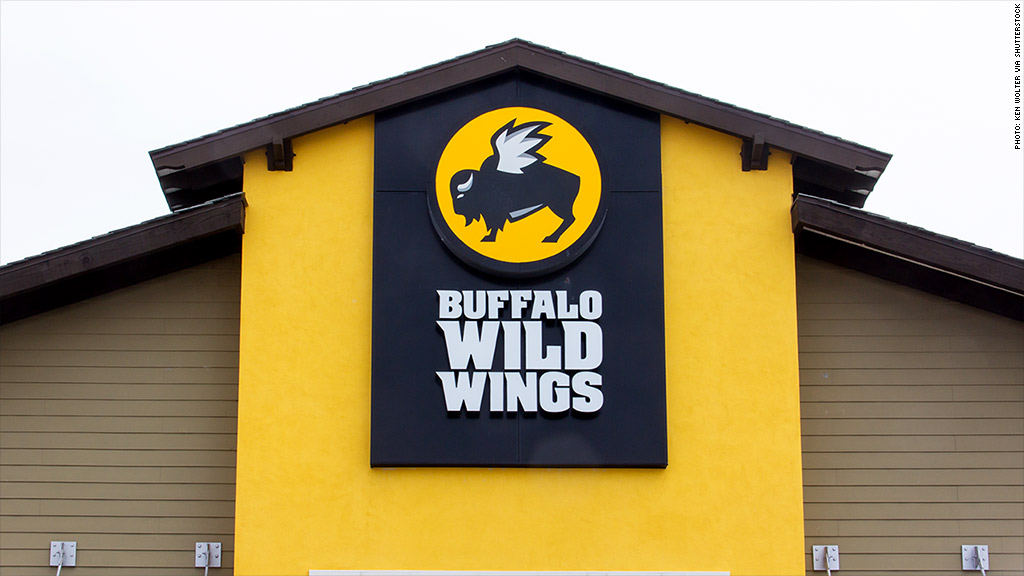 Football season is around the corner, but one of the country's most popular wing joints isn't promising total domination on the field of spicy deliciousness.
Shares of Buffalo Wild Wings (BWLD) plunged more than 15% Wednesday after the company's outlook for the second half of the year came in below analyst forecasts.
Buffalo Wild Wings predicted 25% earnings growth for 2014, which is still pretty impressive, even though many strategists are estimating earnings growth north of 30%. And its profit jumped over 40% in the second quarter, driven in part by such big sporting events as the World Cup and NHL playoffs.
Analysts at Sterne Agee wrote in a research note that Buffalo Wild Wings shares could tank based on the market's "exuberant expectations" for the stock. But they think the company could still win big this year.
Related: Red Lobster bets on fancier-looking plates to turn things around
Specifically, Sterne Agee is optimistic about the prospects for the restaurant chain's new tabletop tablets that will allow customers to place orders themselves.
Speaking with CNNMoney Wednesday afternoon, CEO Sally Smith said that Buffalo Wild Wings is also looking to use tablets to let consumers pay their bills, keep track of sporting events and even play games.
Smith added that the use of such technology should allow servers to take on more tables since the ordering process will be more efficient. Employees like that since it should boost their tips, she said.
Are estimates too conservative? The Sterne Agee analysts predict 34% earnings growth, and think that Buffalo Wild Wings is low-balling expectations.
But Smith stood by the guidance. She even claimed to not be aware of how much the stock was falling on Wednesday. She said she prefers to not get caught up in the day-to-day moves in the stock.
"We're still the same company we were yesterday and I still like our long-term growth prospects," she said. "Long-term investors understand there can be volatility."
The stock had been red hot lately, but Wednesday's losses have erased all of its gains for 2014. Still, it's up nearly 45% in the past twelve months.
Not worried about Mickey D's: And Smith said that there's another big plus for the company going forward -- cheaper commodity prices. The cost of wings surged last year when McDonald's (MCD) tried to make wings a bigger part of its menu.
The massive buying by McDonald's boosted prices. But they've come down as McDonald's wings strategy did not really pan out. Smith added that she's not terribly worried about increased competition from other restaurant chains.
"There are always companies looking at wings," Smith said. "But why you go to McDonald's for wings is much different than why you come to Buffalo Wild Wings."
CNNMoney's Paul R. La Monica contributed to this report