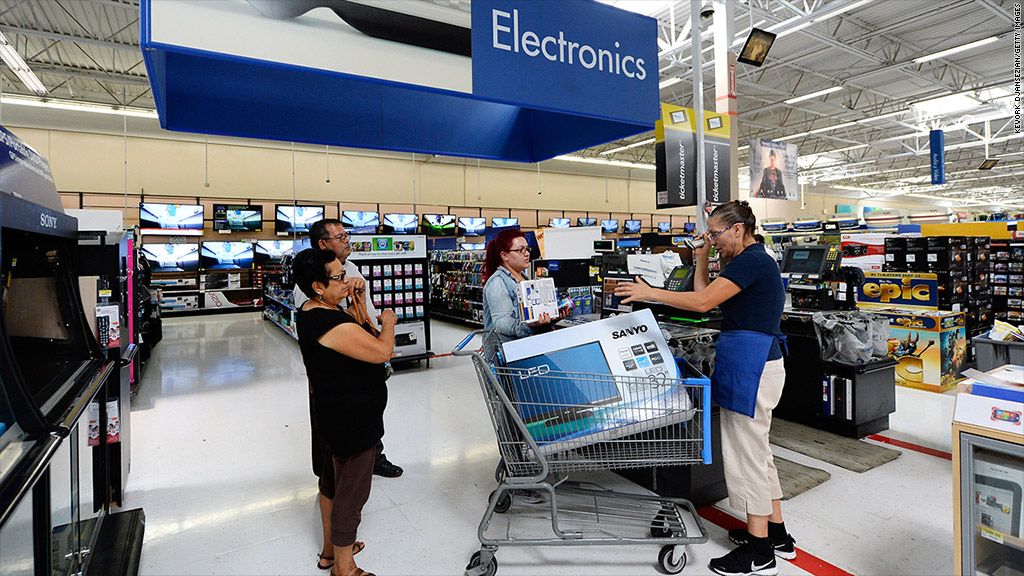 Walmart may not go the way of
RadioShack

(RSH) any time soon. But Goldman Sachs says that customers are abandoning the big-box pioneer in droves.

On Tuesday, the investment bank downgraded Walmart (WMT)'s stock to 'Neutral,' saying that big-box stores are losing out to online retailers and stores with more focused inventories.

With $469 billion in annual sales, Walmart isn't quite going out of business, but the retailer has seen sales slip for five straight quarters. Online shopping is clearly hurting the store, as more customers turn to Amazon (AMZN) and other merchants for everyday items such as hardware and groceries.

E-commerce is making Walmart's vast breadth of merchandise less appealing to shoppers. Instead, customers are looking for better deals on a more narrow assortment of goods available at stores like Costco (COST) and dollar stores The bank upgraded Costco's stock to Buy.

Goldman noted that Amazon's move into grocery sales is the biggest threat facing Walmart and a risk to Costco.

Despite the bank's pessimism about big-box retailers, maintained a 'Buy" rating on Target (TGT).

Related story: Walmart seizes on Amazon's move against publisher

Walmart grew to be the world's largest retailer by promising the lowest prices and getting shoppers to pick up things like screwdrivers or towels on a whim when they came in for cold medicine. Today, though, Walmart's customers are "rationing" purchases and checking the store's prices against Web-based stores, according to Brian Sozzi, CEO of Belus Capital Advisors.

"They're very week-to-week focused because their incomes haven't grown," Sozzi said. "I view Walmart as going to a very, very dark place in the next 5 to 10 years."

Related story: Walmart and Costco make price shopping easier online

The retail giant countered that global online sales grew more than 25% in the last two quarters, and the company is planning to add up to 300 of its Neighborhood Markets in the coming fiscal year, spokesman Randy Hargrove wrote in an email. Those are smaller locations that can compete with dollar stores and drug stores.

"We're making investments in technology and our multi-format portfolio that will give our customers the resources to shop with us on their terms," Hargrove wrote.

Goldman's note came days after Walmart named a new head for its U.S. division.

Also, Dollar Tree (DLTR) announced on Monday that it would buy rival Family Dollar (FDO), potentially creating an even more powerful rival for consumer dollars.