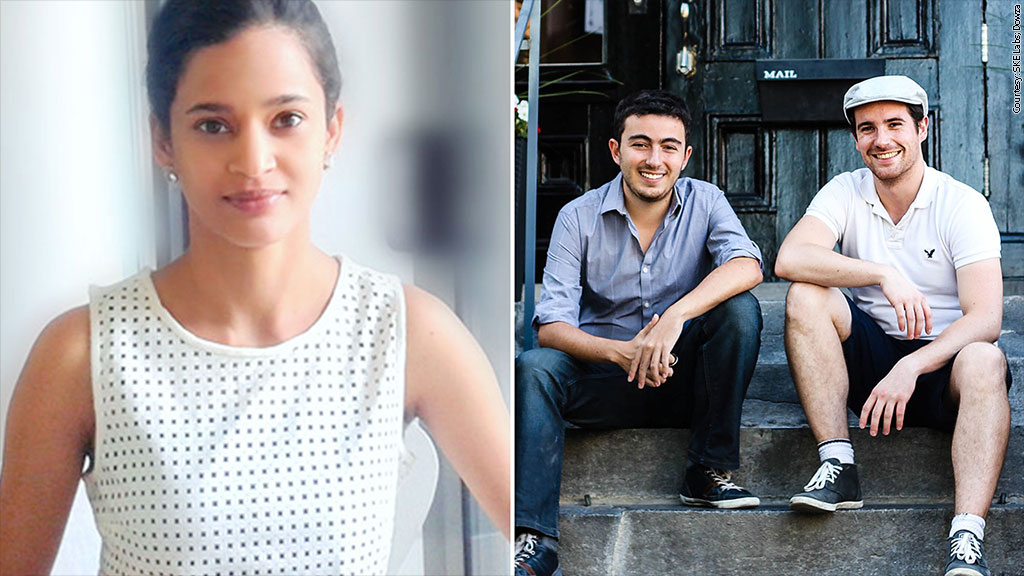 The land of the free isn't catering to talented techies quite like our neighbors to the north. So many entrepreneurs have given up on navigating the complicated U.S. immigration system and are heading to Canada to launch their startups.
For Madhuri Eunni -- originally from Hyderabad, India -- Canada offered her the ability to finally launch her own company, which she wasn't able to do in the U.S.
"I didn't anticipate I would have to leave because of such circumstances," said Eunni, who has a master's degree in electrical and computer engineering.
She spent nearly a decade in the tech industry, working at Sprint (S) and startup MiCOM Labs, neither of which was able to sponsor her for a green card. Even if she had applied for an EB2 green card (for professionals with advanced degrees), the wait for an Indian citizen can be as long as five years due to backlog.
So in September 2013, Eunni moved to Toronto and launched SKE Labs Inc., a startup that's still in development but will ultimately make kitchen and home products for connected living.
"It was disappointing that we had to uproot ourselves, [but] starting a business was something I wanted to do," said Eunni. "It's not as big as the Bay Area, but it's a growing market."
Related: Israeli startups boom in New York City
The most common way for immigrants to work in the U.S. is to obtain an H-1B visa (of which there are only 65,000 annually). The H-1B mandates employer sponsorship, so self-employed startup founders are pretty much out of luck.
"The U.S. has adopted a restrictive approach toward visas," explained Isabelle Marcus, founder of Columbus Consulting Group. "It's quite detrimental to U.S. businesses looking to hire young, talented people with skills that are needed in the U.S."
Advocates of immigration reform have pushed a startup visa, which would allow founders like Eunni to legally stay in the U.S. The Senate passed a version last year, but it stalled in the House.
Canada, however, has been courting entrepreneurs and paving a way for citizenship through a startup visa program that launched in April 2013.
Related: My company's immigration nightmare
The Canadian startup visa doesn't require employer sponsorship. Applicants need a minimum investment of $75,000 from a select Canadian angel investor or $200,000 from a select Canadian venture capital fund. (There are also a few additional requirements like language proficiency.) It grants a path to residency -- after three years, entrepreneurs can apply for citizenship.
There are 2,750 available annually. Its first two applicants -- Ukrainian entrepreneurs -- were accepted earlier this month.
Meanwhile, U.S. regulations make it incredibly difficult for entrepreneurs to stay in the country, which is costing the U.S. revenue and jobs. According to a recent study by the Partnership for a New American Economy, H-1B denials in 2007 and 2008 resulted in a loss of 231,224 tech jobs, translating into $3 billion in lost earnings for those would-be workers.
With no startup visa, strict quotas and regulations around H-1Bs, innovative entrepreneurs are migrating elsewhere.
Eunni was able to become a permanent Canadian resident because of her advanced degree and years of experience. She said the process was "super simple" -- she was approved within a year.
Related: Business wants immigration reform. Why?
Entrepreneurs Jonathan Moyal and Vincent Jaouen moved to Montreal for the same reason.
While Moyal is a New Yorker, Jaouen is a French citizen.
The two worked together on Lucky Ant, a crowdfunding platform that was sold in December 2013, and had plans to launch an adventure sports booking platform called Dowza.
One hurdle? Getting Jaouen a visa.
They worked with Marcus to put together a dossier but kept hitting roadblocks. Because Dowza was in its very early stages, they doubted their chances of success -- and realized that even if Jaouen were to apply, he still had to be selected through the lottery.
"We looked at London, Tel Aviv, Hong Kong, Sydney as options where both of us would go," said Moyal.
Ultimately, Moyal and Jaouen decided on Montreal. This allows Moyal to split his time between the two cities, maintaining his network of contacts in New York. Moreover, as the company grows, the two anticipate hiring more tech talent from France. This way, they won't have to revisit the visa issue with each hire.
"We would much rather have stayed in New York, but it just wasn't possible," said Moyal.