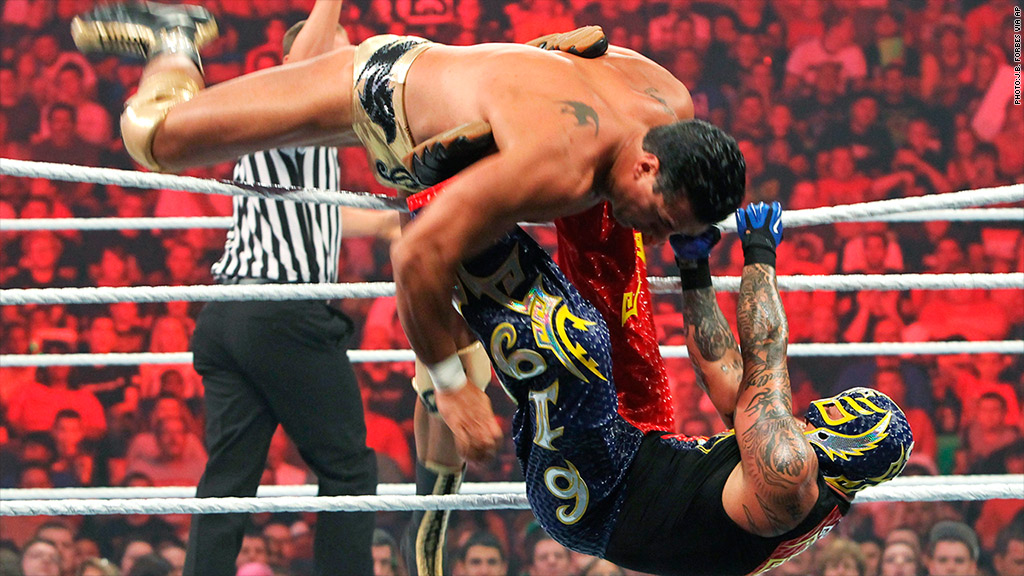 World Wrestling Entertainment is known for its bone-crushing body slams, but now the company is slamming its workers.
WWE (WWE) revealed plans on Thursday to slash 7% of its workforce in an effort to save cash.
A WWE spokesman said the job cuts will impact all business units and locations. He said the pink slips will begin flying on Thursday.
The cost-cutting moves amount to a loss of around 60 jobs based on the company's headcount of about 850 people.
The job cuts come despite the fact that WWE CEO Vince McMahon declared in the company's earnings release that its "core business metrics remain strong."
The comments mirror ones made by biotech giant Amgen (AMGN), which earlier this week announced plans to cut 15% of its workforce, but declared it was making the move from "a position of strength."
Related: Amgen joins job-cut parade
As is often the case, WWE investors responded favorably to the belt-tightening. The company's shares popped 8% on Thursday morning on the news and stronger-than-expected earnings.
After topping $30 in March, WWE shares have taken a smackdown, losing more than one-third of their value over the past three months alone.
WWE continues to try to transform its business model into one that more closely resembles a media tech company.
The wrestling heavyweight plans to expand its network globally on August 12 and reported a jump in media revenue during the second quarter.
Related: WWE is the ultimate SmackDown stock
The influx of media revenue is offsetting trouble in other areas of its business. Live event sales have taken a hit due to lower attendance and consumer products revenue has tumbled amid slower video game sales.
WWE's job cuts come during a time of relative strength in the jobs market.
While Amgen and other big companies like Microsoft (MSFT) have recently cut jobs, the U.S. added 1.4 million jobs during the first half of 2014. That's the best first-half performance since 2006.
Economists polled by CNNMoney believe the employers added another 230,000 jobs during July, signaling continued improvement in the labor market.