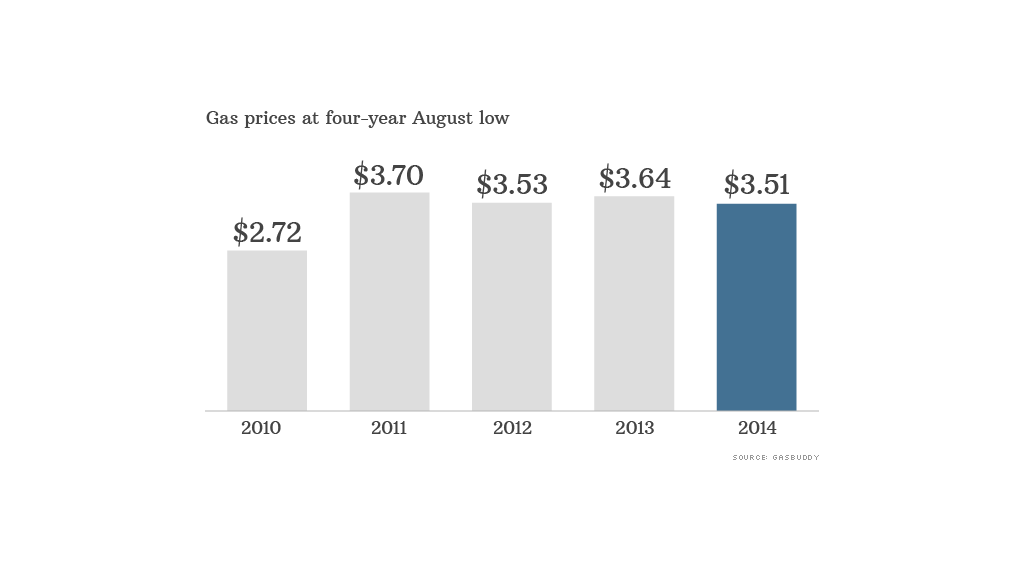 Drivers, rejoice! Gas prices are the lowest they've been at the start of August in four years.
The national average price for a gallon of unleaded dropped to $3.509 on Friday, according to data provider Gasbuddy.com.
That's a 15-cent drop from the price on July 4, a holiday that typically sees high demand from a lot of driving, according to Gasbuddy.com.
It's a 35-cent drop from June 25, when the world was still reeling from "petronoia" over the fall of the Iraqi city Mosul to extremist militants, according to Tom Kloza, energy analyst for Gasbuddy.com.
For sale: Steve McQueen's 1967 Ferrari
He said that gas prices will most likely rise over the next month or so, partly because of high demand from late summer vacation driving, and partly because August is typically a stormy month in the Gulf of Mexico and could interfere with refineries there.
But once those factors mellow out in the latter part of the year, Kloza expects that gas prices will once again drop to four-year lows during the fourth quarter. He said the nationwide average could drop back to where it was in February and March: $3.25 a gallon.
"We're on a pretty good course," said Kloza. "There's going to be a large slice of the country where you're going to be able to pay less than 3 dollars a gallon in the last 100 days of the year."
Related: Could hackers slam on your car's brakes? Yes
He said that Americans are already paying less than $3 per gallon in some rural areas, including two gas stations in Texas, five in Virginia, four in South Carolina, one in Alabama, one in Mississippi and 16 Oklahoma.
But to put that in perspective, he said that's only 29 gas stations out of about 130,000.