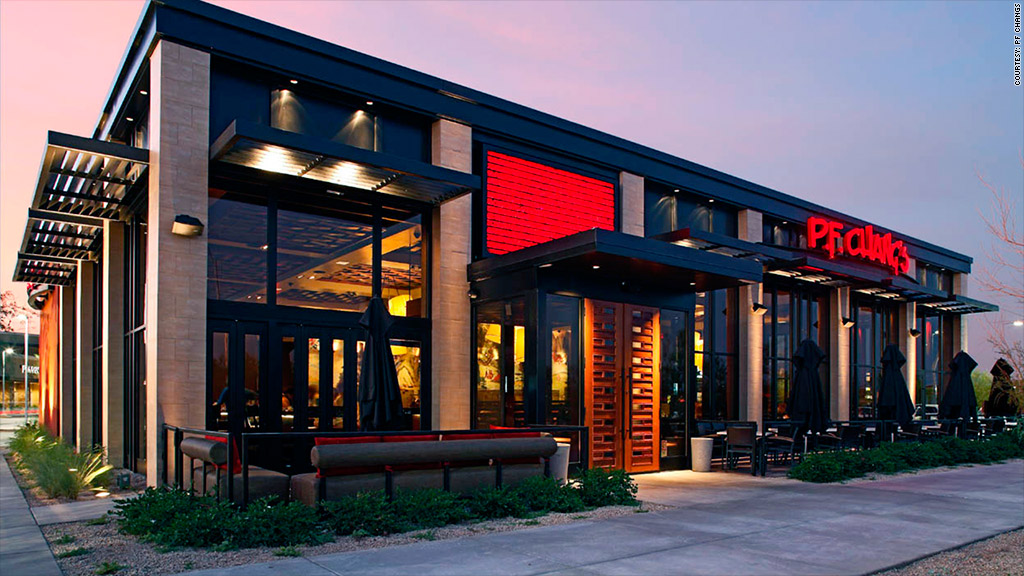 If you swiped your card at a P.F. Chang's restaurant, then somebody might have swiped your info.
P.F. Chang's identified 33 restaurants where customer credit and debit card information might have been stolen.
The majority are located in California, with the rest scattered around the U.S.
The Chinese-themed restaurant chain first found out about the possible theft on June 10, when it was alerted to it by the Secret Service.
Related: P.F. Chang's acknowledges 'security compromise'
The company's list of restaurants include the time frames when the potential theft of customer data might have occurred. Some incidents started as far back as October, 2013. The company advised customers who used their cards at those times to monitor their accounts for potential theft.
The company said it is continuing to investigate the situation in conjunction with outside firms and the Secret Service.
Related: Eat this: the most unhealthy restaurant meals
A spokeswoman for P.F. Chang's was not immediately available to say whether the restaurant has seen a drop in sales since the incident was first announced.
The company said that it's now safe for customers to use credit and debit cards at its restaurants. It also said that its Pei Wei Asian Diner chain of restaurants was not affected.
Locations
| | | | |
| --- | --- | --- | --- |
| Address | City | State | Dates |
| 16170 N. 83rd Ave. | Peoria | Arizona | Feb. 21, 2014 - June 11, 2014 |
| 7135 E. Camelback Rd. | Scottsdale | Arizona | Oct. 19, 2013 - June 11, 2014 |
| 5621 Paseo Del Norte | Carlsbad | California | Feb. 21, 2014 - June 11, 2014 |
| 2015 Birch Road | Chula Vista | California | Oct. 19, 2013 - June 11, 2014 |
| 1145 Newport Center Drive | Newport Beach | California | Oct. 19, 2013 - Apr. 10, 2014 |
| 900 Stanford Shopping Center | Palo Alto | California | Apr. 10, 2014 - June 11, 2014 |
| 7870 Monticello Ave. | Rancho Cucumonga | California | Apr. 10, 2014 - June 11, 2014 |
| 15301 Ventura Boulevard | Sherman Oaks | California | Apr. 10, 2014 - June 11, 2014 |
| 40762 Winchester Road | Temecula | California | Apr. 10, 2014 - June 11, 2014 |
| 3525 Carson St. | Torrance | California | Oct. 19, 2013 - June 11, 2014 |
| 7210 W. Alameda Ave | Lakewood | Colorado | Apr. 10, 2014 - June 11, 2014 |
| 27001 US Highway 19 N, Ste #1150 | Clearwater | Florida | Apr. 10, 2014 - June 11, 2014 |
| 3101 PGA Boulevard | Palm Beach Gardens | Florida | Feb. 21, 2014 - June 11, 2014 |
| 436 North Orlando Avenue | Winter Park | Florida | Oct. 19, 2013 - June 11, 2014 |
| 5 Woodfield Mall | Schaumburg | Illinois | Apr. 10, 2014 - June 11, 2014 |
| 600 E. Pratt Street | Baltimore | Maryland | Apr. 10, 2014 - June 11, 2014 |
| 1295 Chesterfield Parkway East | Chesterfield | Missouri | Feb. 21, 2014 - June 11, 2014 |
| 25 The Boulevard Saint Louis | St. Louis | Missouri | Apr. 10, 2014 - June 11, 2014 |
| 3667 Las Vegas Boulevard | South Las Vegas | Nevada | Apr. 10, 2014 - June 11, 2014 |
| 3545 US Highway 1 | Princeton | New Jersey | Feb. 21, 2014 - June 11, 2014 |
| 125 Westchester Avenue | White Plains | New York | Oct. 19, 2013 - June 11, 2014 |
| 10325 Perimeter Parkway | Charlotte | North Carolina | Oct. 19, 2013 - Oct. 26, 2013 |
| 6801 Fayetteville Rd | Durham | North Carolina | Feb. 21, 2014 - June 11, 2014 |
| 2626 Miamisburg-Centerville Rd. | Dayton | Ohio | Feb. 21, 2014 - June 11, 2014 |
| 1978 E. 21st Street | Tulsa | Oklahoma | Feb. 21, 2014 - June 11, 2014 |
| 10 Providence Town Center | Collegeville | Pennsylvania | Oct. 19, 2013 - June 11, 2014 |
| 983 Baltimore Pike | Glen Mills | Pennsylvania | Apr. 10, 2014 - June 11, 2014 |
| 1600 Settlers Ridge Center Dr; Bldg. 1300 | Pittsburgh | Pennsylvania | Apr. 10, 2014 - June 11, 2014 |
| 2110 Hamilton Place Blvd. | Chattanooga | Tennessee | Oct. 19, 2013 - June 11, 2014 |
| 10114 Jollyville Road | Austin | Texas | Apr. 10, 2014 - June 11, 2014 |
| 15151 Potomac Town Place | Woodbridge | Virginia | Oct. 19, 2013 - June 11, 2014 |
| 525 Bellevue Square | Bellevue | Washington | Apr. 10, 2014 - June 11, 2014 |
| 3000 184th St. | Lynnwood | Washington | Apr. 10, 2014 - June 11, 2014 |