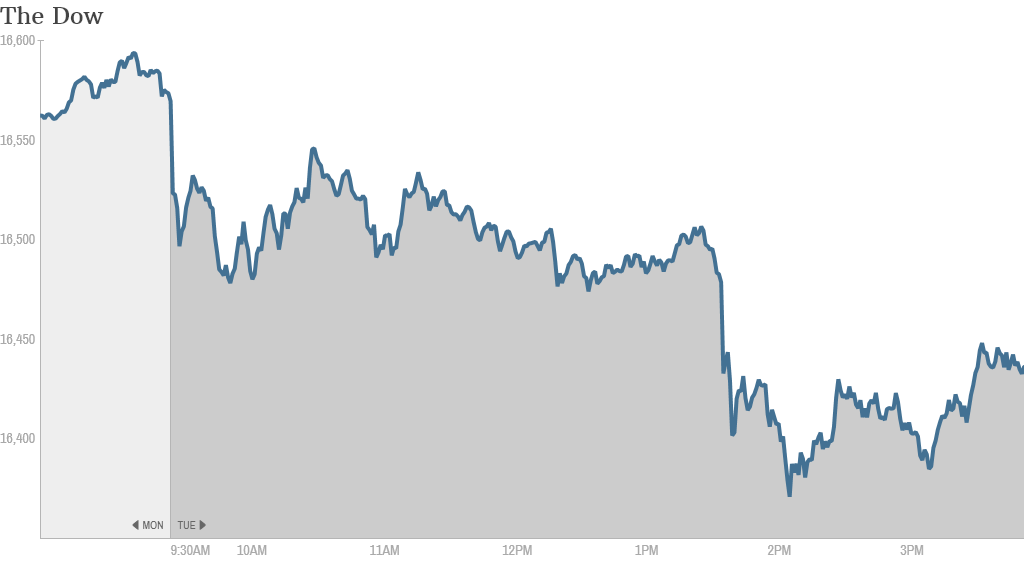 Geopolitical risk reared its ugly head once again, sending stocks down, down, down Tuesday.
The Dow and S&P 500 are back at the levels they last saw in May. The Dow finished the day down 140 points (0.8%) while the S&P 500 ended down almost 1%.
1) What's causing this panic? The main trigger for today's sell-off appears to have been renewed fears that Russia will invade Ukraine, as Poland's foreign affairs minister said such an offensive was imminent. Russian troops gathered at Ukraine's border and heightened fears that they are preparing to make a move.
But this has been a building political situation for months. Today's pullback might simply be the natural course of the market, which can be especially volatile during the summer months when investors head off on vacation and the number of shares trading hands falls.
"It's as if someone flipped a switch in the afternoon, and it's hard to know if there's a real cause," said Art Hogan, chief market strategist at Wunderlich Securities.
John Guarino, co-founder of hedge fund Quad Capital put it this way: "I don't expect a major sell-off here, but I think we haven't put the lows in on this move." He added that he doesn't believe people should be so quickly to buy today. It might be best to see how this latest market twist plays out.
2) The market was in heavy selling mode: The three major indexes -- the Dow, the S&P 500 and the Nasdaq -- were all down more than 1% before rebounding a bit. The Dow is now negative for the year.
Energy stocks got especially hammered -- they were down more than twice the rate of the S&P 500 -- an indication of the role Russia still plays in global energy markets.
"Market doesn't know where it wants to go!! Now we are all gonna have to watch on the sidelines," wrote StockTwits user kaley.
The "fear gauge" that measures market volatility -- the VIX index -- is up a whopping 11.5% and at its highest level since April.
CNNMoney's Fear & Greed Index is showing a measure of "Extreme Fear".
3) After-the-bell news -- Fox calls it off Time Warner pursuit: After ramping up for the biggest media deal ever, Twenty First Century Fox (FOX) called of its pursuit of Time Warner (TWX) (the parent company of CNN and CNNMoney). Fox's shareholders were lukewarm to the idea, and now they're cheering Rupert Murdoch's retreat. Fox shares rose 8% in initial after-hours trading. Time Warner fell 10%.
Groupon (GRPN)is down a whopping 15% after the bell. The company reported lower-than-expected revenues and a weak outlook for the rest of the year.
Disney (DIS) reported earnings that beat Wall Street expectations. Mickey Mouse & Co. benefited greatly from the record-smashing world cup viewership at ESPN, as well as Frozen's world-beating performance at the box office. The stock rose 1% in early after-hours trading.
4) Daytime stock movers -- Target, Coach, Dollar stores, Walgreens: Target (TGT) reported that its holiday-season credit card breach cost $148 million, to be offset with $38 million in insurance money. The company also lowered its guidance for the second quarter's earnings, which come out on August 20. Its stock is down more than 4%, making it one of the worst performers in the S&P 500.
Quiz: Are a Wal-Mart shopper or a Target shopper?
Bloomberg reported that Dollar General (DG), up more than 3%, is weighing a bid for Family Dollar (FDO), which finished 2% higher. It's competing with Dollar Tree (DLTR), down more than 2%, which announced an $8.5 billion for Family Dollar just last week. The dollar store industry is under a lot of pressure as working class families continue to struggle during the recovery. Whichever company fails to acquire Family Dollar will get stuck in a distant, dangerous second place.
Purse and accessory maker Coach (COH) impressed investors with a better-than-expected quarter, but Wall Street's bar was set very low. Sales and profits did not fall as much as anticipated from the same time last year, but they still declined. North American sales dropped 16% in that time, though increasing international sales softened the blow. The stock closed more than 4% higher and led the S&P 500.
Related: Can this British designer save Coach?
Drugstore chain Walgreens (WAG) was down more than 4% on news from Sky News that it won't shift its tax base overseas even though it has acquired British counterpart Boots for £5 billion ($8.4 billion).
5) International Markets: Stocks were mixed in Europe. The Euro Stoxx 50 index and the FTSE 100 in the U.K. finished the day flat. Stocks in Italy and Spain, however, are down 1.6% and 1.4%, respectively. Asian stocks had a mixed day. The Nikkei fell 1%, but Chinese and Indian stocks did well.