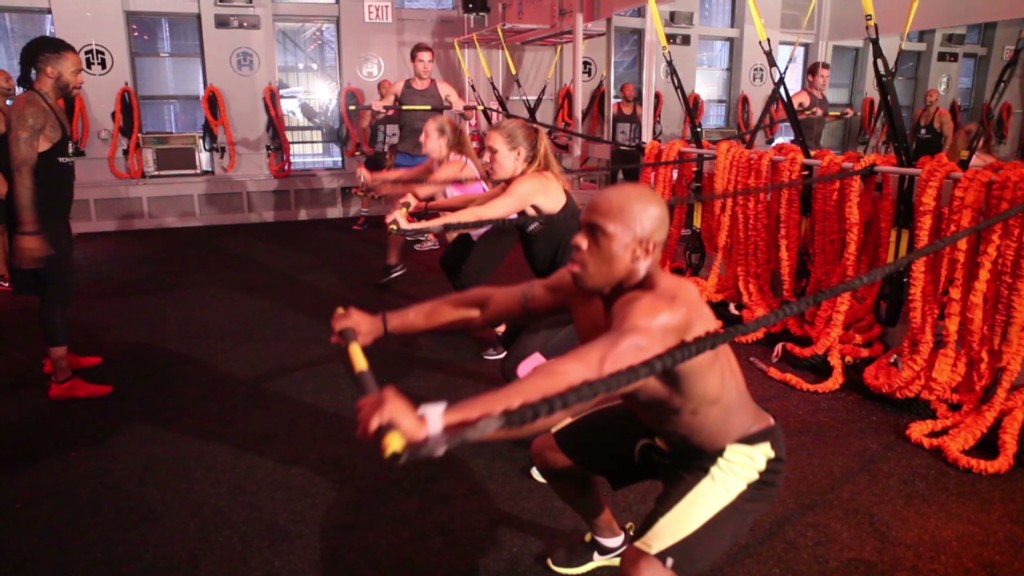 You can never be too rich to get too thin on a beach in one of the priciest resort towns in the country.
That's why Jimmy Minardi has been barking orders at hedge-funders and their spouses on East Hampton's Main Beach since 1998.
His workout, an obstacle course meets sweaty interval session that "kicks your ass," lasts a little more than an hour and costs $110, meaning that loyalists like Isabelle Fisher shell out close to $500 each week to do push-ups and mountain climbers on a public beach.
"It's the same price as having a personal trainer and it's only in the summer, that's how I justify the cost," Fisher said. "But is there really a justification for a group class that costs that much?"
The popularity of pricey boutique fitness classes suggests she's not alone in making these kinds of rationalizations.
"There are thousands of people coming to these kinds of classes, and I know a lot who are spending more on their fitness than on their rent," said Gillian Casten, the founder of Rate Your Burn, a Web site that reviews group fitness instructors.
Related: How New York's 1% get kids into preschool
Take, for example, that 10,000 people per day are handing over $34 for 45 minutes on a spin bike at fitness mecca SoulCycle. That doesn't include the additional $3 for rental shoes, $2 waters and its bevvy of branded tank tops ($48) and sweat pants ($105).
Casten said there's a whole set of people paying upwards of $4,000 each month on pricey one-off classes and the traditional gym memberships they still retain "just for the showers." More commonly, she sees people spending about $500 per month.
So what do you get for this kind of money?
"A lot of the group exercise classes are like Broadway productions. I've seen bubble machines, live drumming, disco balls," she said. "Once they brought in a street band they saw on the subway."
Related: This doctor cures hangovers for $250
A lot of it, too, is the community. Exercise fads come into vogue and burned themselves out, but Minardi's held onto the same clients for the last 15 years.
With 90% of his clients working on Wall Street, Minardi said he has seen a number of deals brokered on the beach.
"They share what's going on at work and end up working on projects together," he said.
Fisher, the Minardi disciple, bought a house in East Hampton from a real estate agent she'd worked out with at Minardi for years.
Even after six years of Minardi training, A.C. Morgan IV doesn't remember the real names of most people from the workout when he sees them at the movies or in town, because everyone goes by Minardi-given nicknames (his is "Ace").
For him, a two-time Ironman who works for UBS, it's also a matter of results. He wakes up at 4 a.m. each week day to train, but he said it's impossible to replicate Minardi's workout or push himself as hard.
"He gets you moving in a way that is unlike any other form of exercise, and in the most beautiful gym in the world," he said.
All the motivation is a draw for Fisher (a.k.a. "Izzy"), who said people regularly drive an hour each way to workout with Minardi.
"He has all these little sayings and they resonate with me," she said. "I find myself repeating 'it's not what happens, it's how you deal with it' to my daughter."