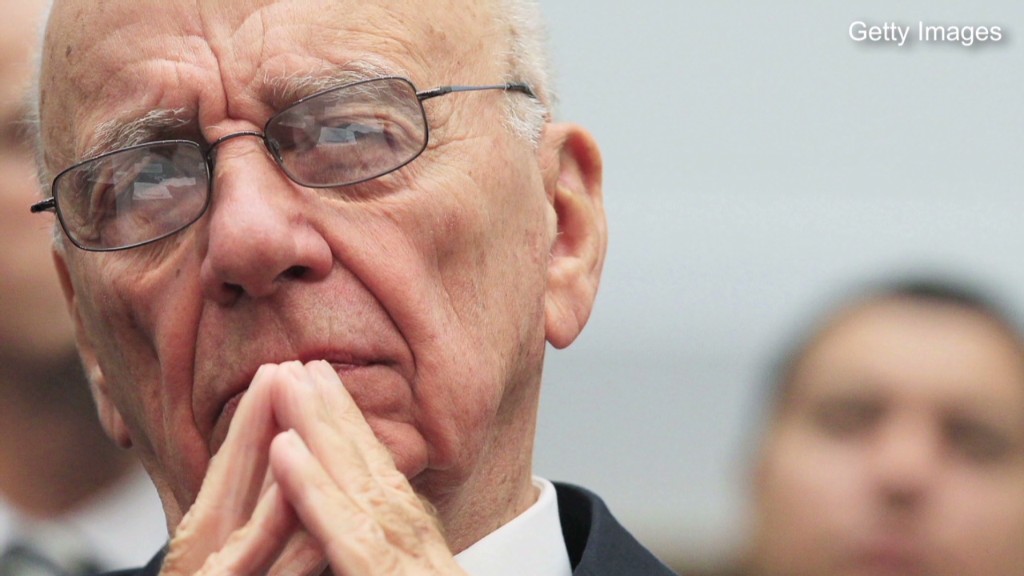 A day after Rupert Murdoch said he'd given up his ambitions to take over the company, Time Warner reported quarterly earnings that far surpassed Wall Street's expectations.
Time Warner chief executive Jeff Bewkes declined to comment on Murdoch's moves during Time Warner's earnings call with investors on Wednesday morning.
Later in the day, it will be Murdoch's turn to comment or not: 21st Century Fox (FOXA) will report results after the markets close.
On Wednesday morning Time Warner (TWX) posted adjusted earnings-per-share of 98 cents, well above the consensus estimate of 84 cents.
"When faced with a hostile takeover bid, Time Warner did exactly what they should have done. They crushed numbers," MoffettNathanson partner Michael Nathanson wrote in an investors' note Wednesday morning.
The gains in the second quarter were led by HBO, the premium cable network, which grew revenue by 17% and adjusted operating income by 23% versus the same quarter a year earlier. The company credited an uptick in subscriptions to HBO and the licensing of some shows to Amazon (AMZN).
Turner, the division of Time Warner that includes CNN, grew revenue by 5%, thanks largely to subscription fee growth, and adjusted operating income by 15%.
The third leg of Time Warner, the Warner Bros. studio, showed a 2% dip in revenue, which the company attributed to "softer theatrical performance in the current year quarter." But adjusted operating income increased 28% year-over-year, thanks in part to home entertainment and television.
Overall, Time Warner revenue was up 3% year-over-year, to $6.79 billion, slightly under analysts' estimates of $6.88 billion. Adjusted operating income was up 17%.
"We had another strong quarter," Bewkes said in a statement, "reflecting the strength of our businesses and our potential for continued growth as we deliver on our strategic plan to be the world's leading video content company."
Fox confirmed its $80 billion bid for Time Warner on July 16. But Time Warner said it rejected the offer, believing it can increase its value to shareholders as an independent company.
Murdoch said in a statement on Tuesday that he'd backed down, citing Time Warner's refusal "to engage with us" and "the reaction in our share price since our proposal was made," which "undervalues our stock and makes the transaction unattractive to Fox shareholders."
So what is Time Warner planning to do to increase its value on its own? Bewkes suggested caution when asked on the earnings call about possible acquisitions, saying "we're not lacking" a specific asset that the company needs.
He identified HBO and children's programming as specific areas that he expects growth. Time Warner's Turner division includes Cartoon Network, a children's cable channel that he said has "under-mined potential."
Bewkes indicated that Time Warner would go into more detail about its long-term strategy during an event for investors in the fall.