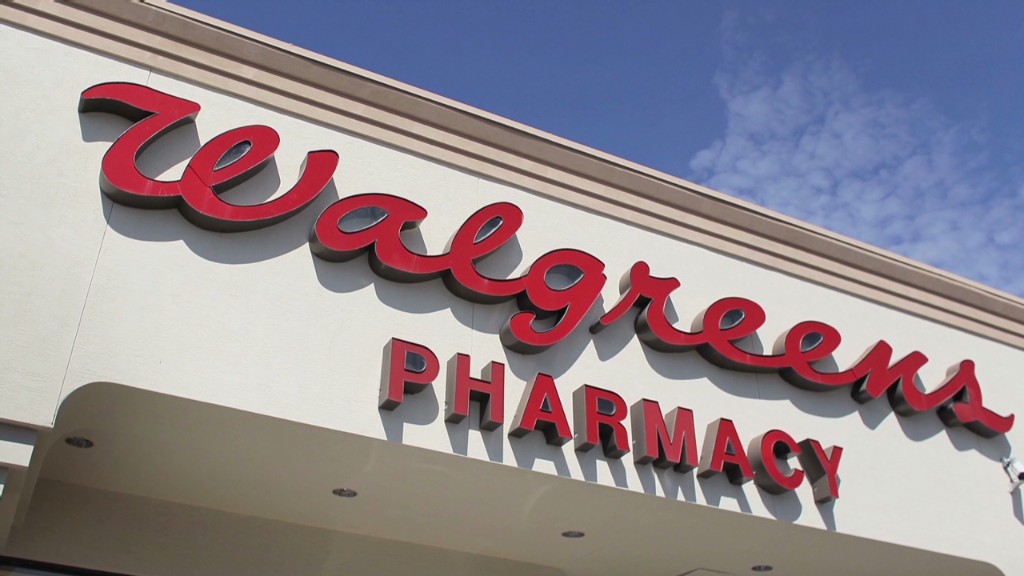 The Stars and Stripes will continue to fly over the headquarters of Walgreens, the iconic American drug store operator.
Walgreens (WAG) says it will base its corporate offices in the Chicago area when it completes its acquisition of European drug store operator Alliance Boots. The move dispels expectations that the combined company would be located in Europe to reduce its tax bill.
The company said it considered the move, but decided that it would not be approved by the Internal Revenue Service.
Walgreens also said it was mindful of the public reaction to moving overseas, as well as the fact that a major portion of its revenue is derived from government-funded reimbursement programs.
But initial reaction from investors was not pretty -- shares fell nearly 10% in premarket trading.
A record number of companies have gone overseas this year in search of tax advantages. Nearly 50 moved in the first half of 2014, up from only 29 in the previous two decades, according to Congressional Research Service analysis. A report from the Congressional Joint Committee on Taxes estimates that the U.S. will lose billions in tax revenue to inversions in the next 10 years.
The chance to save on taxes can be significant, considering that the top U.S. corporate rate is 35%. The medical device firm Medtronic (MDT) of Minneapolis recently announced plans to buy rival Covidien (COV), which is based in Ireland where the tax rate is 12.5%. Chicago drugmaker AbbVie (ABBV) announced an arrangement with the British company Shire that will slash its effective tax rate in half to 13%.
There has been a political outcry over the 'tax inversion' deals. Lawmakers in both parties agree that the system is broken, but disagree on what to do about it. President Obama recently called the practice unpatriotic.
Walgreens is buying the remaining 55% stake in Alliance Boots for $5.3 billion in cash. The company said it expects to complete the merger in the first quarter of 2015.
The newly combined company will be known as Walgreens Boots Alliance and will have more than 11,000 stores in 10 countries.
Walgreens said its U.S. operations will remain based in Deerfield, Ill., outside Chicago. Alliance Boots is based in Nottingham, England.