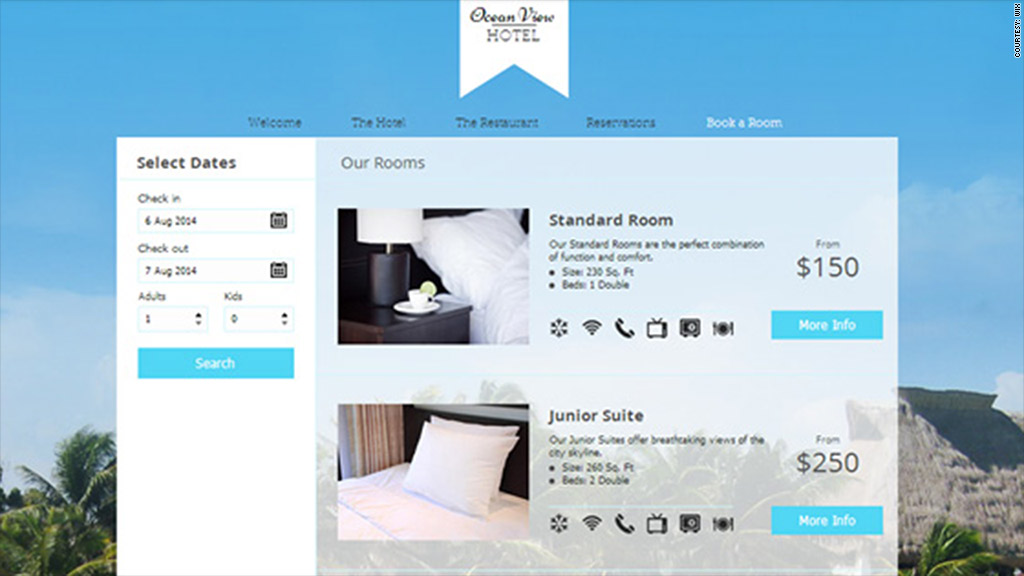 Wix wants to help boutique hotels, bed and breakfasts, and vacation rentals take control of their web presence.
On Wednesday, the cloud-based web development company launched WixHotels, a booking engine that allows hotels to manage their own inventory without paying commission to one of the big aggregators like Expedia (EXPE), Orbitz (OWW) or Priceline (PCLN).
The goal is for smaller hotel and vacation rental owners to be able to "compete effectively with the giants of the industry," according to Wix (WIX) co-founder Avishai Abrahami.
Right now, hotels' online visibility relies heavily on aggregators, which can be costly for boutique businesses.
"The high cost and commissions taken by existing booking engines and booking websites is a major factor in why users will switch to WixHotels," said Abrahami.
Sites like Expedia can charge as much as a 30% commission on the room price, according to hospitality expert Larry Mogelonsky.
Expedia declined requests for comment.
Related: Banks won't lend? Use these guys instead
Wix has 50 million registered users -- both businesses and individuals -- who have created their own web and mobile sites with Wix's drag and drop utilities (no coding experience required). Roughly 10,000 of Wix's customers are running hotel sites. Many rely on the costly booking aggregators -- and some have no digital booking system at all.
"We began investigating the needs of this vertical about five months ago," explained Abrahami. "When realizing the gap in the market, we began development."
Since its soft launch last week, he said they've already had thousands of implementations. For now, WixHotels is free to web clients, but like other Wix features, it will likely be based on a freemium model, meaning additional features will cost more. Websites through Wix end up costing customers between $7 and $50 a month, depending to the features added.
Related: Facebook says: If you Like it, Buy it.
A seamless, full-service web experience is essential in the travel industry.
According to a 2013 report by Google (GOOG), 65% of customers book travel directly on company sites instead of online travel agencies like Expedia, Travelocity and Orbitz. It's an 11% increase from 2012.
Pablo Techera owns Reina Mora Guest House, a five-room hotel in Spain. He runs his website through Wix and previously had just a basic contact form and a phone number for reservations. He was one of a few hotels that helped Wix test the product during a pilot period.
"It's all together, our site and our booking engine," said Techera. "We're free to just care for our guests."
Techera is likely in the minority, though, according to Mogelonsky, who's skeptical of the need for Wix's product.
Mogelonsky estimates that just ".001" of the hotel industry population don't have systems currently in place, and they're likely hotels with a very small number of rooms.
"We don't know a person who doesn't have a property management system," explained Mogelonsky. "There's no critical mass here."