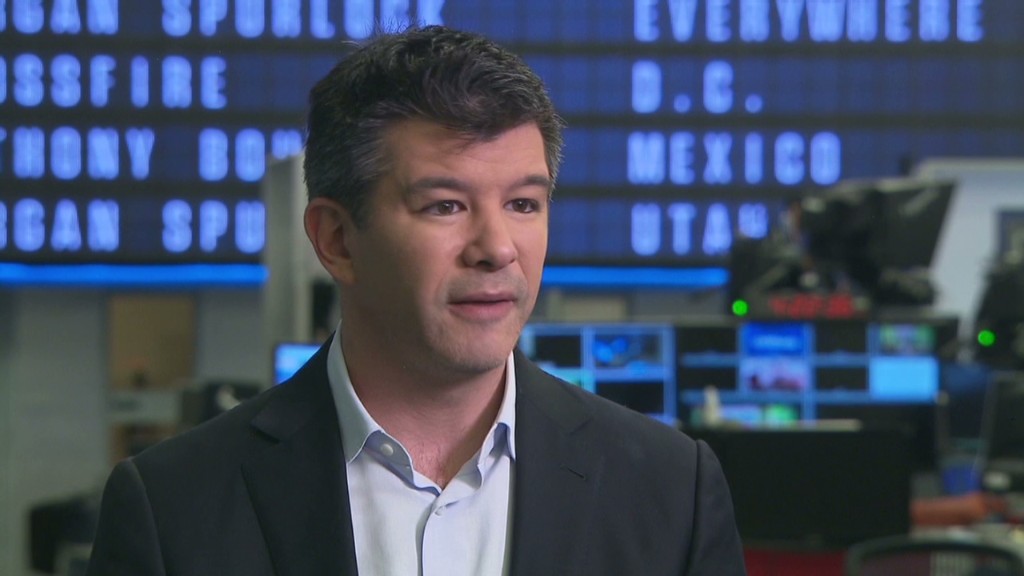 It's the taxi app version of ding-dong ditch.
Uber employees have ordered and canceled more than 5,000 rides from rival Lyft since last October, according to new data provided by Lyft. The data was obtained at CNNMoney's request when reporting another story on the companies' competition.
It's the latest in a pattern of aggressive and questionable tactics by Uber to control the car-on-demand market, according to rivals.
And it's not just a rogue employee or two: Lyft claims 177 Uber employees around the country have booked and canceled rides in that time frame.
Bogus requests decrease Lyft drivers' availability, which could send users to Uber instead. But it's not just the company that suffers. Canceled rides jeopardize income that Lyft drivers depend on -- plus they spend time and gas money en route to passengers who have no intention of taking a ride.
And even when Uber employees don't cancel, Lyft drivers complain to headquarters that they take short, low-profit rides largely devoted to luring them to work for Uber.
Related: Your handy taxi app guide
Lyft claims to have cross-referenced the phone numbers associated with known Uber recruiters with those attached to accounts that have canceled rides. They found, all told, 5,560 phantom requests since October 3, 2013.
There was nothing to suggest that Uber's corporate office commissioned the canceled rides or even that they were aware of them.
One Lyft passenger, identified by seven different Lyft drivers as an Uber recruiter, canceled 300 rides from May 26 to June 10. That user's phone number was tied to 21 other accounts, for a total of 1,524 canceled rides.
Another Uber recruiter created 14 different accounts responsible for 680 cancellations.
A single account from a Los Angeles-based Uber representative canceled 49 rides from October through mid-April.
According to Lyft drivers, identifiable by trademark pink mustaches on the hood of their cars, some Uber recruiters may be trying to conceal their identity (which would be consistent with creating dozens of accounts linked to the same phone number). An Uber employee whose phone number was tied to 102 cancellations was reported as using a different name on his account than the one he used in the car.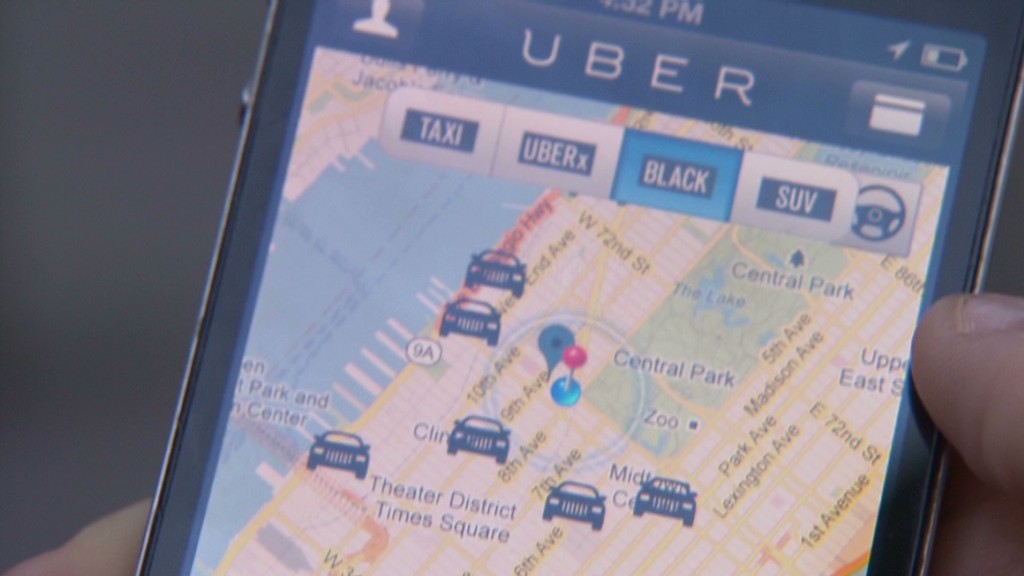 It's not the first time Uber has been accused of canceling rides on a competing service. Earlier this year, CNNMoney reported that Uber staffers in New York called and withdrew over 100 ride requests with another taxi app, Gett, in the span of three days. After that incident, Uber said in a statement that they would "tone down their sales tactics."
But 5,492 of the canceled rides occurred after that statement was issued, according to the data.
In a statement Monday, Uber said, "We recruit hundreds of thousands of entrepreneurs to build their own small businesses on the Uber platform, where the economic opportunity for drivers is unmatched in the industry."
The company went on to imply that some of the people identified by Lyft could have been average passengers looking to make money, as opposed to professional Uber recruiters: "We even recently ran a program where thousands of riders recruited drivers from many platforms, earning hundreds of dollars in Uber credits for each driver who tries Uber."
While it's possible that the recruiters cited by Lyft were Uber enthusiasts acting independently to make a buck, canceling the rides would defeat the purpose.
Lyft spokeswoman Erin Simpson said, "It's unfortunate for affected community members that they have used these tactics, as it wastes a driver's time and impacts the next passenger waiting for that driver. We remain focused on growing the business faster than any competitor through better customer experience and innovation."
Related: Don't bet on the death of taxis just yet
Uber's tactics are not limited to harassing Lyft drivers.
Shortly after Lyft entered the New York market last month, Uber sent a text message to its drivers telling them that city regulations prohibit them from working for both companies. New York City's Taxi and Limousine Commission says that is not true. (Uber later said in a statement that their official policy is that drivers can work for both services.)
One beneficiary of the competition appears to be the passenger. Last week, Uber and Lyft announced competing features that would allow users heading in the same direction to share rides and split the cost. Lyft Line is now available in the app store; UberPool will be available soon.
In an interview earlier this year, Uber CEO Travis Kalanick told CNNMoney's Laurie Segall that Uber was in a battle with entrenched industries.
"The taxi industry [is] trying to protect a monopoly that has been granted them by local officials, so they're trying to slow down competition."
As other players try to do the same, the fight is getting nasty.