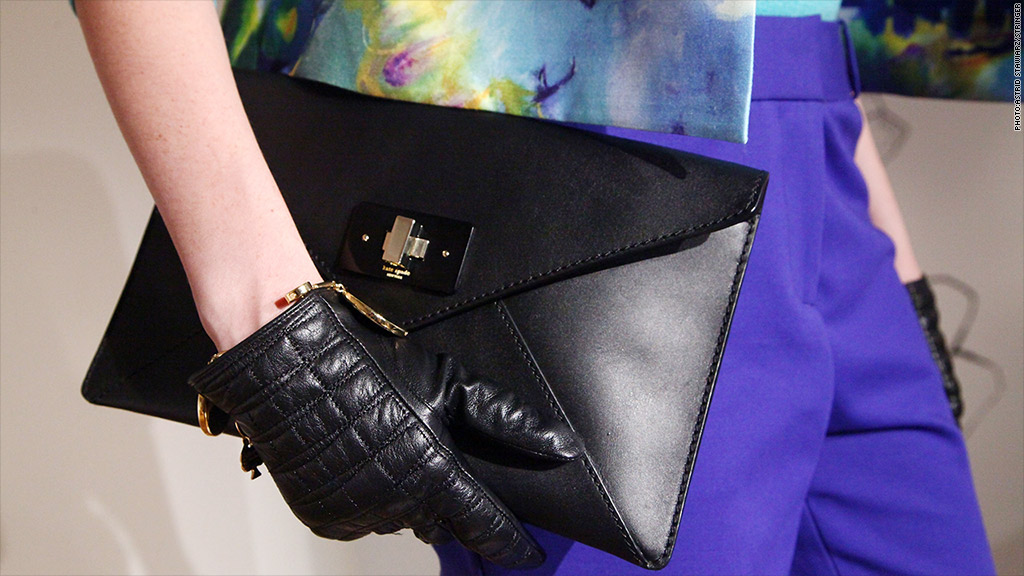 Things move fast in the handbag business.
Kate Spade & Co (KATE). went from darling to disappointing in a matter of hours Tuesday morning.
The lifestyle company known for its signature handbags said net sales surged nearly 50% in the second quarter, a strong signal that Kate Spade is "in" among consumers.
The news sent shares up 10% in the morning -- the highest the stock had traded since 2007.
But shares abruptly sold off after Kate Spade executives said on a conference call that promotions would continue to weigh on the company's profit margins this year. In other words, consumers are coming, but largely because of the discounts.
Shares plunged more than 25%, erasing all of its gains for the year.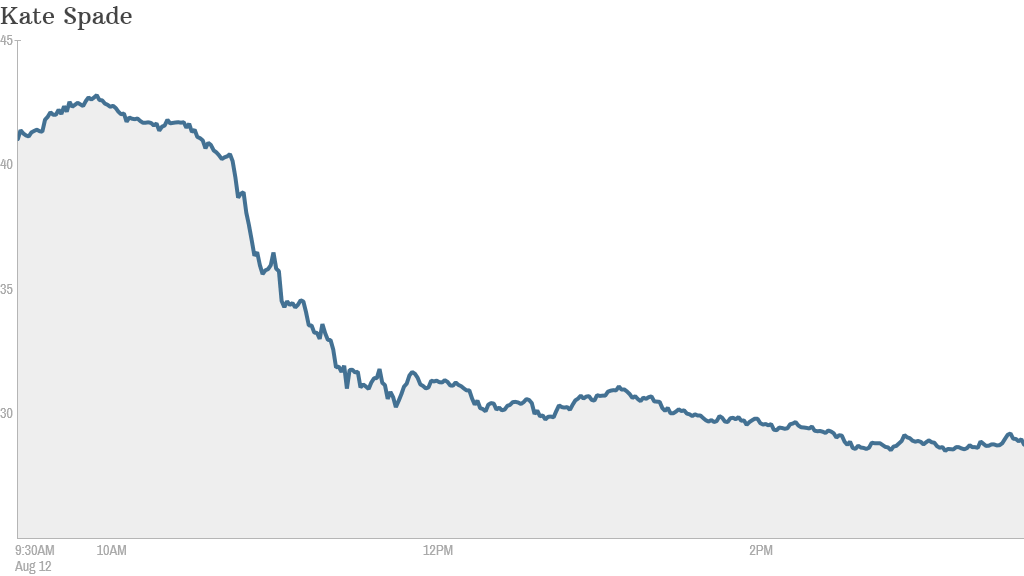 "We see the environment continuing to be promotional," George Carrara, Chief Operating Officer at Kate Spade, told analysts. While the impact from markdowns will not be as "dramatic" as it was in the second quarter, "we still expect the margin rate to be affected by the promotional environment," he added.
Kate Spade said gross profit as a percentage of sales -- the amount of money the company makes on items that customers buy -- fell to about 58% in the second quarter, down from the same period last year.
Despite the strong sales growth, Kate Spade said it lost $14 million in the second quarter. That was an improvement from last year, when it lost $24 million.
Rival luxury brand Michael Kors (KORS) had a similar experience last week.
Related: Can this British designer save the Coach brand?
The fashion retailer, also known for its line of handbags and accessories, reported another quarter of robust earnings and sales growth. But the report failed to quiet concerns that the company's brand is overexposed, especially in North America. Sales, while impressive, are cooling, and there is more pressure to markdown merchandise.
Both Michael Kors and Kate Spade have taken market share from Coach (COH). Once a leader in the handbag business, Coach has seen its shares plunge more than 30% this year, making it one of the worst performers in the S&P 500.
The "purse wars", along with a very weak start to 2014 from the winter weather, are causing all three retailers to have to offer deep discounts.
It might be a win for consumers, but it's a loss for investors.