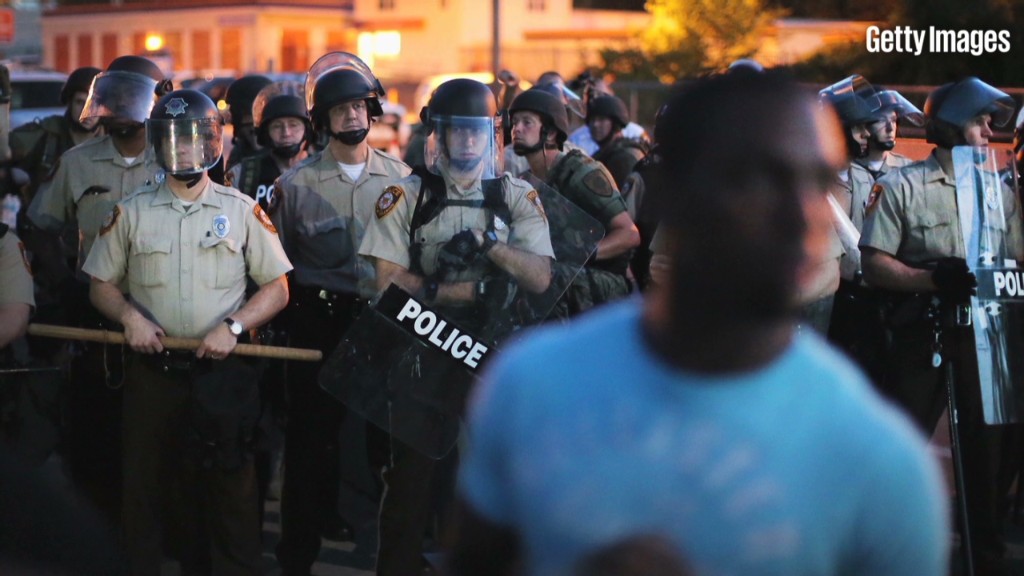 Economic conditions in Ferguson, Missouri, are far more complex than the scenes of violence over the killing of a black teenager might imply.
Things are tough for many residents of the city just outside St. Louis' Lambert International Airport. But it's also home to the bucolic campus headquarters of a Fortune 500 company: Emerson Electric (EMR).
Despite the economic problems, Ferguson's housing stock is in relatively good shape. The vacancy rate is modest, in line with the rest of Missouri and far lower than many troubled inner cities.
There has been recent investment and renovation in the business district, with new restaurants, retail and other buildings developed in recent years, according to Rebecca Zoll, CEO of North County Inc., the regional economic development association.
"Ferguson's downtown area has actually become a model for redevelopment in older downtowns," she said.
"I think the entire community leadership is concerned. Our hearts are broken," Zoll added. "But I think that once the community begins to heal, we have confidence that the customer base will return."
Related: Gun sales near Ferguson are soaring
Many Ferguson residents live in poverty -- about one in five, according to the most recent government estimates from two years ago. The median household income of $37,000 was about $10,000 less than Missouri as a whole.
African-Americans make up two-thirds of the population. And, on average, they're much worse off economically, with a 25% poverty rate that's more than twice that of whites. Their median income is only about 60% of their white counterparts.
Related: CNN's coverage of Ferguson shooting and protests
The mayor, James Knowles, lives in a home he bought out of foreclosure and is renovating. But the foreclosure rate has plunged even faster than the rest of the nation since the worst of the housing crisis six years ago.
In 2008, the rate was about 1 in every 118 homes in Ferguson, according to RealtyTrac, which follows foreclosures. That was about four times the national rate. Today, one in every 1,283 homes is in foreclosure, close to the national average.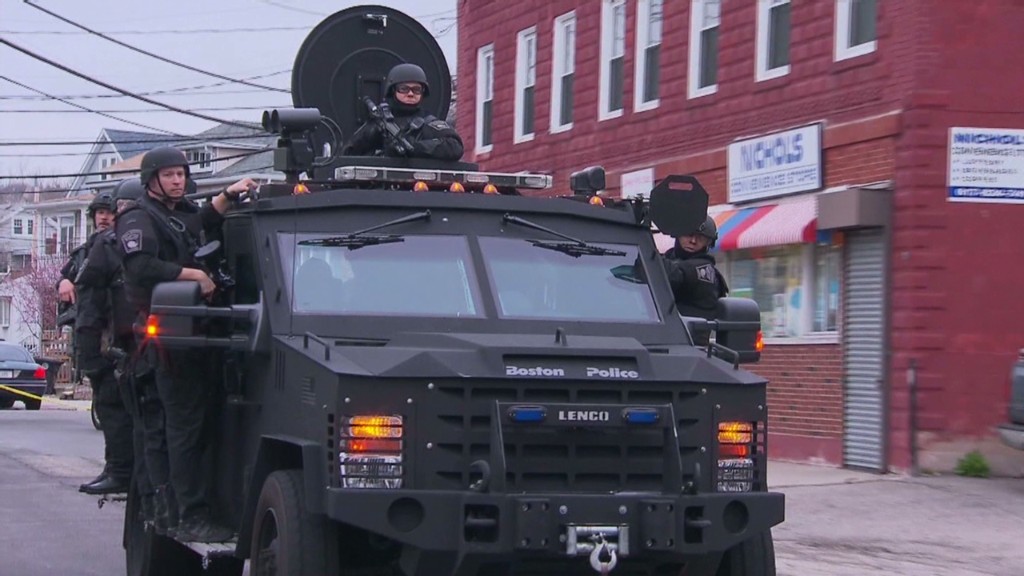 Emerson, with more than 1,000 employees at its headquarters in the south part of town, is one of the two largest employers in the city, The other is a campus of St. Louis Community College.
But there are also many growing employers nearby due to the close proximity to the airport. Drug benefits provider Express Scripts' (ESRX) headquarters and fulfillment center are just outside of town, and the company is adding another building to its complex. Boeing (BA) also does some manufacturing near the airport.