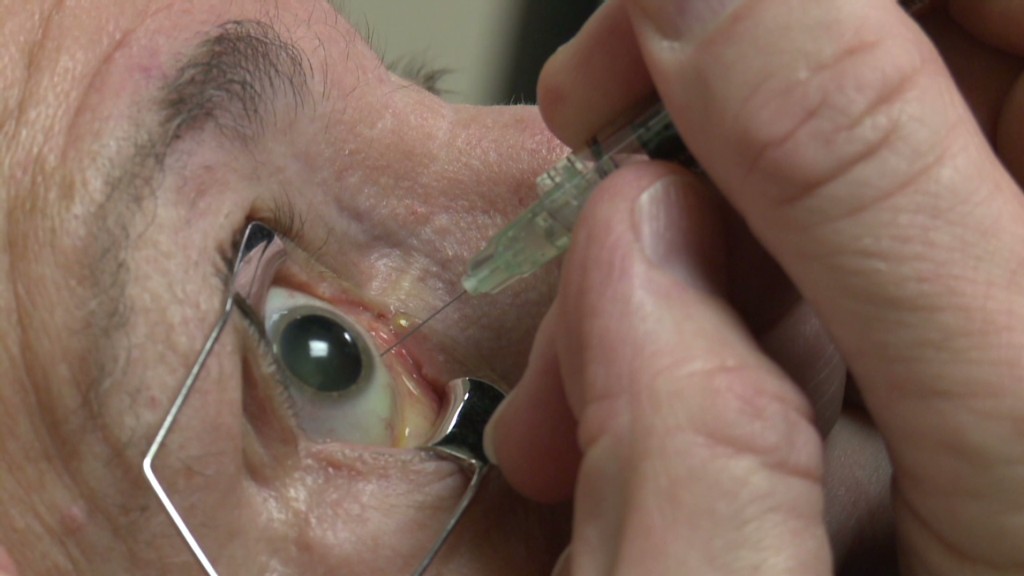 Leonard Schleifer is a billionaire and CEO of Regeneron, one of the top biotech companies in the world.
His success was hardly assured when he founded the company. He went through decades of failure when Regeneron (REGN) struggled to stay afloat.
"Regeneron was at its best when it didn't know where the lifeblood of money was coming from. There were times when we thought we might run out," Schleifer told CNNMoney during a recent tour of the company's headquarters and labs in Tarrytown, N.Y.
The company hit the jackpot in 2011 with the drug Eylea that prevents vision loss.
"This is what we were spending our lives trying to accomplish. It's not just preventing vision loss, which it does, it's actually returning vision. That's the holy grail in vision," Schleifer said.
Today Schleifer tries to maintain the innovative spirit that drove those frantic early years at Regeneron -- and his first job.
He honed his deal making skills while running a snow shoveling business as a young man growing up in Rego Park, Queens.
"When you have to do a whole block's worth of shoveling, you get a lot of experience" negotiating, he said.
Schleifer is a licensed physician with a certification in neurology, but it takes more than education and training to be successful as a biotech.
Critics doubted whether his company would ever discover a marketable drug and become profitable.
"We were never in this for the quick fix. This isn't the software business where you could write a program, everybody loves it and before you know it, you're on top of the world," Schleifer said. "We're doing something that is pretty darn difficult."
The science involved is undoubtedly complex, but Schleifer also deserves credit for forging smart alliances. Regeneron's 2003 partnership with multi-national pharmaceutical company Sanofi (GCVRZ) freed the company up to invest more on new drug development.
Related: Amgen joins job-cut parade
Today, Schleifer and his colleagues are motivated by the ability to create drugs that can improve people's lives.
"People who didn't have enough vision to read to their grandchildren might be able to read," Schleifer said. "It's obviously enormously satisfying and gratifying. There's no greater reward than to know your products are making a difference."
He likes to tell visitors that he and founding scientist George Yancopoulos need to be as excited about an experimental drug that has virtually no chance of hitting the market as they are about the latest Eylea sales figures.
Eylea, which generated more than $800 million in sales during its first year on the market, carries a limited period of exclusivity before generic alternatives begin eating into sales.
Related: Warren Buffett stock tops $200,000 a share
"You've got to be constantly looking forward," Schleifer said. "We think we have an exciting pipeline. That's the only thing you have in this business because the current drugs aren't the ones you will be selling 10 years from now."
Regeneron's hot stock price (it's the best S&P 500 performer over the past three years), has been fueled by the success of Eylea as well as a growing sense that the company has one of the industry's deepest pipelines of drugs in development.
A number of these up-and-comer drugs have shown promising results, including ones focused on cholesterol, arthritis and asthma.
"One isn't enough for us," said Schleifer. "We want to continue to churn these things out year in and year out."
So do Regeneron's investors and patients.
CNNMoney's Jordan Malter contributed to this report.