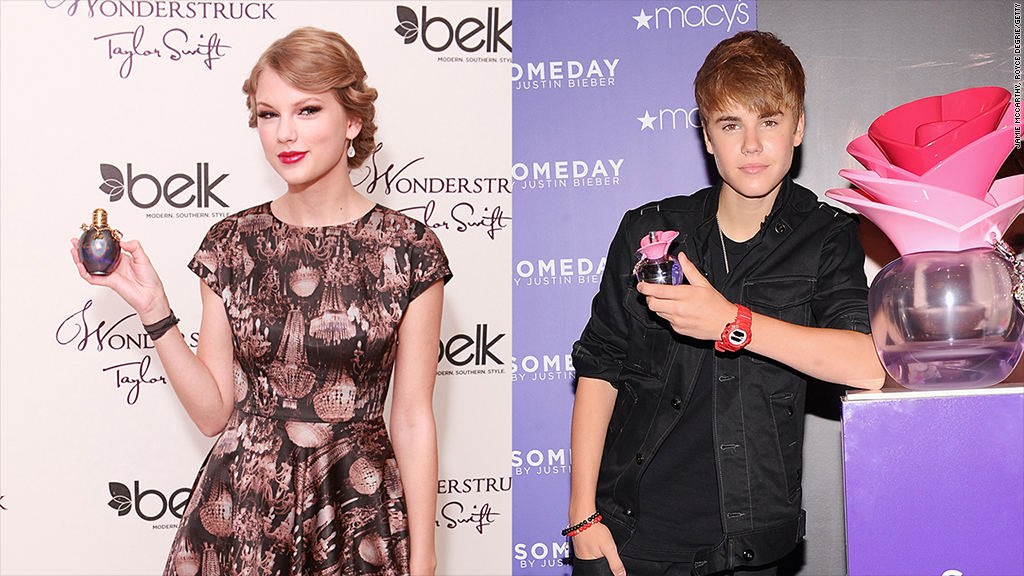 Justin Bieber and Taylor Swift have hit a sour note.
Sales of the pop stars' fragrances disappointed in the past year, pulling down earnings for beauty product giant Elizabeth Arden.
Shares of Elizabeth Arden (RDEN) closed down 23% Tuesday after the company posted a loss of nearly $156 million in the past quarter, as well as a loss of $146 million for the fiscal year ending June 30.
The company called out Bieber's and Swift's products specifically for their poor performance. The sales decline was "steeper than anticipated," the company said in a release.
Related: 3 charts that explain the market rebound
Elizabeth Arden introduced Taylor Swift's first perfume, Wonderstruck, in 2011 and came out with a second edition, Wonderstruck Enchanted, in 2012. The company acquired licenses for Justin Beiber's Someday and Girlfriend perfumes that same year. Someday was the number one women's fragrance in U.S. department stores when it was released in 2011.
The company also sells fragrances from Britney Spears, Jennifer Aniston, Nicki Minaj and other celebrities, as well as skincare products.