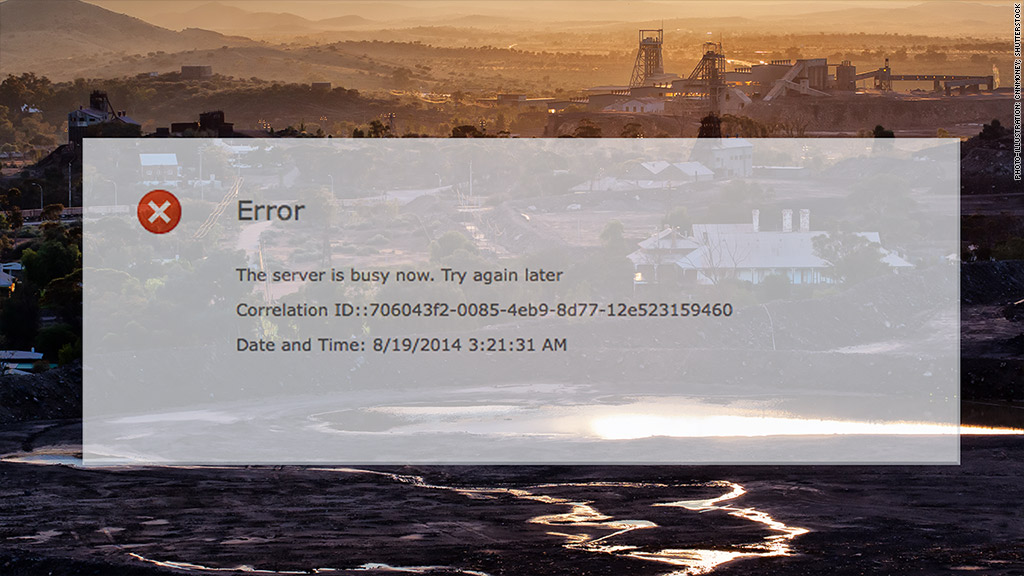 Investors looking for details on BHP Billiton's mega "demerger" were left scrambling Tuesday as the company's website crashed.
The announcement of the split and annual earnings came 45 minutes later than markets expected, and could still not be viewed on the site several hours later.
The miner eventually confirmed it was splitting into two separate companies, spinning off a smaller publicly traded company to focus on metals such as aluminum, nickel and silver. The leaner BHP Billiton (BHP) will focus on assets including iron ore, copper, petroleum and potash.
BHP Billiton -- with a current market capitalization around $188 billion -- was formed through a $30 billion mega-merger in 2001. The upcoming split planned for early 2015 will essentially undo the combination.
A spokesperson for the company declined to comment on the web problems.
Related: 7 things you absolutely must know about corporate taxes
The Anglo-Australian mining firm is not the first big global group to separate. In late 2012, Kraft Foods split itself to create Kraft Foods Group (KRFT) and Mondelez International (MDLZ), a company focusing on snack brands including Oreo and Cadbury. Daimler (DDAIF) and Chrysler split in 2009.
BHP Billiton reported full-year profits surged by 23%. The company also boosted its dividend.
But investors weren't thrilled with the results, and the shares took a dive. Some investors were disappointed the firm didn't announce an expanded share buyback program.
Others were concerned that British investors might shun the spun-off company since its shares will only be traded in Australia and South Africa.