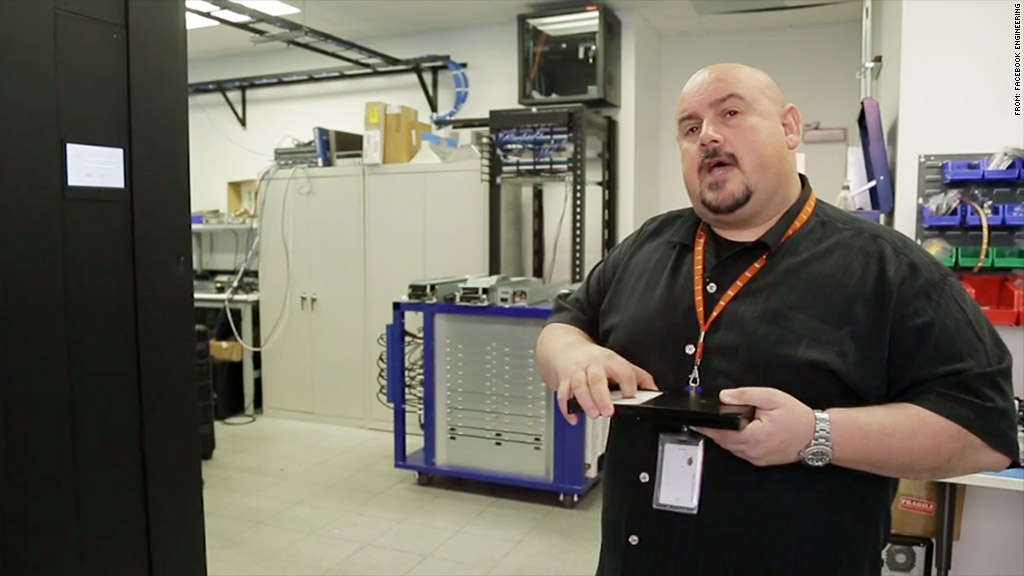 There aren't too many people collecting Blu-ray discs these days. But while the technology is fast becoming obsolete for movie viewers, Facebook sees it as a promising new means for handling data storage.
Given Facebook's immense data needs, the company has a big incentive to find ways of handling storage more efficiently. Facebook (FB) users have uploaded more than 400 billion photos, adding an average of more than 350 million each day.
Those data demands will only increase with time, particularly as personal cameras and smartphones become capable of capturing higher-quality images. That's why Facebook engineers have developed a storage prototype using Blu-ray discs that they believe could greatly reduce the cost of archiving all that data.
Related: LA residents call 911 when Facebook goes down
When you upload a photo to Facebook, it gets copied and stored across multiple servers, each of which consumes a huge amount of power. This ensures that users won't face delays when they access those images.
But most of the photos and videos are only popular for a few days (you probably won't be watching all those Ice Bucket Challenge clips a year from now). Just 8% of Facebook photos -- generally the most recent -- generate 82% of the site's overall traffic.
Keeping multiple copies of old photos on active, power-hungry servers isn't energy-efficient or cost-effective, so Facebook engineers have developed a "cold storage" system for the backup images.
As images begin to be viewed less, Facebook reduces the number of active servers on which they're stored. Once images can be maintained on just one active server, the backup copies go into cold storage.
Active, "hot" servers contain not only the images themselves but also the software needed to deliver them to users. With cold storage, the backup images are stored on racks of hard drives that are spun up and accessed individually when the files need to be rebuilt on the "hot" servers.
But hard drives are vulnerable to physical damage, and it takes a long time to restore all the data they contain. The alternative? Blu-ray.
Facebook is now experimenting with a storage prototype that uses racks of Blu-ray discs instead of hard drives. The discs are held in groups of 12 in locked cartridges and are extracted by a robotic arm whenever they're needed.
One rack contains 10,000 discs, and is capable of storing a petabyte of data, or one million gigabytes.
Blu-ray discs offer a number of advantages versus hard drives. For one thing, the discs are more resilient: they're water- and dust-resistant, and better able to withstand temperature swings. Their data can be restored more quickly, and they're easier to transport.
Most important, though, is cost. Because the Blu-ray system doesn't need to be powered when the discs aren't in use, it uses 80% less power than the hard-drive arrangement, cutting overall costs in half.
Related: Instagram's answer to Snapchat
An initial hurdle for the project was the fact that before a few years ago, manufacturers weren't producing discs larger than 25 gigabytes, which is all you need to store a feature-length movie. But the capacity on Blu-ray and similar disc-based technologies has been increasing, with Sony and Panasonic annoucing plans earlier this year to offer 300 GB discs by the summer of 2015.
So far, Facebook's storage prototype is still in the testing phase, but if the system continues to perform well, it will be deployed across the company to handle photo archiving.
"We now feel that we have a way to store things online for many years reliably," said Gio Coglitore, director of hardware design at Facebook. "Facebook is really pioneering a way to do that economically."