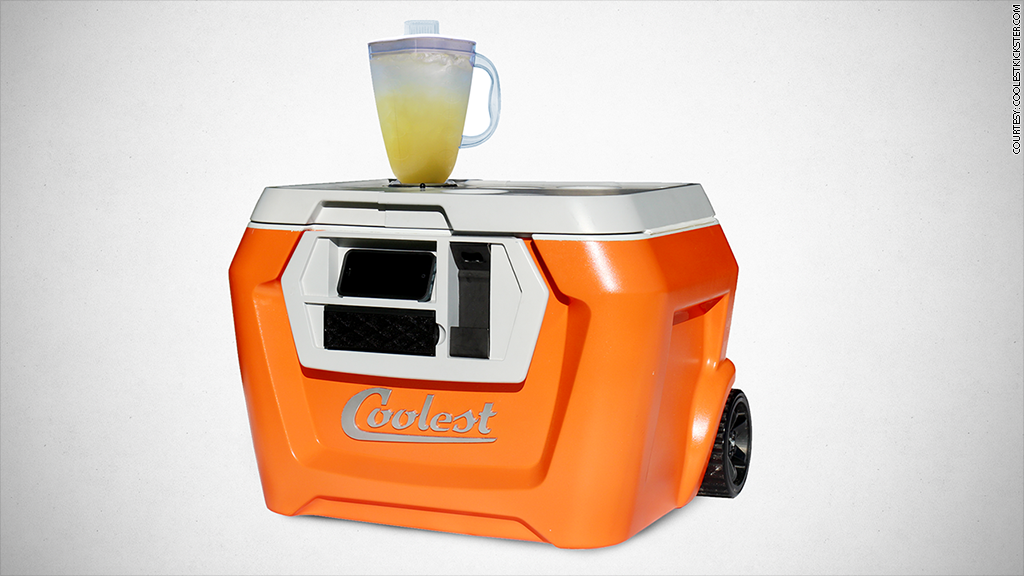 Are coolers really all that hot?
More than 46,000 people think so. The Coolest Cooler has raised over $9.2 million on Kickstarter -- and it still has a week to go.
It's described as a "portable party" and includes features like a blender, waterproof bluetooth speaker, USB charger, cutting board and bottle opener.
It's the second highest grossing campaign ever, ranking just behind the Pebble (the smartwatch that raised a record $10 million in 2012).
"There's a point where products derive much more attention than any rational expectation would suggest," said Jason Greenberg, PhD and assistant professor at New York University's business school, "In a market where potato salad can raise $55,000, it's not that surprising."
What's more surprising is that this isn't Coolest's first time around the Kickstarter block.
Related: The 13 most WTF gadgets
Ryan Grepper of Portland, Ore., unsuccessfully tried to raise $125,000 for similar model of The Coolest In November 2013. He only raised about $100,000.
On Kickstarter, Grepper detailed the biggest changes this time around: Seasonality (July vs. November), more supporters and an improved design.
It's certainly worked -- but are the millions any indication of how it'll fare post-crowdfunding?
They could be.
"We've seen more and more angels and investors using [Kickstarter] as a minor league in terms of [gauging] customer demands," said Greenberg.
Related: Water balloon lovers pledge $645,000 on Kickstarter
According to PrivCo, a financial data provider on privately-held companies, U.S. cooler sales totaled $635 million in 2013.
Igloo Products Corp "dominates" the market, according to Matt Turlip, senior analyst at PrivCo. The company, which was acquired by VC firm J.H. Whitney & Co. earlier this year, owns 53% of the full-size cooler market.
"Maybe in a year or two, with $9 million in funding, The Coolest can hope to compete," said Turlip.
Those who pledged enough for the cooler ($165 or more) will have to wait until February 2015 to get the product (which will come in Margarita, Blue Moon and Coolest Orange).
But they will have saved a cool $130 -- it'll retail for $299.