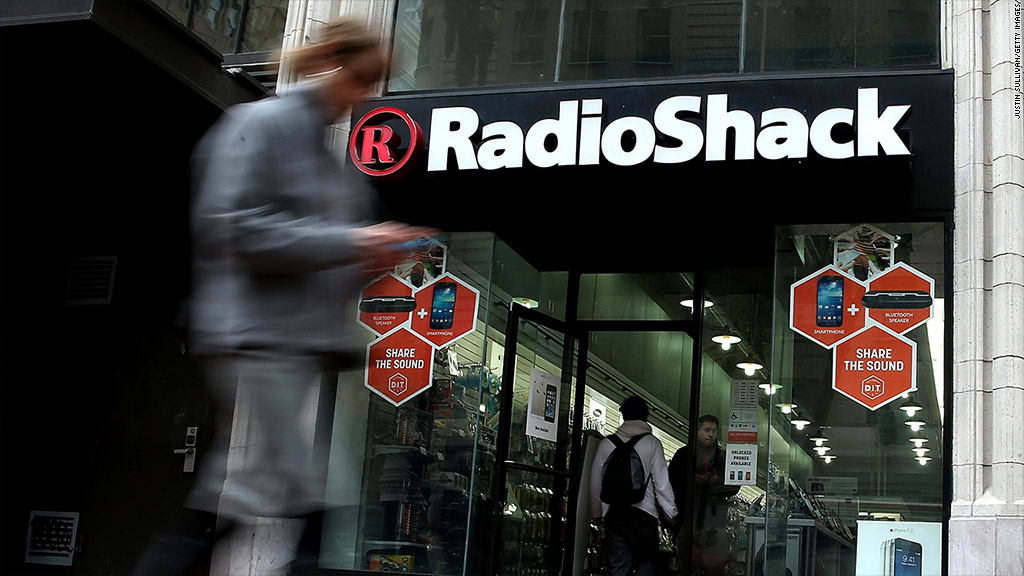 RadioShack may have a future after all.
The troubled electronics retailer is in talks with Standard General, which holds nearly 10% of RadioShack shares, to give it a cash infusion, sources have told CNNMoney
RadioShack burned through more than 40% of its cash on hand in its most recent quarter, leaving it with only $62 million. Moody's has estimated the retailer could run out of cash as soon as next year.
RadioShack management unveiled a plan earlier this year to close about 1,100 stores, roughly 20% of its total.
It also needs cash to revamp its remaining stores. Its own Super Bowl ad mocked its current stores as hopelessly mired in the 1980s.
But it costs money to get out of leases and other costs associated with closing stores, cash that RadioShack can't spare. When creditors balked at the massive store closing, it was forced to unveil a more modest plan to close 200 stores.
Keeping more money-losing stores open only sparked greater worries about when the company would run out of cash.
Related: Autopsy of America - Photos of dead shopping malls
Standard General is providing $25 million to help rescue another troubled retailer in which it has taken a large stake - American Apparel (APP), the company that fired its controversial CEO Dov Charney earlier this summer.
RadioShack (RSH) shares fell to a record low of 55 cents earlier this month on bankruptcy fears. But they have rallied since then, jumping nearly 20% in trading Tuesday on initial reports of the rescue talks on Bloomberg. Shares rose another 22% in early trading on Wednesday.
RadioShack and Standard General declined to comment on the talks.