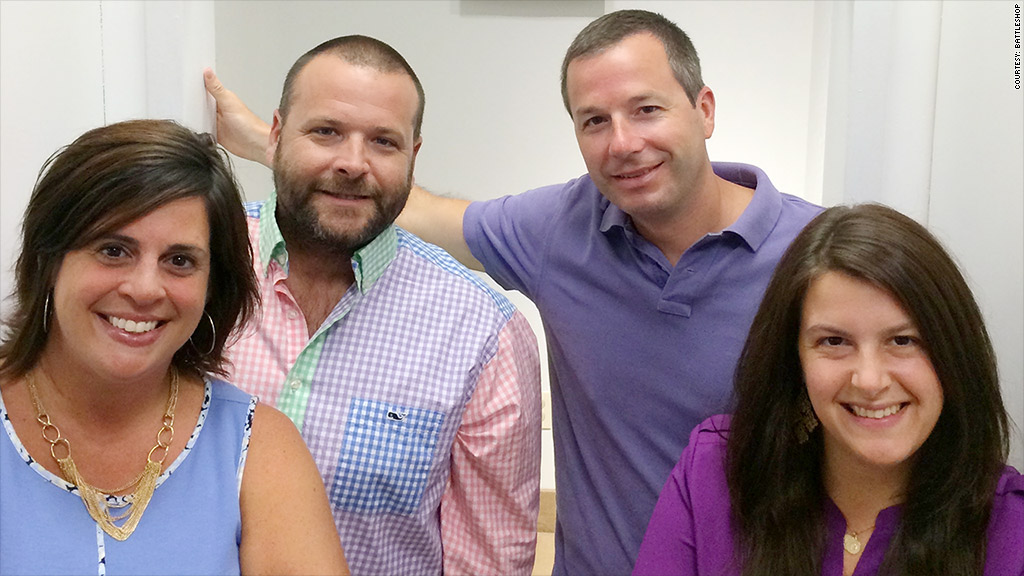 Prefer heels to cleats?
A new startup offers the competition of fantasy football -- brackets, voting, prizes -- for those whose sport of choice is, well, shopping.
The idea behind BattleShop was sparked more than two years ago while two Long Island couples were chatting about the addictive nature of fantasy sports. Those who aren't sucked into that world (mainly women) are left alienated.
They were right: According to the Fantasy Sports Trade Association, 41 million people in the U.S. and Canada played fantasy sports this year -- and 80% were men.
The two couples (Stephanie Lozito and Andrew Nyman, and Katey and Greg Johnson) brought on Nyman's parents Rosemary and Steven, who has a tech background. Together, they came up with a game that would take the competitive nature of fantasy sports and tailor it for something most women love: shopping.
"We anticipated a need for women who do these things already: they collect, share, shop, pin ... but there has yet to be a way to gamify [that]," said Stephanie Lozito, CEO and co-founder of BattleShop, which launched in June.
Related: Secrets to success from Smalltown USA
With a simple signup, users compete against one another on BattleShop's website by building out the ultimate closet instead of a team. They "draft" clothing, footwear and accessories instead of sports players to create a winning wardrobe.
Every Saturday at midnight, there's a new theme announced: like Glamping, Wedding Chic and Back to School, which is this week's theme.
There are 12 different articles of clothing or accessories that must be filled without going over a certain amount (there is an option to buy BattleBucks if you can't resist the urge to splurge).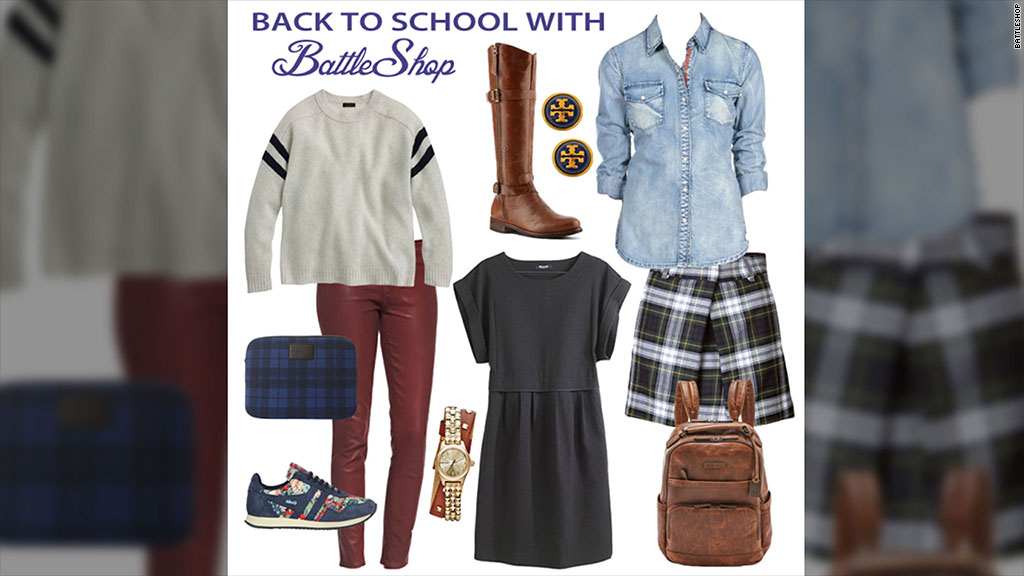 Once users complete their closet, they're placed into a five-person "voting league," where users vote on whose closet is the most fashionable. In the "finals," users have 24 hours to campaign for votes for their closet on social media. The top three winners are awarded $100, $50 and $25 American Express gift cards.
"If you're creating a style or fashion board on Pinterest, you could be doing that on BattleShop ... and winning money," said Lozito.
Related: These startup ideas are money magnets
They declined to disclose how many people are using the site, but said they get 5-6 new users a day. They're spending an average of 15 to 25 minutes on the site per visit -- and coming back at least twice a week, to create a closet and vote.
That's a tiny amount of time compared to the average fantasy sports player, who spends 8.67 hours on their hobby each week, according to FSTA.
But part of BattleShop's appeal is that users can pick when and how much they want to play. If you miss a week, you can just sign up for the next.
Lozito and Katey Johnson, who's the chief operating officer, say they're continually evolving the site and the brand.
"We text and email probably 45 times a day," said Johnson, of her and Lozito (who are both moms to school-aged kids).
Related: Best cities to launch a startup
Lozito said they're attracting a growing number of millennial users -- a prime advertising target. And as the user base grows, there's potential to monetize the brand -- especially for prizing sponsorships and themed brackets.
They see endless opportunities.
"We are thinking six, nine, twelve months out ... We could do men, babies next," said Lozito. "Any kind of online shopping can be gamified."