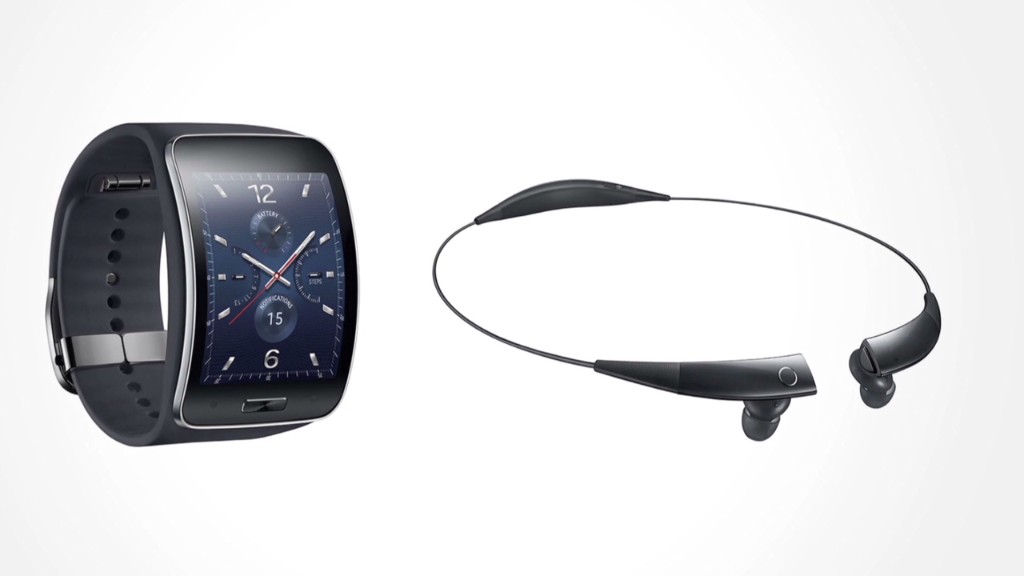 Apple may have to "watch" its back.
While rumors are heating up that Apple (AAPL) may debut the long-rumored iWatch at a big event (that it finally officially announced) on Sept. 9, the maker of iEverything is late to the wearable party.
Samsung (SSNLF) has just released its latest high-tech timepiece. And there's an odd-looking, Bluetooth-enabled necklace-y thing to go with it. More about that in a bit.
The South Korean tech giant unveiled the Samsung Gear S smartwatch on Thursday. The device features a curved screen. Curves are quickly becoming a hallmark of Samsung products as it is touting the feature for its TVs as well.
Samsung's new watch also features the now ubiquitous set of health and fitness tracking features, including a running app from Nike (NKE).
But perhaps the biggest advancement with the Gear S is the fact that it has 3G, Bluetooth and Wi-Fi connectivity that allows a wearer of the watch to make and receive calls even if the user's phone is not in close proximity.
Related: Hands on with a Google-powered smartwatch
There are pros and cons to this. On the one hand, you don't have to spend time worrying about where your phone is all the time when you want to use the watch to make a call. But you also are now a step closer to dorkdom -- that is, using a watch to make a call. This is a case of literally talking to the hand.
The Gear S is just the latest in a new wave of smarter smartwatches. There's also the LG G Watch R and Moto 360, two devices that are aiming to have a more fashionable design and take advantage of Google's (GOOGL) Android Wear platform.
It remains to be seen if wearables will ever translate into big bucks for gadget makers in the way that phones and tablets have. There is something about them that cries out niche market.
But Samsung also introduced another wearable device that sets it apart from the crowd: earbuds that feature a magnet you can clasp around your neck called the Gear Circle. Unlike the Gear S watch, though, you need a phone to pair with the Circle. Both products will officially go on sale in October.
Related: Will the Gear Circle join this list of WTF gadgets?
Samsung said the Gear Circle will let users receive calls, listen to music and make voice commands "in style:" There's even a vibrate function to let you know when calls are coming in.
Whether or not it's really stylish is debatable. I may wait to see if Heidi Klum starts wearing the Gear Circle on "Project Runway" first.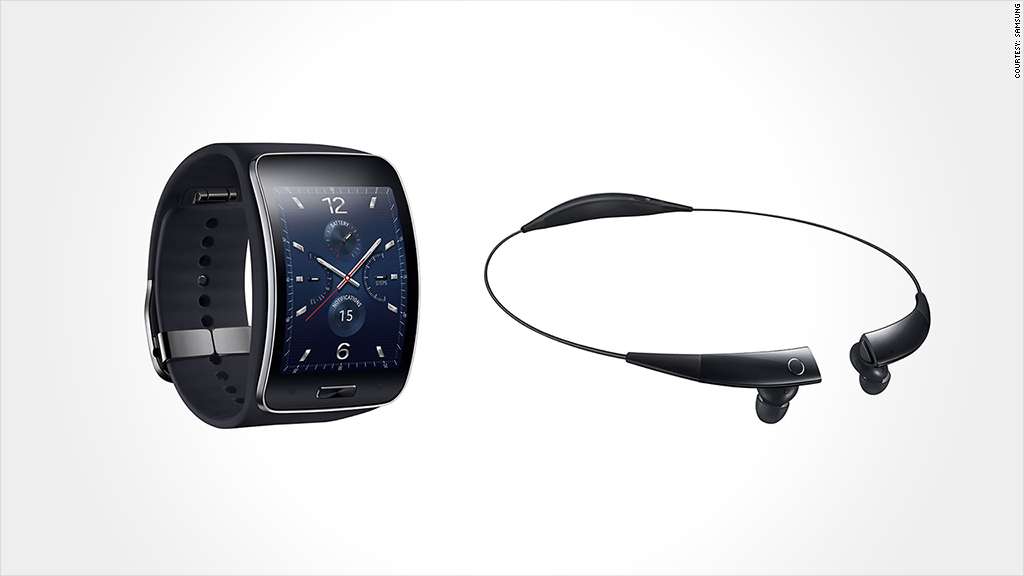 The Circle may appeal to tech diehards who crave everything new and shiny. But it does seem like yet another device that has questionable utility for the masses.
Although maybe Apple will launch a Beats-inspired iSphere necklace that we'll all be wearing in 2015.