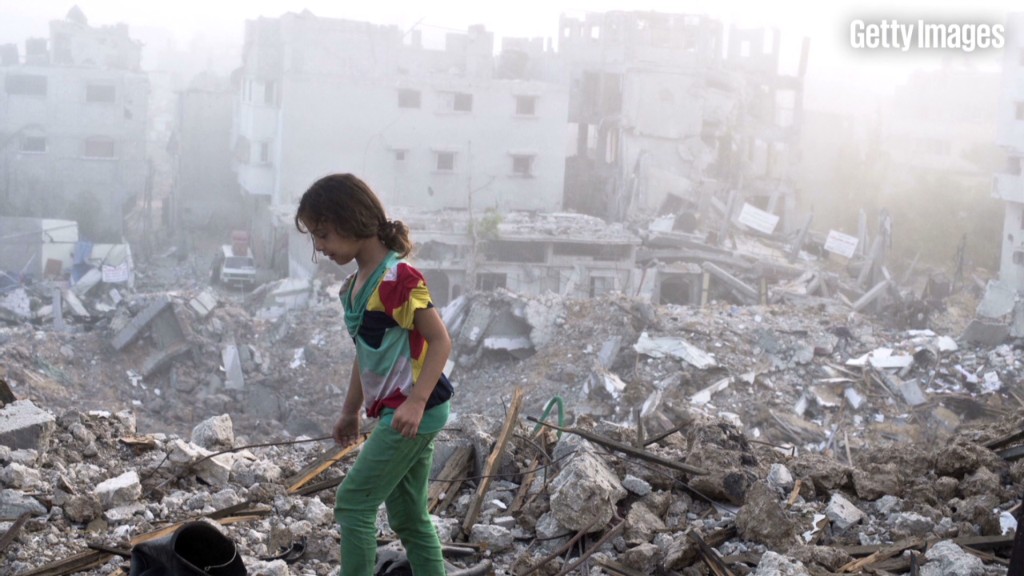 The cost of rebuilding in Gaza after seven weeks of shelling and bombardment is expected to total between $4 billion and $6 billion.
The ceasefire between Israel and Hamas signed on August 26, and the current period of calm, has given aid workers access to the rubble to size up the damage.
The United Nations and its partners are asking for an additional $367 million for humanitarian relief. At least half, or $164 million, will be spent on providing food security for about 500,000 people.
The remaining funds will go to housing ($128 million), water and sanitation ($31 million), and educational assistance for schools that have been shelled or turned into temporary shelters ($11 million).
Relief agency Oxfam describes the destruction of civilian infrastructure in Gaza as the worst in nearly 20 years.
According to the U.N Development Programme, more than 10,600 homes were destroyed as of August 3. Rebuilding could take as long as four years, aid workers say.
Oxfam says at least 15 hospitals and the territory's sole power plant have been destroyed.
Related: Israel and its neighbors - Decades of war
In Israel, rocket fire from Hamas did relatively little damage to cities.
The Israel Tax Authority says it doesn't have specifics on numbers of homes affected, but it estimates that rebuilding infrastructure will cost approximately $11 million.
The Israeli government is reimbursing civilians for property damage. So far, about 3,700 claims have been filed -- more than half for structural damage to homes. Of those claims, 1,193 came from residents of Ashdod, a city in Southern Israel with the most infrastructure damage.
The Israel economy also saw lost productivity because many workers stayed home to avoid rocket fire.
Businesses in southern Israel are still required to pay those workers. The Israel Tax Authority reimburses businesses for the cost of wages and lost productivity.
Israel will finance that public spending through taxes on real estate transactions.
Officials also say Israel's tourism sector has suffered significantly.
There is no formal word yet on how much the conflict has cost Israel for artillery, weaponry and tanks. Israeli media are reporting it could be between $1.2 billion and $2.3 billion.
In Washington, Congress recently approved $225 million to restock Israel's Iron Dome, which according to Israel intercepts nearly 86% of rockets fired.
More than 2,000 Palestinians have been killed during the conflict, along with nearly 70 Israelis.