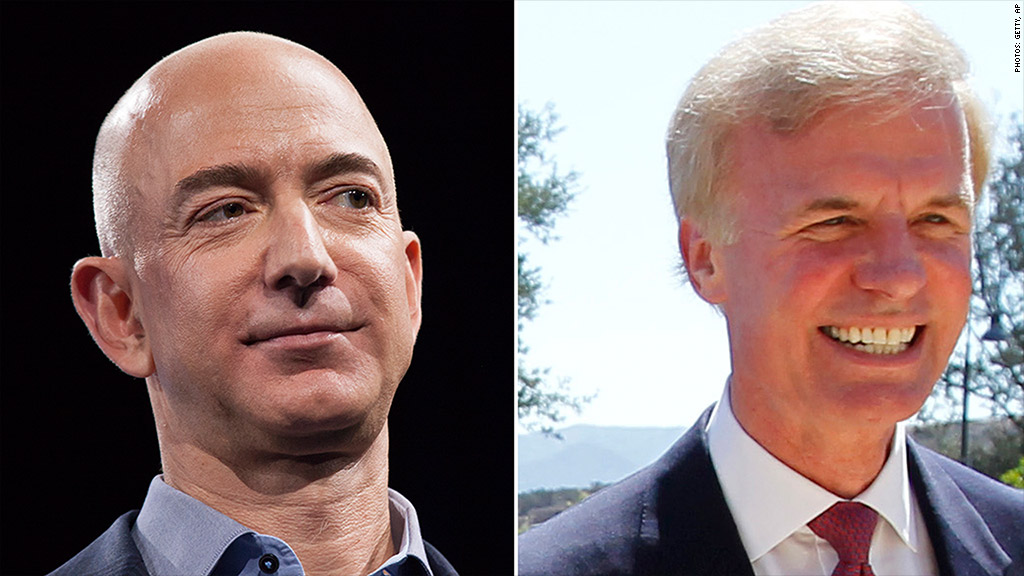 Amazon

(AMZN) CEO Jeff Bezos acquired The Washington Post newspaper and website one year ago, but in some ways his period of ownership is just about to begin.

On Monday, Bezos appointed Fred Ryan as the new publisher and CEO for the Post. Ryan will replace Katharine Weymouth, whose departure marks the end of an era because she is a member of the Graham family, which owned the Post for the 80 years before Bezos took over.

With Ryan, Bezos will have a publisher of his own. His pick is noteworthy because Ryan was chief executive of the Post's big political rival in Washington, Politico. (Ryan announced his plan to step down from there last year.)

It is hard to overstate the competition between the Post and Politico.

After all, Politico was conceived in 2006 by two Post journalists who wanted to run a news website for the politics-obsessed.

Could the Post have bankrolled it? Maybe, but they had doubts about the owners' -- the Grahams' -- commitment to news coverage. So Politico was bankrolled instead by another D.C. media-owning family, the Allbrittons. At that time, Ryan was already CEO of Allbrittons' local television stations.

Politico was an insurgent in Washington, portrayed as a digitally-savvy challenger to the mostly-print Post.

The truth was more complicated: the Post had a lot of online strengths, while Politico saw value in print. It launched a newspaper right away and now has a magazine too.

Future of media: A custom Flipboard magazine

Still, Politico spurred innovation in Washington and sped up the city's news metabolism -- something Bezos knows as he taps Ryan to run his Post.

In a statement, Bezos said Weymouth had "assured that the first ownership change of this great institution in eighty years has been done smoothly and without skipping a beat."

Neither he nor Weymouth suggested that she was leaving by choice. But Weymouth spoke highly of Bezos's commitment to the news organization.

"With Jeff Bezos as our new owner, you are already seeing an infusion of energy and ideas," she wrote in a memorandum to Post staffers. "This is just the beginning of a wonderful new chapter for The Post. There is simply no other news organization in the enviable position of The Washington Post -- with unbeatable talent throughout and with an owner who has the resources, is extremely ambitious, and has the patience to invest and experiment."

August 5, 2013: Bezos buys Washington Post for $250 million

Ryan will start on October 1. On Monday morning, in the Post's article about the transition, Ryan signaled that he would not replace Marty Baron, who runs the Post newsroom, or Fred Hiatt, who runs the editorial page.

Ryan said in a statement, "I am honored to follow four generations of Graham family leadership and thrilled with the opportunity to work with Jeff and the incredibly talented team at The Post."