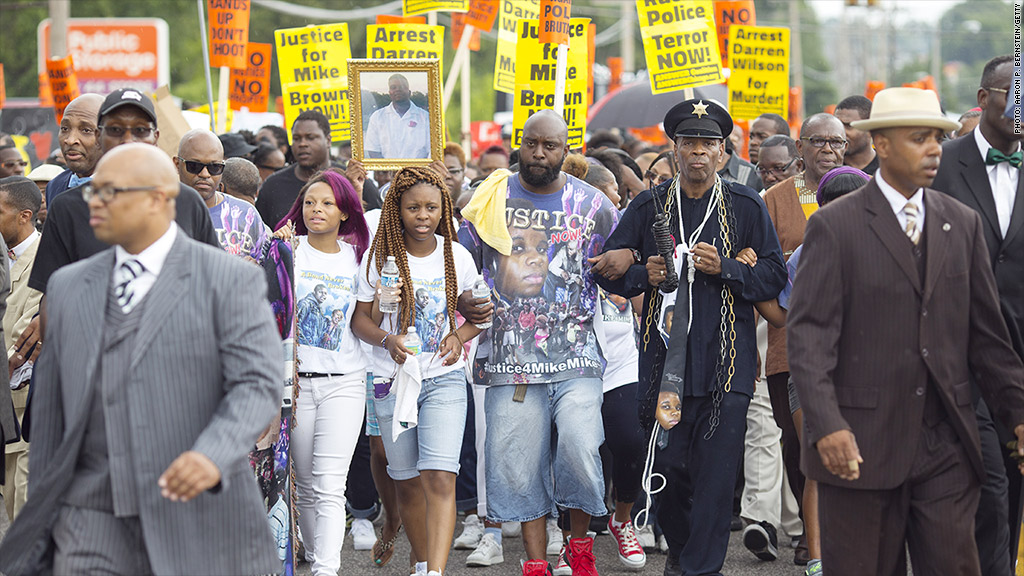 Health care company Centene is bringing to Ferguson just what the battered Missouri city needs: jobs.
Centene (CNC)said it plans to build a claims processing center in Ferguson, creating 150 to 200 full-time jobs with benefits including health care, dental and vision insurance.
"This is the right thing to do for the community, state and our shareholders," said Centene CEO Michael Neidorff, in a news release. "It is time for action not talk."
The company said the yet-to-be built center will include on-site daycare, a cafeteria, an auditorium and training facilities for employees. The company also said it will start accepting job applications before the end of the year.
Related: Gun violence costs taxpayers $500 million
"I think it's fantastic," said Brian Fletcher, chairman of the Love Ferguson Committee, a grassroots organization that is trying to help businesses pull out of devastation caused by recent race riots.
The town has been gripped by economic stagnation for years. Unemployment rose to 13% in 2012, from 7% in 2000, and poverty doubled during that time, according Elizabeth Kneebone, an expert on suburban poverty and a fellow at the Metropolitan Policy Program at the Brookings Institute.
"The next step isn't just bringing those jobs into the community, but making sure there are pathways for the residents to get those jobs," said Kneebone.
Related: Gun sales soaring near Ferguson
The riots were triggered in the St. Louis suburb after a white police officer shot and killed an unarmed black man. Many businesses were looted, even though owners of a couple of gun stores reported that sales of arms surged. Protestors filled the streets and police responded with armored vehicles and tear gas.
"It's a tragedy and everybody's heart is broken over this," said Fletcher, whose organization has planted 10,000 signs in yards around town that say "I Love Ferguson."