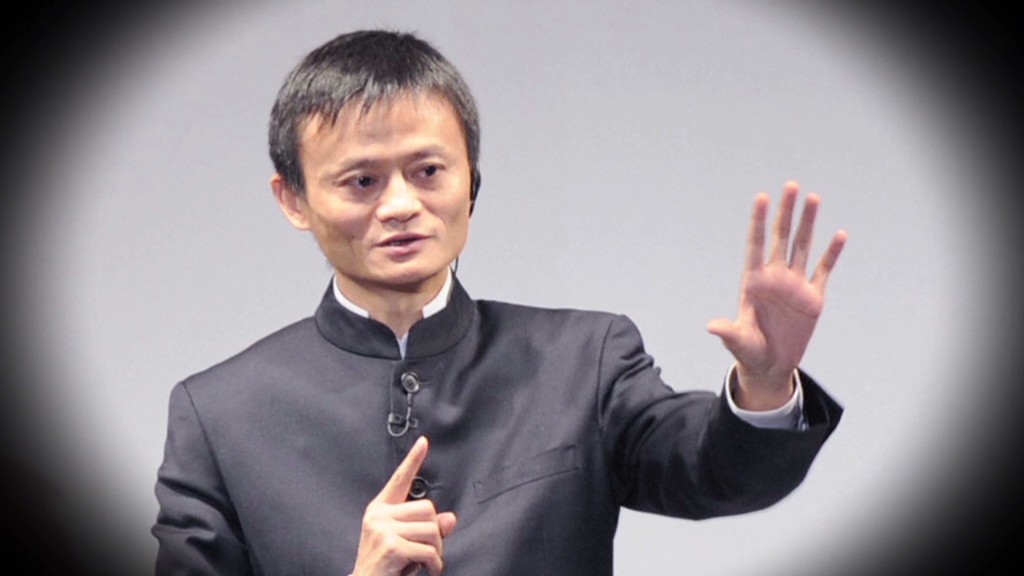 Alibaba founder Jack Ma was never supposed to be a billionaire.
Harvard snubbed him. He flunked college entrance exams twice. Investors thought the serial entrepreneur was crazy when he started building an e-commerce site in China.
But Ma proved them all wrong. Alibaba, which he launched in 1999 from his tiny Hangzhou apartment, is set for one of the largest IPOs in U.S. history.
Analysts estimate that Alibaba -- which does most things digital -- could be valued at $200 billion, roughly four times the market cap of Lockheed Martin (LMT).
How did an English teacher with a modest translation business become a tech titan? It began with a drink.
Searching for "beer" and "China" during his first use of the Internet in 1995, Ma found nothing. But there was plenty of information about American beer. And German beer.
Sensing an opportunity, Ma built a Chinese-language webpage. Within hours of launch, he was receiving enquiries from around the world. The Internet, Ma thought, is "going to change the world and change China."
A few years later, in 1999, Ma gathered 17 friends and acquaintances at his home. They worked feverishly on a new venture: a website to connect exporters with foreign buyers.
Alibaba.com was born. The firm quickly outgrew Ma's apartment, eventually becoming the dominant tech company in China.
The comedian is our CEO
Ma, 49, has always been proud of his humble roots. When Alibaba launched, Ma had no money, no tech experience and a haphazard management style.
But he did have plenty of charisma. Former executives say Ma's infectious optimism -- and his talent with languages -- helped sell the dream.
"He's funny! He can do standup in Chinese or English," said Duncan Clark, a former Alibaba consultant. "He can adapt to the audience ... he has the ability to make everybody in the room feel as if he's talking to just one person."
Ma, married with two kids, is also known to rely on gut instinct.
"He cares more about what is in someone's heart than what is on their resume," said Porter Erisman, a former executive who made a documentary about the company. "Look at the senior managers -- at Alibaba, a lot of them had no prior business experience."
Employees are "Ali people," and managers are given nicknames taken from popular Chinese martial arts novels. Ma, a tai chi devotee, sometimes draws inspiration for company strategy from those books.
The Yangtze River crocodile
Ma is also a ferocious competitor, and steadfast in his belief that Chinese firms can take on international rivals.
"Chinese brains are just as good ... this is the reason we dare to compete with Americans," Ma told his fellow co-founders in 1999. "We can beat government agencies and big famous companies, because of our innovative spirit."
It was this conviction that led Ma to challenge eBay in 2003 when the Silicon Valley firm was expanding its China operation.
Spoiling for a fight, Ma sent a team back to his apartment to devise the next big thing. "EBay is a shark in the ocean; we are a crocodile in the Yangtze River," he said. "If we fight in the ocean, we will lose, but if we fight in the river, we will win."
The team came back with a product called Taobao, or "searching for treasure," in Chinese. The platform was similar to eBay, but better suited to the local market.
Yahoo (YHOO) invested $1 billion in the venture. Within a few years, Taobao squeezed eBay out of China. The marketplace handled $177 billion in sales in 2013.
"Ali People" flock to Alifest
Alibaba is a global company with 22,000 employees and 90 offices. Its popular sites, Taobao and Tmall.com, account for 80% of China's online retail sales, and receive more than 100 million visitors a day.
The group and its affiliates operate an e-payment business, online investment funds, cloud computing and mobile services. Remembering how difficult it was to get financing for his translation business, Ma started a loan service to help entrepreneurs.
Alibaba is also getting into entertainment and sports, acquiring media companies and a soccer team in a pre-IPO buying spree. Critics say this is irresponsible -- a last hurrah before Ma is beholden to shareholders.
Ma stepped down as CEO in 2013, and now pursues philanthropic endeavors. But he remains chief strategist at Alibaba, and the public face of the company. He is, by all accounts, still very involved in management decisions.
Once a year, employees and customers turn their attention to Alifest -- a conference that at times resembles a rock concert. The blowout event has featured guests including Bill Clinton and Kobe Bryant.
"Alifest convinced me to join Alibaba," said former executive David Wei. "I've never seen so many happy customers, so many happy employees."
Ma performs at these gatherings, donning sparkly costumes and belting out popular tunes. The crowd always goes wild.
"I never thought I would be where I am today," Ma said in a speech last year. "I never thought Alibaba would be where it is today."