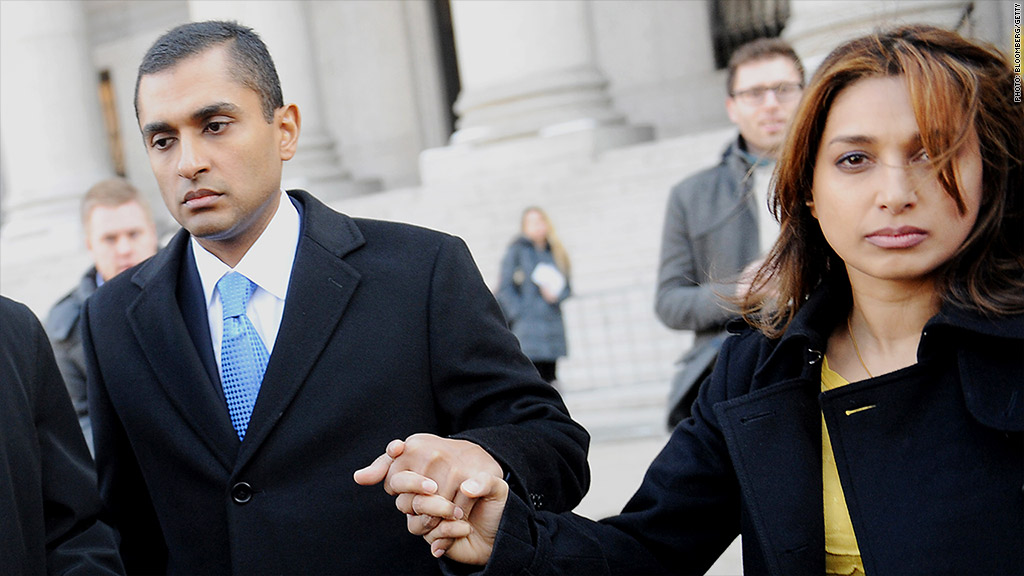 Mathew Martoma, a former employee of hedge fund billionaire Steve Cohen, has been sentenced to 9 years in federal prison for insider trading.
He was also to ordered to forfeit $9.3 million, equal to the bonus he received in the trades that led to his conviction. He is expected to lose his home in Boca Raton, Fla.
Martoma was facing up to 45 years in prison, having been convicted of two counts of securities fraud and one count of conspiracy to commit securities fraud in U.S. District Court in Manhattan in February. Defense lawyers had asked for a sentence of two or three years.
"Mathew Martoma and his family are devastated by the outcome," said his lawyer Richard Strassberg, in a written statement to CNNMoney. He said that Martoma plans to appeal.
He is required to surrender to authorities on Nov. 10. Strassberg asked that he be incarcerated at a low-security prison in Miami, near his family.
While working for Cohen's hedge fund firm SAC Capital in 2008, Martoma obtained inside information about the drug stocks Elan and Wyeth, by holding a series of paid meetings with doctors involved in clinical trials of an experimental Alzheimer's treatment.
Last week, Judge Paul Gardephe dismissed Martoma's request for an acquittal or a new trial, writing in court documents that "the evidence at trial overwhelmingly demonstrated Martoma's guilt on all three counts."
This was after the judge received 140 letters of support from family and friends urging leniency on behalf of Martoma's wife, Rosemary, and their three young children.
His father-in-law, David Kurian, described Martoma as a "role model" family man who was hounded by FBI agents and pilloried by media coverage.
"His status as a villain was cemented in the national consciousness long before his day in court," wrote Kurian, who praised his son-in-law's courage in standing up to a team of prosecutors with a "100% conviction rate in these cases."
Prior to the sentencing, Strassberg asked for leniency, saying "a lengthy sentence would mean that none of the children would get to spend the rest of their childhoods (with him) outside the walls of a prison."
But Judge Gardephe said Martoma's actions "cannot be excused merely because one has a family." The judge said that a lengthy sentence was warranted, given the "staggering" amount of money involved in the case.
Related: Five famous insider trading cases
The prosecutors said that Martoma was able to learn about the secret results of drug experiments, allowing the firm to unload and short Elan and Wyeth before the negative results were published, which then triggered a slide in the share price. SAC realized more than $270 million in profit and avoided losses from the trades.
Elan and Wyeth have since been purchased by Pfizer (PFE). SAC Capital has been renamed Point72, after the firm pleaded guilty to insider trading charges and agreed to pay a fine of $1.8 billion and to close its doors to outside investors.
Martoma is one of eight former employees of SAC Capital to be charged with white collar crime. Six of them pleaded guilty. One other, Michael Steinberg, fought insider trading charges in a case that was similar to Martoma's, and lost. He was sentenced to 3-1/2 years, fined $2 million and forced to forfeit $365,000.
Cohen, however, has never been charged with a crime, even though federal prosecutors have been circling him for years.