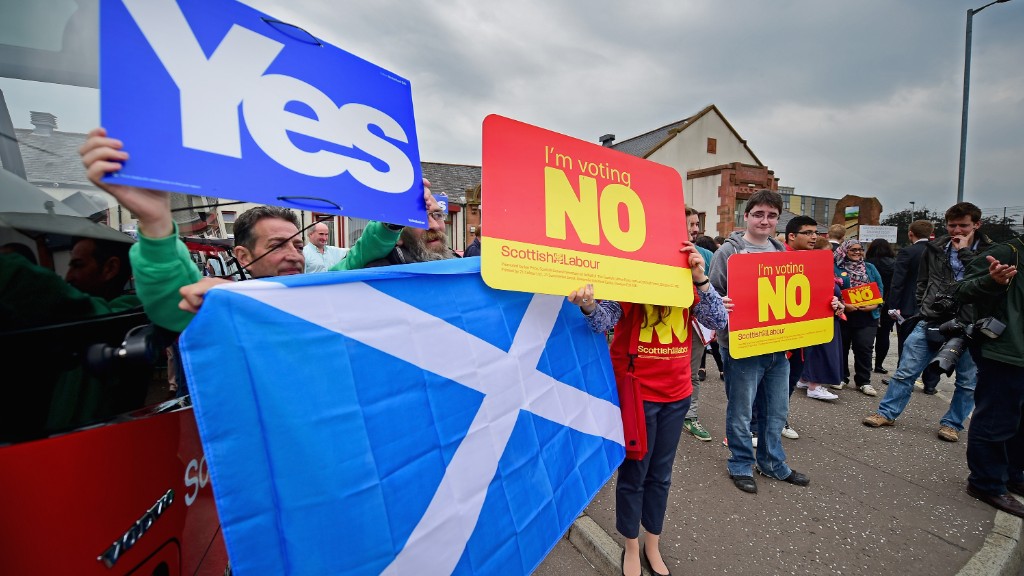 Investors are waking up to the risk of a British break-up.
The pound sank to its lowest level in 10 months Monday after an opinion poll over the weekend showed supporters of Scottish independence gaining a slim lead for the first time.
Scotland votes next week on the fate of its 307-year union with England, and the prospect of years of political and economic uncertainty is slamming the pound and hitting stock markets.
Strong growth and rapid job creation had sent the British currency to a 6-year high of $1.71 as markets anticipated the first rise in interest rates since 2007.
But politics has now come to the fore, and the pound has fallen nearly 6% from its peak.
Most polls still suggest Scotland will vote to stay, but the risk of a messy divorce is clearly rising.
Uncertainty is what investors hate the most, and now they have it in spades: which way will the vote go, and will Scotland be able to keep the pound if it does break away.
For years, the Scottish nationalists' plan was to take Scotland into the European Union as an independent state, and then adopt the euro. They still want EU membership but the eurozone crisis killed talk of joining the single currency.
Related: High roller bets $671,000 on Scotland's fate
Instead, they want to keep the pound as part of a new sterling zone, an idea firmly rejected by the British political establishment and fraught with risk given the economic autonomy the independence camp seeks.
And it's not just the immediate uncertainty that has markets worried.
Support for European Union membership tends to be higher in Scotland than elsewhere in the U.K.
If Scotland chooses to go it alone, that raises the risk that the remainder of the U.K. will vote to leave the EU in a referendum Prime Minister David Cameron has promised for 2017, if he wins next year's election.
"We believe that a 'yes' poses more questions than it answers, and this will be negative for sterling, perhaps to the order of 5% overall. It would increase moves for secession across Europe, increase the momentum for the U.K. to leave the EU and hurt Scottish economic growth potential," wrote Kit Juckes of Societe Generale.