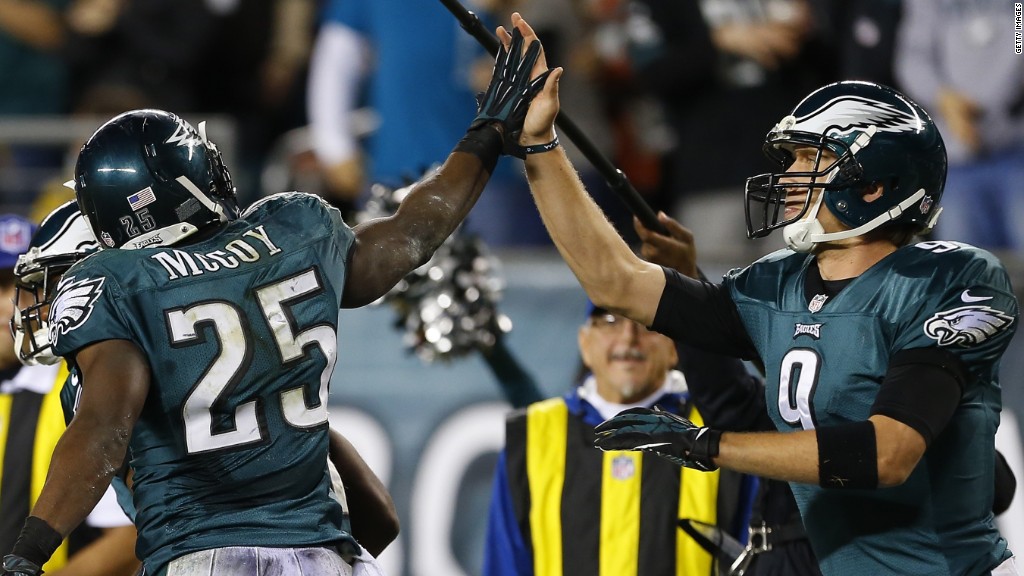 Cue the jokes about PigskinVille and Fantasy with Friends.
Zynga, the company that's famous for Facebook (FB) games like FarmVille and Words with Friends, is betting on mobile sports games to turn its fortunes around. It just rolled out a new "NFL Showdown" game last week.
The company needs another winner soon. Shares of Zynga (ZNGA) are down 20% this year and more than 80% below their all-time high.
Competition is brutal. Zynga has had to contend with the likes of mobile gaming upstarts like Angry Birds developer Rovio and Candy Crush Saga maker King Digital (KING) (although none of them are doing all that well lately).
Related: Candy Crush(ed): Stock drops 20%
But gaming powerhouses Electronic Arts (EA) and Activision Blizzard (ATVI) are also muscling their way into the world of social and mobile online games.
However, Zynga might be on to something with its new "NFL Showdown" game, which it launched on Thursday in time for the beginning of the pro football season. The game features the real team logos and athletes of the NFL.
Zynga describes the game as "a mobile-first football manager simulation game that delivers fans a new way to connect and compete with their friends every day." In other words, it sounds a lot like fantasy football ... which is a booming business for the likes of media giants CBS (CBS), ESPN owner Disney (DIS) and Yahoo! (YHOO).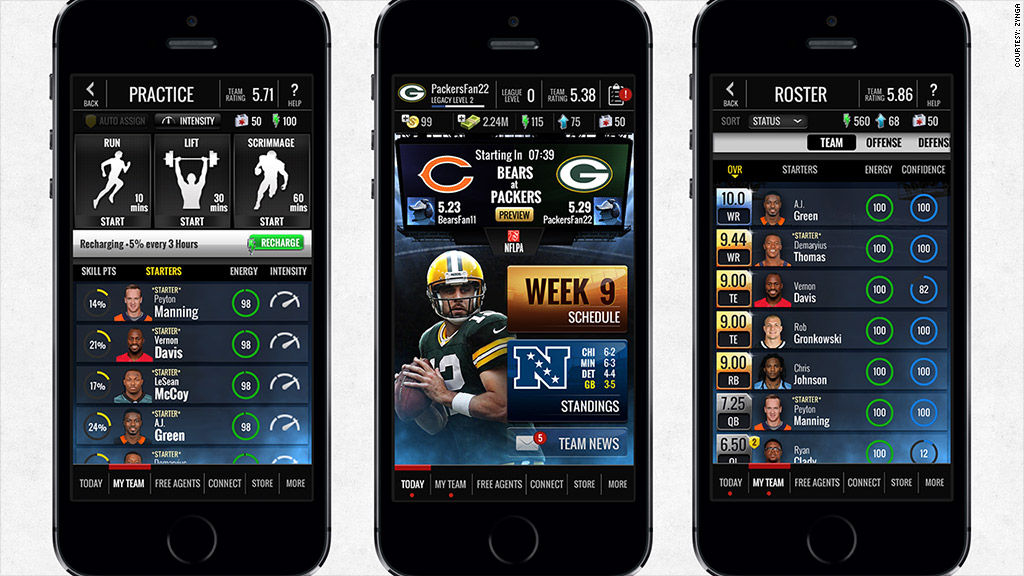 "It's not fantasy but it's similar in that you can build a team, draft a team and compare it to others. It may not move the needle this year but it could next year," said Michael Pachter, an analyst with Wedbush Securities. "I appreciate that the company is doing a bunch of things that are different from what they've done in the past."
Related: The short life of an NFL stadium
Football isn't the only sport that Zynga is counting on either to help turn its fortunes around. As part of its new Zynga Sports 365 unit, the company is developing a Tiger Woods golf game that will be launched next year. That might be a riskier game than the NFL one though given that Woods' image took a hit following his marital problems. There's also the fact that Rory McIlroy is now the new Tiger Woods.
"In a lot of ways, Zynga might be trying to replicate the EA model. Golf could be a good experience on mobile if done well," said Mike Hickey, an analyst with The Benchmark Company. "But going with Tiger Woods is not that creative. They could have gone with some younger stars than one like Tiger who has fallen from grace."
Zynga would not comment about how many times the new "NFL Showdown" game has been downloaded on Apple's (AAPL) App Store and the Google (GOOGL) Play store since Thursday.
The games do appear to be doing reasonably well on iOS so far though.
"NFL Showdown" is the fourth most popular free sports game on the iPhone and fifth most popular on the iPad, according to data from TopAppCharts. But NFL Showdown is behind EA's "Madden NFL Mobile" on both devices.
Related: EA scores touchdown with Madden
And Wall Street is not convinced that sports is the answer.
Analysts are predicting an annual loss for Zynga this year. Even though they are forecasting a return to profitability in 2015, there is a pretty wide disparity in the earnings estimates. Some analysts are still expecting losses next year as well, for example.
What's more, Zynga's stock is still not necessarily cheap -- even though it is well off its highs. Shares trade at about 75 times 2015 earnings estimates. It also trades at more than three times expected sales, a premium to King as well as Glu Mobile (GLUU), the maker of the popular "Kim Kardashian: Hollywood" game.
So Zynga still has a lot to prove. Hickey said the company needs to create another huge hit game like FarmVille to become a success again. That's not going to be easy.