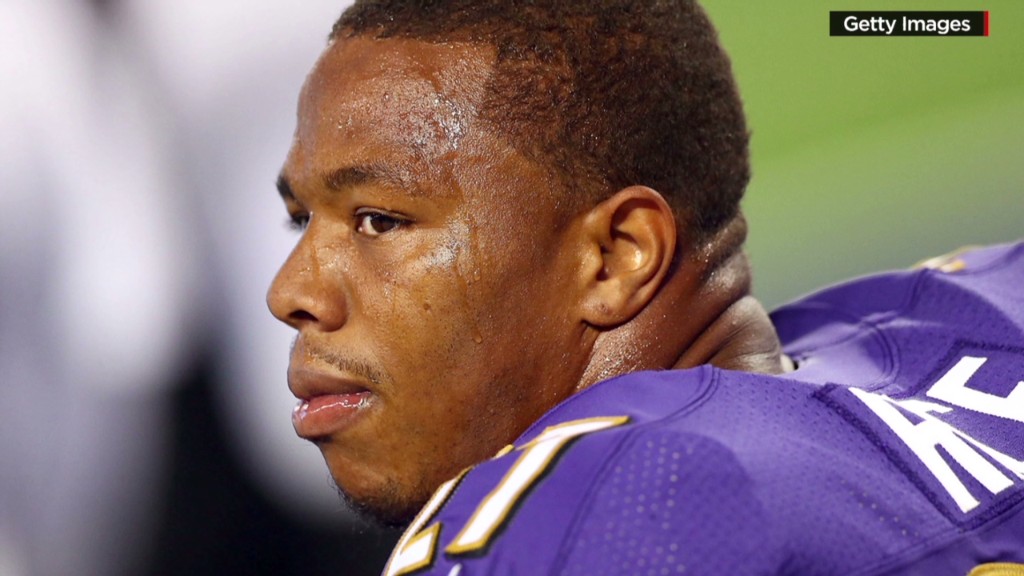 Football's Ray Rice will probably get to keep about $25 million that he's been paid, even after he was cut by the Baltimore Ravens in the wake of domestic abuse revelations.
Video surfaced Monday of Rice punching his then-fiancee, now wife, in an Atlantic City elevator.
Prior to the video's release, Rice had been caught on a security camera dragging his fiancee out of the elevator. That got him suspended for two games without pay.
The penalty, which was widely criticized as too lenient, cost him about $530,000.
Rice signed a 5-year, $35 million deal in 2012, $15 million of which was a signing bonus.
He got another $7 million bonus in 2013, and also collected $3 million in salary over the first two years of the contract.
Almost none of that $25 million can be clawed back by the Ravens or the NFL, according to Mike Ginnitti, managing editor of Spotrac, a Web site that tracks professional sports contracts.
Rice probably will lose the $9.5 million in salary that he would have received for this year through the end of 2016. But since so much of his money in the contract was paid upfront in bonuses, he doesn't have to worry about losing the majority of the money.
This is unusual for NFL contracts, which unlike other sports are not guaranteed and often are weighted toward non-guaranteed salary rather than upfront bonuses.
Related: Inside the short life of an NFL stadium
Ginnitti said that something similar happened last year when the New England Patriots cut Aaron Hernandez after he was charged with murder.
"They did not get any payback from Hernandez's signing bonus because it's such a legal hassle to go after that," Ginnitti said.
The NFL, the player's union and Rice's agent Todd France did not respond to a request for comment.