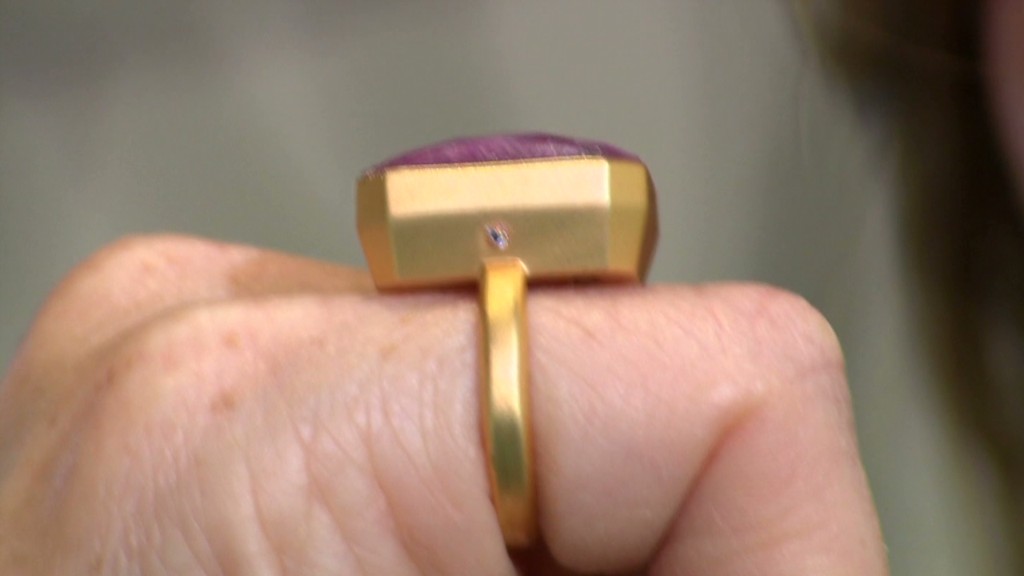 Tech companies are unveiling smart watches and bracelets at a rapid-fire pace, but for many designers, that's already last season. Get ready for solar dresses, 3D-printed bras and GPS-enabled blazers.
Until now, the marriage between tech companies and fashion designers has been largely informal and under the radar, but new partnerships could lead to the mass adoption of 'smart' clothes.
"Anything that you wear on your body is going to need designing and a clear understanding of aesthetics," said Nick Spencer, senior practice director at ABI Research. "Expertise in user interfaces and connectivity comes from the consumer electronic world, and style and materials from the fashion world."
Related: Apple hires celebrity designer
Dutch designer Pauline van Dongen understands the need for tech-enabled clothes to still be stylish.
She recently created a prototype for a Mesopic, or "light" jacket that uses LED ribbons so the jacket emits light at night. The product was a collaboration with Philips Research, which would be responsible for creating and marketing a consumer version.
"'Intelligent clothing' allows people to become truly mobile and self-sustaining in an environmentally friendly and stylish way," said van Dongen.
It's just her latest foray into tech-enabled clothes. In 2013, she created a wool and leather shift dress with 72 solar cells that store energy from sunlight. Two hours of sunlight can fully recharge a smartphone via a cord integrated into the dress. The four prototypes are being shown around the world (including in New York City's STORY boutique). Van Dongen hopes to eventually introduce a retail line of wearable solar clothes.
"It's important to raise awareness and to show people the potential of solar cells in clothing...that it will transcend the realm of gadgets," said van Dongen. "Several solar cell manufacturers have become more aware of the potential of their technology for textiles [as a result], which is an exciting development."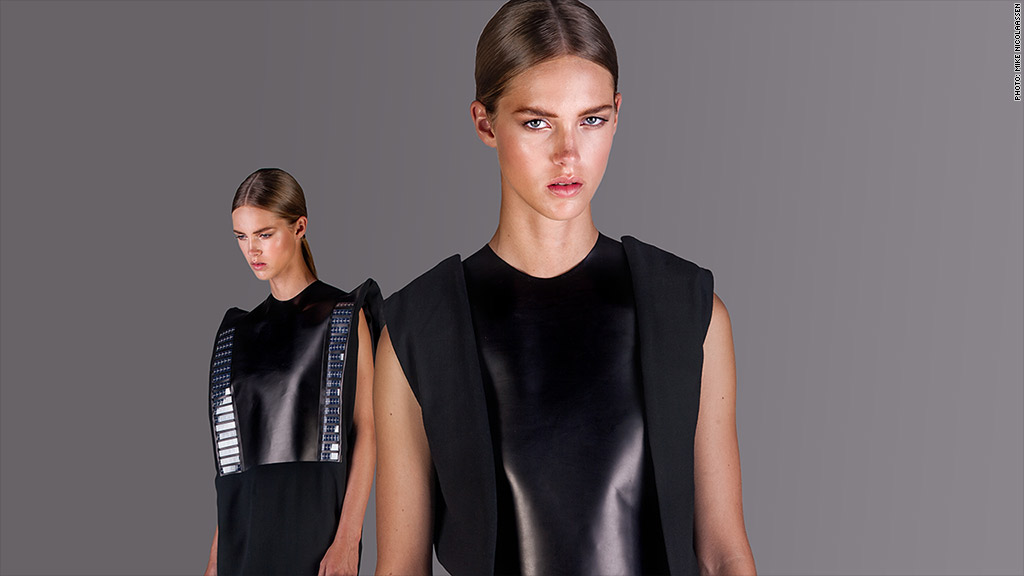 Wearable Experiments is one of the firms popping up to offer a one-stop shop of fashion and tech expertise to brands.
Founders Billie Whitehouse and Ben Moir created Fundawear (vibrating underwear controlled by an app) for Durex and Alert Shirts for Foxtel, an Australian TV company. The jerseys -- which were given to 4,500 Foxtel viewers -- integrated with Bluetooth and touch sensors so wearers felt sensations (like pressure and impact) that corresponded to what was happening in live games.
Their latest project is a GPS-enabled blazer that they hope will solve the problem of people looking down at their phone. Directions can be uploaded to the jacket via an app; vibrations and LED lights integrated into the jacket sleeves provide directional advice.
Related: VIP access to Fashion Week...from your desk
Businesses are taking note of projects like these -- and many of them want a piece of the pie.
Last week, Accenture and Intel (INTC) announced collaborative design and fashion efforts, with MADE and Milk Studios, respectively. (Intel also unveiled a smart bracelet with Opening Ceremony).
"We believe we will see an increase in consumer interest and demand for fashion technologies that go beyond the fitness bands, smart watches, and even smart glasses of today," said Paul Daugherty, chief technology officer at consulting firm Accenture (ACN).
It's not solely about the technology, said Daugherty. It's about fitting into a person's lifestyle -- both in functionality and aesthetic.
Related: Fantasy football's chic alternative
Designer Becca McCharen is no stranger to the intersection of tech and fashion.
Her last line included an LED bra (which cost $1,599). This season, she debuted 3D-printed tops and bras (available for presale now, they retail between $564-$600).
"We are able to create shapes and silhouettes that are difficult to achieve using traditional materials," said McCharen.
She said her business is profitable (after all, pieces have been worn by Beyonce and Madonna), adding that sales have been "doubling and tripling as each new season is released."
For designers, the creative possibilities of technology are endless.
"I'm really excited for the future where clothing can be illegally downloaded online in the same way we currently access music," said McCharen.