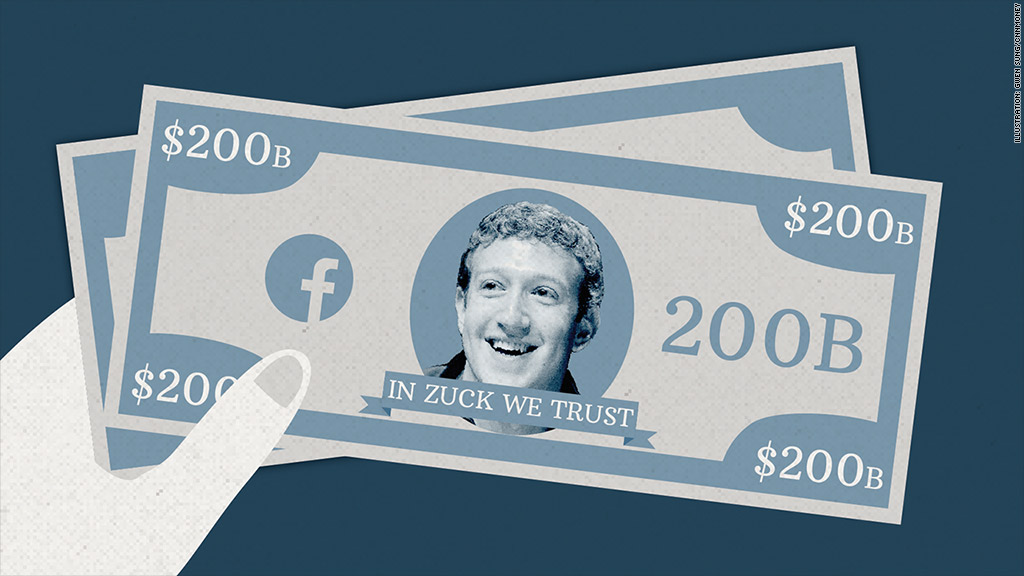 It's all Apple and Alibaba all the time in the world of tech these days. But that little social network in Menlo Park may be hotter than either of them.
Facebook (FB) is now worth more than $200 billion, surpassing that level for the first time on Monday.
While that's still a far cry from Apple's (AAPL) $590 billion market value, Facebook has quickly become the 15th most valuable company in the S&P 500.
Facebook is worth more than much older tech giants IBM (IBM), Oracle (ORCL) and Intel (INTC) as well as brand name icons Coca-Cola (KO), AT&T (T) and Walt Disney (DIS). (It's also currently worth more than the projected market value for Alibaba ... although that could change once Alibaba starts trading.)
Related: Why Alibaba is so hot
Facebook's stock is up more than 40% in 2014 and has more than doubled from its initial public offering price of $38 in 2012. The days of Facebook's shares doing a Faceplant are long gone.
What's driving the excitement? It's a combination of mobile growth as well as hopes that a flurry of acquisitions will pay off for the social media giant.
Facebook now generates 62% of its total advertising sales from mobile ads. The number of daily mobile users rose nearly 40% from a year ago. Investors are expecting more good news about mobile when the company reports its third-quarter results in late October or early November.
The company is also boosting its video efforts as well. Facebook may not be as big in video as Google (GOOGL)-owned YouTube just yet. But the Internet research team for investment brokerage Jefferies thinks that may be changing.
"Analytics companies are now recommending to advertisers that they upload video on both Facebook and YouTube to get the benefits of both," the analysts wrote in a report last week.
Related: Facebook's autoplay videos are killing people's cell phone bills
And CEO Mark Zuckerberg has also been on a shopping spree lately. The company agreed to buy mobile messaging service WhatsApp in February for a whopping $19 billion. That deal, combined with Instagram (which Facebook bought in 2012) has the potential to add even more users to the social media giant.
Facebook also announced plans to buy virtual gaming headset maker Oculus VR in March for $2 billion and followed that up with the purchase of ProtoGeo, developer of the popular fitness tracking app Moves.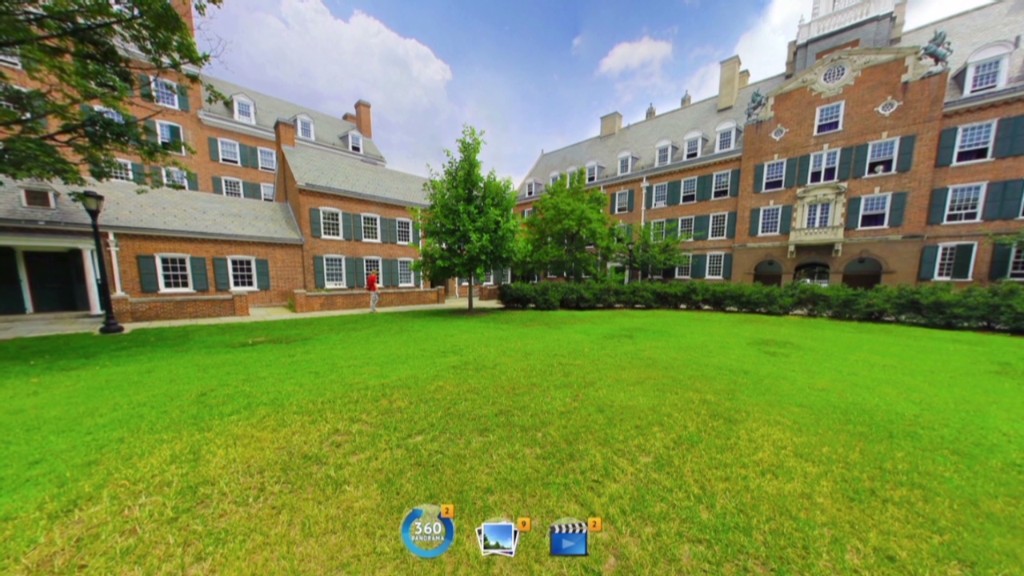 Worth the hype?: Add this all up and you can understand why many big brand name companies have gone from treating Facebook as a curiosity to using social media as a preferred marketing strategy.
"Facebook is the head of the class when it comes to usage. A high percentage of their daily users are interacting with the company multiple times a day," said Martin Pyykkonen, an analyst who covers the company for Rosenblatt Securities. "Facebook, as well as Instagram, has become a fabric of their personal and work life, especially on mobile. Advertisers realize that's where the audience is."
But here's the question facing investors. Is Facebook's stock still a buy at these levels?
The stock is trading at 38 times 2015 earnings estimates. That's not cheap, particularly when you compare it to Google, which has a price/earnings ratio (or P/E) of 19 times 2015 profit projections. But Facebook's earnings are expected to grow much more rapidly than Google's: Wall Street is predicting annual increases of 38% on average compared to 17% for Google.
And Facebook is a bargain compared to other social media firms Twitter (TWTR) (2015 P/E: 148!) and LinkedIn (LNKD) (2015 P/E: 83) as well as streaming video service Netflix (NFLX), which just hit another all-time high Tuesday. Netflix is valued at 75 times 2015 earnings estimates.
Pyykkonen says Facebook may be worth its lofty price. Just don't expect the stock to continue going up at this pace indefinitely.
"I'm not pushing the panic button on valuation just yet, but investors have to be reasonable and rational," he said.