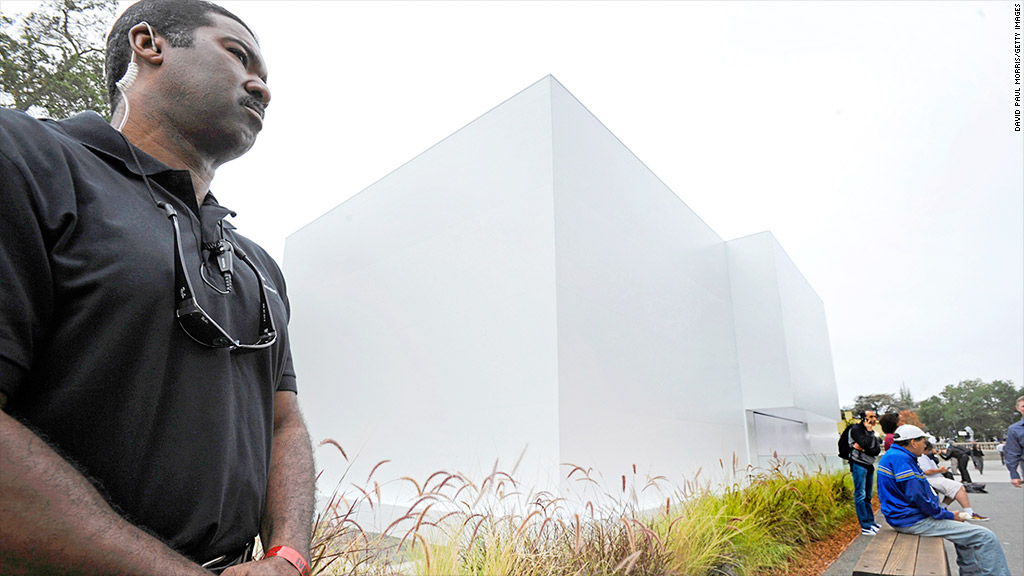 Apple's rollout of the iPhone 6 and the Apple Watch didn't consist solely of a two-hour-long presentation to the press on Tuesday morning. No, it also involved exclusive access for ABC News, including a rare interview of Apple chief executive Tim Cook by ABC's brand-new "World News Tonight" anchor David Muir.
Before the presentation, ABC ads touted Muir's exclusive about Apple's "historic announcement." Muir will even anchor "World News Tonight" from Cupertino on Tuesday evening. He wrote on Twitter that Cook would demo the new watch for him on the newscast.
All of which begs the question: did ABC win the interview through old-fashioned journalistic hustle or through corporate connections?
ABC News says it's the former -- Muir pursued Cook for an interview just like many other journalists.
"ABC secured the interview through hard work and hustle. To suggest otherwise is quite unfair to those who have spent months setting up this exclusive," ABC News senior vice president Jeffrey Schneider said.
Nonetheless, it's worth noting that Apple (AAPL) and ABC's parent company, The Walt Disney Company (DIS), have had a uniquely close corporate relationship for many years. And Disney repeatedly came up during the Apple presentation on Tuesday.
Related: Apple unveils iPhone6, Watch and ApplePay
Disney is one of the companies supporting Apple's new mobile payments system -- Apple senior vice president Eddy Cue announced on stage that it is adding it "to all of their Disney stores and DisneyWorld in time for Christmas."
And one of the customizable faces for Apple's new watch features Disney's Mickey Mouse character.
The Apple-Disney relationship has a lot to do with Steve Jobs. Disney collaborated in the early 1990s with Pixar, the computer animation studio that Jobs chaired. In 2006 Disney acquired Pixar and Jobs joined the board of Disney.
Jobs and Disney chief executive Bob Iger had a close relationship -- Iger once called him a "great advisor" and said they had a "similar vision for the future."
In the mid-2000s, Disney lit up the screens of new Apple products like the iPhone by allowing new ways to watch popular TV shows like "Lost." The Hollywood news Web site The Wrap said in 2011 that "envious, puzzled or laggard rivals of Disney and Apple regularly whisper about the ties, insinuating that the former grants the latter access to its content goodies too readily or cheaply."
The corporate relationship continued after Jobs died in 2011 -- Iger joined the board of Apple about a month later.
The coziness makes ABC News vulnerable to questions about its independence. After ABC started teasing its exclusive interview, the popular Apple blog TUAW wrote that Apple was "keeping it in the family" by giving access to ABC.
And some other journalists at the event said the preferential treatment granted to ABC even extended to satellite truck parking and early set-up time outside the venue.
Perhaps ABC needed the extra space because it will be broadcasting "World News Tonight" from the location on Tuesday evening. Schneider said, "We are doing a full show origination from Cupertino -- it requires a lot of hardware. We negotiated hard for that access."
To some at ABC, questions about the exclusive access are petty displays of jealousy by competitors in the press.
Muir interviewed Cook once before, during a commemoration of the 30th anniversary of the Macintosh earlier this year, which may have helped him lobby for an interview again this time.
And to be fair, other networks have secured interviews with Apple executives over the years, as well -- case in point, Cook announced an expansion of Apple manufacturing in the United States in an interview with Brian Williams on the NBC newsmagazine "Rock Center" in 2012.